Evers Releases Three-Phase Plan to Reopen the State
The plan hinges on an increased ability to test potential cases, as well as a 14-day drop in suspected and confirmed COVID-19 cases.
April 20, 2020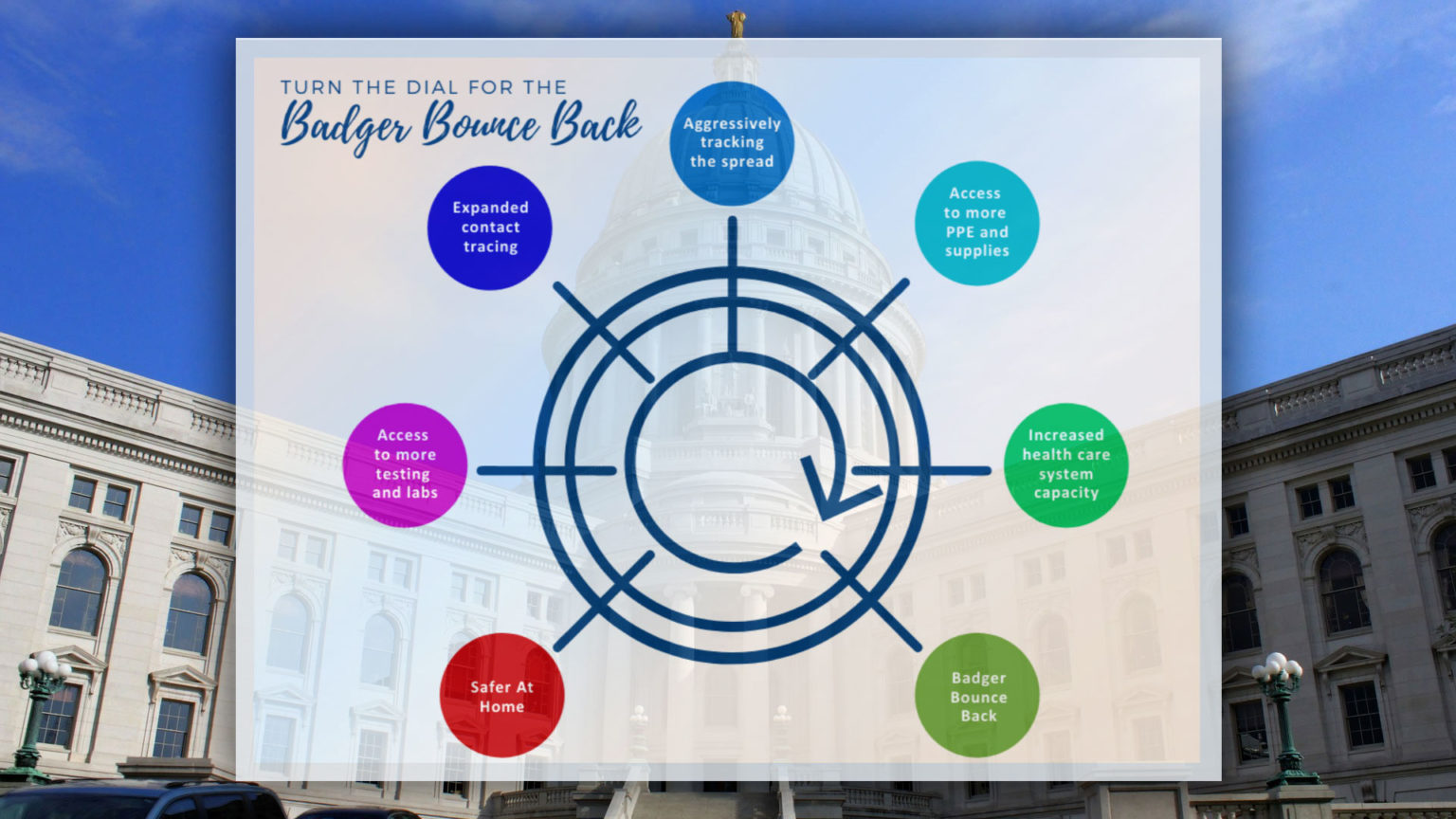 ---
Gov. Tony Evers released a plan Monday to reopen the state in a series of three phases, dependent on the state's ability to test and trace COVID-19 cases and a confirmed downward trend in cases.
The plan called "Badger Bounce Back" sets a goal of having every patient with COVID-19 symptoms to be able to receive a test, which would mean 85,000 tests per week or approximately 12,000 tests per day. The plan would also hire 1,000 workers to do contact tracing, which would add to the more than 120 the state Department of Health Services has brought on in recent weeks.
"I am jazzed and hopeful about this plan," Evers said at a Monday briefing. "This plan is an all-out war on the virus and it begins the process of preparing our businesses and the workforce to begin the important planning that will result in a safe and logical phase-in of our economy."
The plan allows for three phases that would, in part, allow for gradual increases in gatherings of no more than 10 to 50 people in the first and second phases, culminating in no limit. The order calls for progressing through each step if the state makes progress toward the testing and tracking criteria listed above, as well as a 14-day downward trajectory of influenza-like illnesses reported, COVID-19-like illnesses reported and confirmed COVID-19 cases.
DHS Secretary-designee Andrea Palm said during the briefing that the state continues to have 36 labs capable of processing COVID-19 tests. Those labs can run at a maximum capacity of 7,600 tests per day, and test on-average close to 1,500 tests per day. Evers said the state is procuring testing equipment from multiple sources, including the Marshfield Clinic and Exact Sciences, more than 250,000 kits in the coming weeks.
"That's our commitment to work 24/7 for the next six weeks to make sure that we're at that place that is critical for our state," Evers said. He added that if the state works 24/7, Wisconsin could meet the phase one criteria by May 26.
While the state's epidemiological curve has flattened according to state epidemiologist Dr. Ryan Westergaard, the state continues to see a constant 150-190 people newly infected with COVID-19 per day.
The plan drew criticism from Republicans, who said it poses roadblocks to reopening the state.
"We continue to call on the governor to retreat from his one-size-fits-all approach and allow the state to safely open up regionally so people can get back to work," Assembly Speaker Robin Vos, R-Rochester, and Senate Majority Leader Scott Fitzgerald, R-Juneau, said in a joint statement. "As we have seen too often throughout the pandemic, the governor says something one day and the opposite the next. That is why we can't afford to withdraw our impending legal action."
Republicans promised last week to challenge the extension of the governor's stay-at-home order, saying it was a unilateral move that proved unconstitutional.
The transition from the current "Safer at Home" order to the first phase would allow K-12 schools and restaurants that follow "best practices" to reopen. The second phase would allow bars and non-essential businesses to reopen with similar best practices. The third phase includes unrestricted gatherings, while still isolating those who are sick.
The order comes after multiple protests occurred around the state over the weekend, objecting to the governor's "Safer at Home" order, which on Thursday he extended until May 26. Evers said Monday he "respect[s] and cherish[es]" Wisconsinites' First Amendment rights, but articulated the need for residents to remain at home.
"The vast...majority of the people in Wisconsin understand how important it is to be safer at home, how important it is that we have metrics that we now have and that we make sure that we get them to a point where we can move on and reopen this economy," Evers said.
This story was updated to include a statement from legislative Republicans. 
---
Recent Here & Now
//php dynamic_sidebar( 'news-sidebar-2' ); ?>