Baby formula shortage highlights benefits of human milk banking
Here & Now extra: While most human milk donations in Wisconsin go toward nourishing newborns in NICUs, a nonprofit milk bank is working to expand availability to more families in need.
Here & Now
June 22, 2022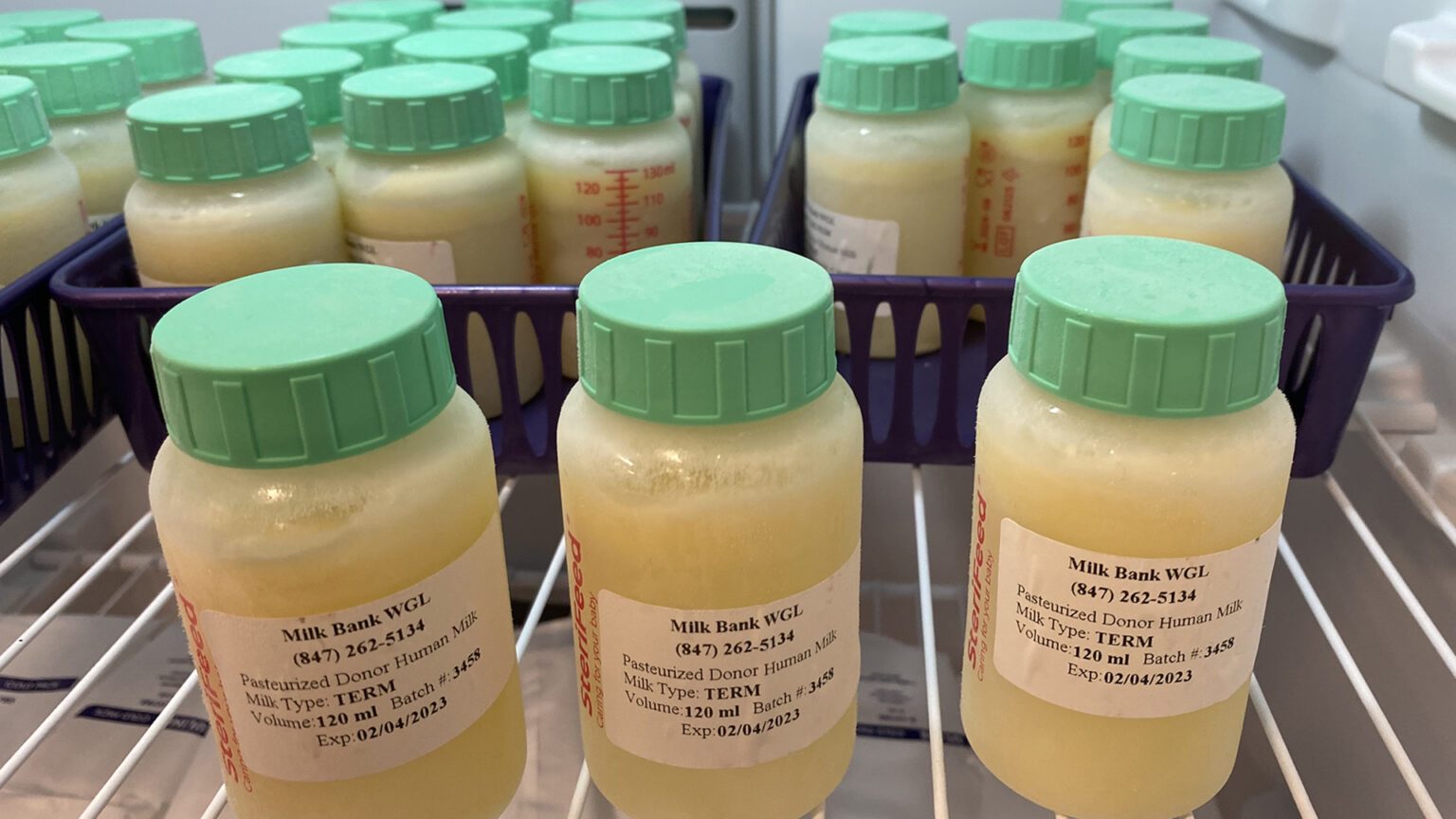 ---
An ongoing baby formula shortage in the United States is placing a spotlight on formula alternatives. One substitute that's becoming increasingly available in Wisconsin is donated human milk.
Since 2016, Mothers' Milk Bank of the Western Great Lakes has collected milk from mothers wishing to donate their surplus supply. The nonprofit organization screens its milk for pathogens before pasteurizing it and distributing it to hospitals and milk bank dispensaries around Wisconsin and Illinois.
Roughly three-quarters of the donated milk goes to infants receiving care in neonatal intensive care units, while the rest goes toward families in need of supplemental milk. That's according to Susan Urbanski, project manager for the milk bank, which collects donations at "depot" sites across Wisconsin and Illinois.
Urbanski discussed growing interest in the milk bank from both donors and families in need during a June 17, 2022 interview on Here & Now. The milk bank's rising profile has coincided with a nationwide shortage of infant formula that has stretched for months.
"We have seen an increase in demand and supply," Urbanski said. "So while we have more patients that are currently looking for milk, we have more donor mothers who have answered the call and who are coming forward to be able to provide that milk to families in need."
Donated milk is a safe and nutritious formula alternative for families who aren't able to supply their own milk, according to Dr. Anne Eglash, a clinical professor in the Department of Family Medicine and Community Health at the University of Wisconsin-Madison. Eglash has long been a proponent of breastfeeding through her medical practice at UW Health, where she leads the healthcare system's lactation clinic.
Eglash's advocacy for breastfeeding began in the early 1990s. It eventually led her to help organize donations of surplus milk in Wisconsin, first routed through a milk bank in Ohio before the more recent formation of Mothers' Milk Bank of the Western Great Lakes.
The milk bank's main facilities are located in the Chicago suburbs, but Eglash said an preexisting network of milk depots in Wisconsin was crucial to the nonprofit's initial success. In addition to the depots, where donations are dropped off, the bank hosts a growing number of dispensaries around the state where families in need are able to pick up donated milk after it's been pasteurized, including in Madison, Green Bay, Eau Claire, Sturgeon Bay and the Milwaukee suburbs.
Eglash serves as the milk bank's medical director, and she said the health benefits of human milk are clear, particularly for babies born prematurely.
"We know that in the short-term, using donor milk for premature infants is a game-changer," Eglash said. Donor milk helps stave off a type of gut inflammation that commonly affects infants born prematurely called necrotizing enterocolitis. The condition can lead to tissue death, forcing doctors to remove a large part of the baby's intestinal tract.
"That has a huge impact on growth and development," Eglash said, adding that when mother's milk is unavailable, donor milk can also play a role in preventing other negative outcomes common among premature infants, including eye and lung disease and sepsis.
Eglash said donor milk has health advantages for infants born at full-term as well, helping to promote a robust immune system among other benefits. She said one of the most common uses of donated milk outside of hospitals is to help families "bridge" a potential gap between when a baby is born and their mother begins producing milk.
The milk bank's health and safety practices, which include health screening of prospective donors, are accredited by the Human Milk Banking Association of North America. Outside of milk banks, Eglash said families in need may benefit from more informal milk-sharing, though she stressed that parents should ensure they're receiving milk from a trusted source who is not at risk for diseases such as HIV, syphilis, or hepatitis B or C.
While human donor milk has its advantages, it can be expensive for those whose health insurance does not cover it, which in Wisconsin includes many families.
Urbanski said her organization can usually help cover the cost through charitable donations for families whose insurance does not cover donated milk. The nonprofit is also promoting legislation in Wisconsin that would require health insurance plans to cover the cost of donated human milk. Similar legislation became law in Illinois in 2020.
That law has already "made a world of difference for accessibility for Illinois families," Urbanski said in a follow-up interview with PBS Wisconsin.
"We want that same coverage in Wisconsin," she said.
---
Recent Here & Now
//php dynamic_sidebar( 'news-sidebar-2' ); ?>