Abortion takes center stage in Wisconsin after U.S. Supreme Court revelation
Public uproar swiftly followed the leak of a draft opinion from the nation's high court that would overturn Roe v. Wade, one of the most controversial personal and political issues of the past half-century.
By Gaby Vinick
May 12, 2022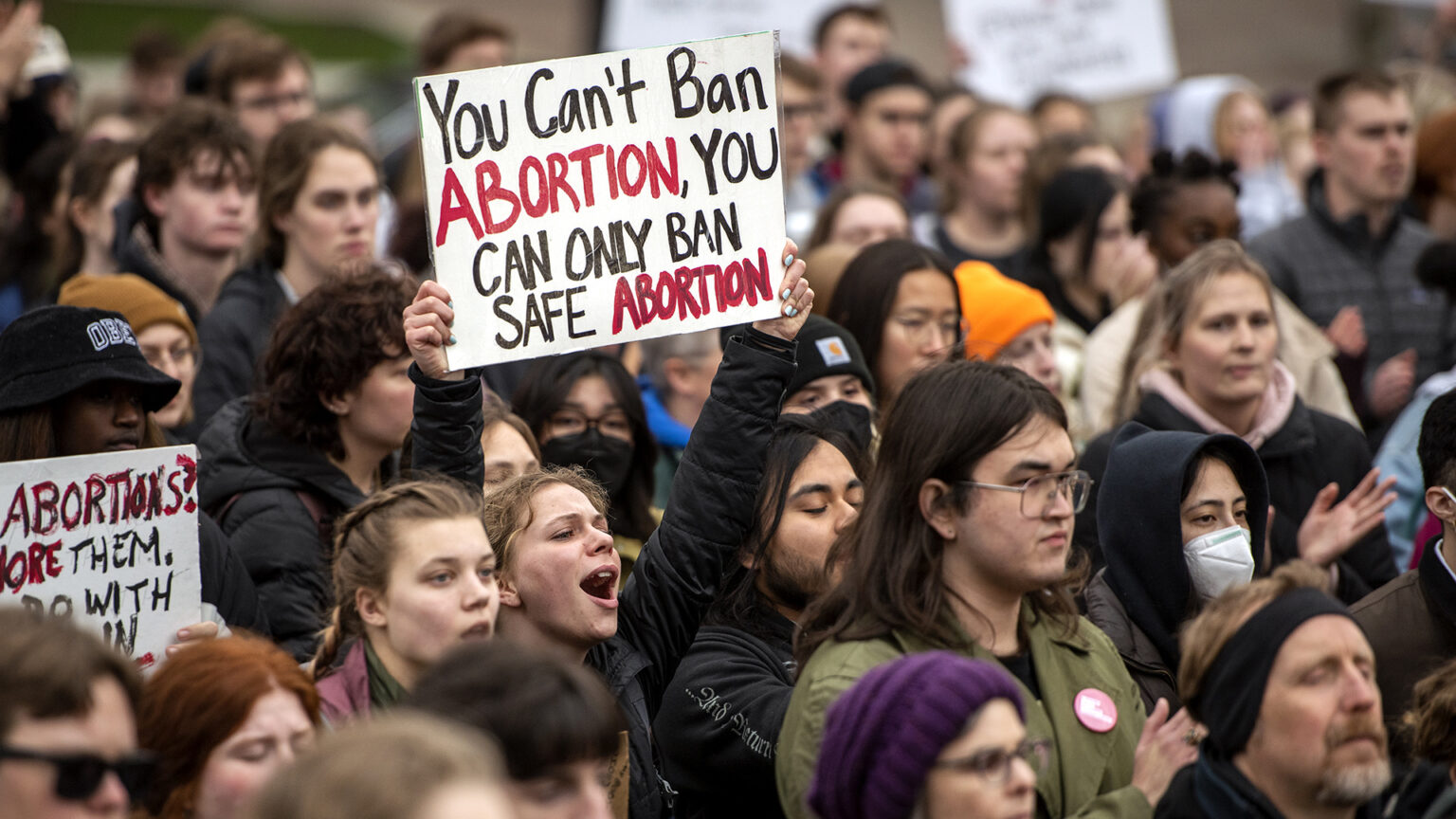 ---
After a U.S. Supreme Court draft opinion that would overturn Roe v. Wade was leaked, a nationwide wave of political rhetoric and promises, protests, pundit speculation and general furor ensued over the issue of abortion. Over the following 10 days, here's how this tumult took shape in Wisconsin.
Monday, May 2: POLITICO published a copy of a draft majority opinion in Dobbs v. Jackson by conservative Supreme Court Justice Samuel Alito that indicates the high court would overturn Roe v. Wade, the landmark 1973 ruling that established a constitutional right to choose to have an abortion. The draft — which was written in February — is not final, yet it ignited a political firestorm among legislators and activists across the political spectrum. "Roe was egregiously wrong from the start," Alito wrote in his draft opinion for a case related to a Mississippi abortion law.
Tuesday, May 3: The U.S. Supreme Court verified the authenticity of the draft opinion. Chief Justice John Roberts called the leak an "egregious breach" of trust and a "betrayal of the confidences of the Court." He ordered a full investigation.
During a contentious midterm election year, the draft opinion provoked various responses among Wisconsin lawmakers.
"To say suddenly it's going to be such that people are going to have to go across the border in order to get health care? That's just crazy," said Wisconsin Gov. Tony Evers, a Democrat. "We're going to work to try to change it."
Evers joined 16 other Democratic governors to sign a letter addressed to congressional leaders in support of the Women's Health Protection Act, passed by the U.S. House in September 2021, that would codify federal abortion rights.
"If SCOTUS is going to legislate from the bench and turn back the clock 50 years on Roe v. Wade, then the Senate needs to pass my Women's Health Protection Act and if we need to eliminate the filibuster to get it done, we should do that too," stated Democratic U.S. Senator Tammy Baldwin in a tweet.
Republican U.S. Senator Ron Johnson took a different response to the leak. "The goal of this unprecedented breach is to intimidate sitting Supreme Court justices. This is yet another example of how the radical left intends to fundamentally transform America," he tweeted.
Republican candidates for governor and Democratic candidates for the U.S. Senate seat held by Johnson also reacted to the leak and its contents, criticizing the positions of the incumbents.
Wisconsin Attorney General Josh Kaul, a Democrat, stated that if Roe v. Wade were overturned, the state Department of Justice would not enforce existing state law that bans most abortions. He speculated there would be litigation over multiple state laws related to abortion and how they might be enforced. Republicans running for the office criticized Kaul's statements.
About 250 demonstrators gathered in Eau Claire, marching from Owen Park to the county courthouse, where chants of, "Hell no, Roe won't go" could be heard. Abortion rights advocates also rallied at Houdini Plaza in downtown Appleton, joined by supporters from other nearby cities.
Wednesday, May 4: More than 1,000 people rallied outside the Wisconsin State Capitol in Madison in support of protecting reproductive rights. Around the same time, hundreds of people marched in downtown Milwaukee to protest the draft opinion.
Thursday, May 5: The Wisconsin Department of Health Services released its annual report on induced abortions in the state in 2020. It found that the statewide number of abortions conducted that year — a total of 6,430 — slightly declined from 2019 and was around half the national rate. There are four clinics in Wisconsin that perform abortions, and pregnant people must meet a 24-hour waiting period for any induced abortions. Should Roe v. Wade be reversed, people of color will be disproportionately affected.
State Sen. Kelda Roys and Rep. Lisa Subeck, both Democrats representing areas in the Madison region, spoke at a press conference outside the Capitol to announce their efforts to repeal Wisconsin's laws restricting abortion. The state is one of nine with pre-Roe statutes outlawing abortion that would take effect if the decision were overturned. Past efforts to codify abortion rights into state law have failed.
Hundreds of protestors turned out in La Crosse to protest the potential decision. Across the state, about 150 protesters marched on the University of Wisconsin-Green Bay campus in support of abortion rights, chanting "Not the church, not the state — women must decide their fate."
Saturday, May 7: Hundreds of demonstrators rallied outside the State Capitol in Madison to voice opposition to the U.S. Supreme Court's draft opinion, marking the week's second large demonstration over the issue in the city. Meanwhile, demonstrators speaking in favor of reproductive rights gathered at Monument Square in downtown Racine.
Sunday, May 8: ​An unknown culprit or culprits threw Molotov cocktails into the offices of Wisconsin Family Action, an anti-abortion group, on the north side of Madison. They wrote a threatening message in graffiti on the outside of the building — "If abortions aren't safe then you aren't either" — as well as the letter "A" surrounded by a circle, which is a symbol of anarchism, and the numbers 1312, an anti-police reference. No injuries were reported and the Madison Fire Department extinguished the fire.
"We ought to be able to take different sides on issues without fearing for our lives. Had anybody been in the office, they would have, at a minimum, been hurt," said Julaine Appling, president of Wisconsin Family Action.
In Eau Claire, demonstrators held another rally to support abortion rights and protest the draft opinion.
Monday, May 9: Evers denounced "violence against any person for disagreeing with another's view," condemning the arson at the Wisconsin Family Action office and calling for an investigation. He said the offenders "should be arrested and put on trial." Police are still searching for the culprits of the attack and no arrests have been made yet. The FBI and Bureau of Alcohol, Tobacco, Firearms and Explosives are assisting in the investigation.
Tuesday, May 10: Law enforcement agencies are investigating an organization dubbing itself "Jane's Revenge," which claimed responsibility for the anti-abortion office arson in Madison and warned that other groups would face "increasingly extreme tactics."
Wednesday, May 11: Having already passed in the U.S. House, Democrats in the U.S. Senate introduced the Women's Health Protection Act in that chamber. The bill that would codify Roe v. Wade failed to move forward in a procedural step by a vote of 49-51.
Baldwin delivered a floor speech in support of the proposal. She said it "is the only bill that can put an end to the restrictive state laws that have already put thousands of women in jeopardy."
Johnson, who is up for reelection in November 2022, said it would still be possible for Wisconsinites to cross state lines to Illinois to receive an abortion. "It might be a little messy for some people, but abortion is not going away," he said. "I just don't think this is going to be the big political issue everybody thinks it is, because it's not going to be that big a change."
Thursday, May 12: About 120 students marched out of Stevens Point Area Senior High School in a brief protest, with participants crying out, "Keep your laws off my body."
The U.S. Supreme Court is expected to release its ruling in Dobbs v. Jackson by the end of its term in late June. If the court overturns Roe v. Wade in this decision, the state's 1849 law that bans abortions other than to save the life of a pregnant person would be reinstated. Abortion providers in Wisconsin are considering opening a clinic in Illinois just across Wisconsin's southern border and are planning to help patients with travel costs and provide educational resources.
---
Recent Here & Now
//php dynamic_sidebar( 'news-sidebar-2' ); ?>