65-Mile Protest Takes Message of Change to Governor
The 65-mile march from Milwaukee to Madison called for special sessions to tackle police and gun reforms and to eliminate police practices such as tear gas.
July 6, 2020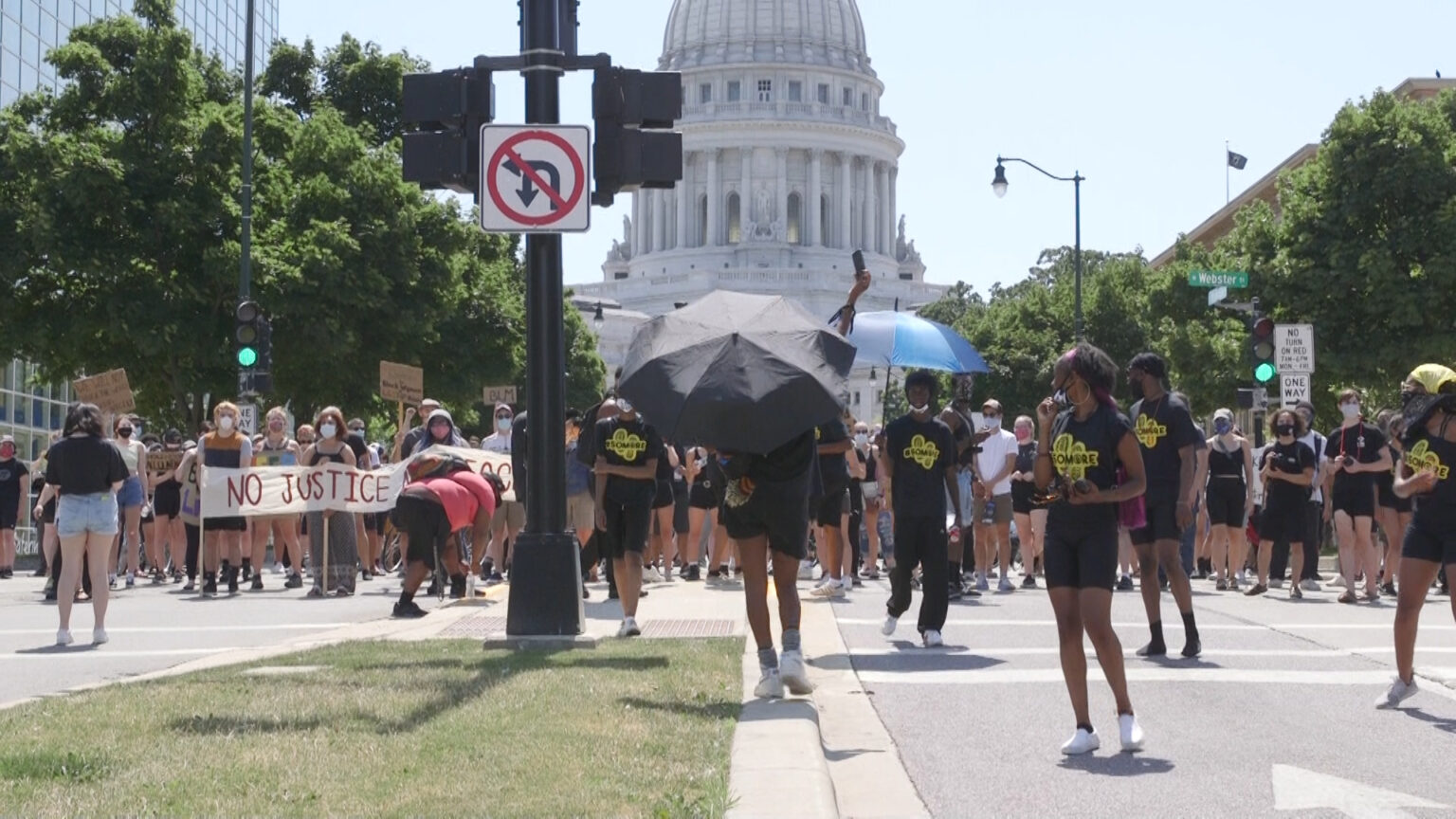 ---
Wisconsinites marching from Milwaukee to Madison to advocate policing and other reforms finished their march at the governor's mansion on July 4.
"We have Black youth living in Madison and Milwaukee, and all over the state that live in fear," said march organizer Tatiana Washington. "Why have we normalized that?"
The group called on the governor and state legislators to take up a slate of actions, including condemning the use of tear gas and rubber bullets, convening special sessions on gun violence and policing, and funding for violence prevention.
Last month, Gov. Tony Evers and Lt. Gov. Mandela Barnes released a slate of legislation to institute statewide police reforms. The reforms included greater tracking and transparency on police use of force incidents and banning practices such as choke holds.
"I understand he called for a ban on chokeholds, that's not enough" Washington said from the governor's mansion.
The marchers said they wanted Evers' actions to match his policy goals.
"Governor Evers claims to be an ally, but called the National Guard on peaceful protesters grieving the murder of another Black man," said march organizer Hiwot Schutz regarding protests over the death of George Floyd. "We demand that Evers and [Assembly Speaker Robin] Vos commit to not only being anti-racist, but reflecting that in their policies."
Vos said he was open to passing legislation during the current social justice movement, but said the likely paths forward would be to convene a special session after the November election or in early 2021. He said he had good conversations with members of the Legislature's Black Caucus, and that he was working toward legislation that would have broad consensus.
He and Republican leaders expressed openness to changing training requirements, which was among the provisions Evers put forward, but said they did not want to rush into it.
"We care about what they're saying and we believe that it's important and there's a valid cause behind it," Assembly Majority Leader Jim Steineke said of peaceful protesters during a June news conference. He said however, Republican leadership would not work with protesters advocating violence.
Evers remained largely silent as the marchers rallied at his residence, and his office did not respond when asked for his reaction to the demonstration.
Demonstrators Revisit Gun Protests
The march from Milwaukee to Madison mirrored a similar march from Madison to Janesville that called on then-House Speaker Paul Ryan to take up national gun reform legislation.
The 2018 march drew inspiration from the 54-mile march from Montgomery to Selma, Alabama, during the civil rights movement of the 1950s and '60s. The same group thought the current environment of racial justice protests was the right time to take up marching again.
"So now we're here again, two years later, in the middle of a pandemic, still holding our elected officials accountable," Washington said. "You know, our parents were around and alive when [the] Rodney King riots happened…something has to change."
The group of around a dozen left Milwaukee June 30, holding a rally at the state Capitol July 4, before leading a few hundred more protesters from the Capitol to finish their march at the governor's mansion.
The group said they encountered some harassment from white supremacists as they marched, "which didn't really work" to deter them, according to marcher Azul Strella.
They continued to hold speeches and wrote messages in front of the governor's mansion Saturday. The group has not announced plans for future demonstrations, but promised they would "be back."
---
Recent Here & Now
//php dynamic_sidebar( 'news-sidebar-2' ); ?>