'Wisconsin Foodie' host Luke Zahm visits The Cozzy Corner in Appleton
April 12, 2022 Luke Zahm Leave a Comment
Wisconsin Foodie airs 7 p.m. Thursdays on PBS Wisconsin.
Fried chicken is my kryptonite. For whatever reason, the crispy-salty-peppery-richness of fried chicken gets me every single time.
My grandmother prepared fried chicken for me as a kid and for the majority of my cooking career, it's been my quiet ace. Whenever I need a dish that I can prepare with my eyes closed and half-conscious, Imogene's fried chicken has always been there for me. As I age, I often wonder if I'm somehow channeling my grandmother's love for me (and my countless cousins) whenever I prepare it. It's that good.
It's that tied into my memory. It will forever take me to the place of summer picnics, running endlessly on some sugary soda and grabbing a piece of fried chicken as I run for another game of flashlight tag, ghosts in the graveyard or bellybutton with my cousins.
Good fried chicken can cover all of the bases for a diner; it's sophisticated, yet simple. It's considered accessible, yet its complexity can span any restaurant worth its salt. It is adored all across America and resonates with diners from all demographics. In short, it's iconic.
Previous to filming this segment, fried chicken and the traditional accompaniments never made me question American history or my place in it, but that's why these stories are so important to share.
A trip to Appleton to visit The Cozzy Corner had been on our radar for a few years. After all, it's hard to pass up a soul food restaurant in Wisconsin, especially one that is known for its fried chicken. It's made with love, with care and with thought.
Owners Phillip and Heidi Bennett welcomed us into their restaurant in downtown Appleton eagerly and with smiles. Immediately, we felt welcome. Soul food has that effect on people. The energy in the restaurant resonated with their love for the food, their story, their struggles and triumphs as humans in this place and time. Soul food, at its best, catches us and lifts us up. It opens our hearts as it fills our rumbling bellies, and without a doubt, it carries a story much older than Phillip and Heidi's bright faces project.
As we assembled our gear in the dining room, brief introductions were made, and I was struck by the electricity in Phillip's eyes. He vibrated at a frequency that is similar to my own, and that is to say, he runs a bit hot for life. Somehow the conversation quickly progressed into his near-death experience on his motorcycle in recent history and how he went from being nearly crippled, to a man absolutely dripping with vitality. I mean it, you can tell from meeting him that he has a hard time sitting still for a moment.
Heidi, meanwhile, exudes the quiet calm of a seashore when the waves crash. She listened to Phillips' stories with grace and humor, but her quiet persona hid her intelligence and kindness poorly. It was easy to see that these two were the epitome of a power couple. I knew almost immediately that we were in for something different at The Cozzy Corner – something unique and beautiful.
As we made our way into the small kitchen to discuss fried chicken with Mr. D (who is a legend in his own regard) and Phillip, lunch tickets began to percolate in. Phillip gracefully balanced the lunch rush with stories about his family's connection to food in rural Mississippi (Yazoo, known as the "gateway to the Delta"), his childhood in Chicago, his time served in prison for mistakes made as a young boy (at age 15) and his incarceration as an adult, his release, and his move to the Fox Valley. He shared more on his work history, his mentoring and support of prisoners who are currently incarcerated and those recently released, and of course, his love for Heidi, The Cozzy Corner and his family.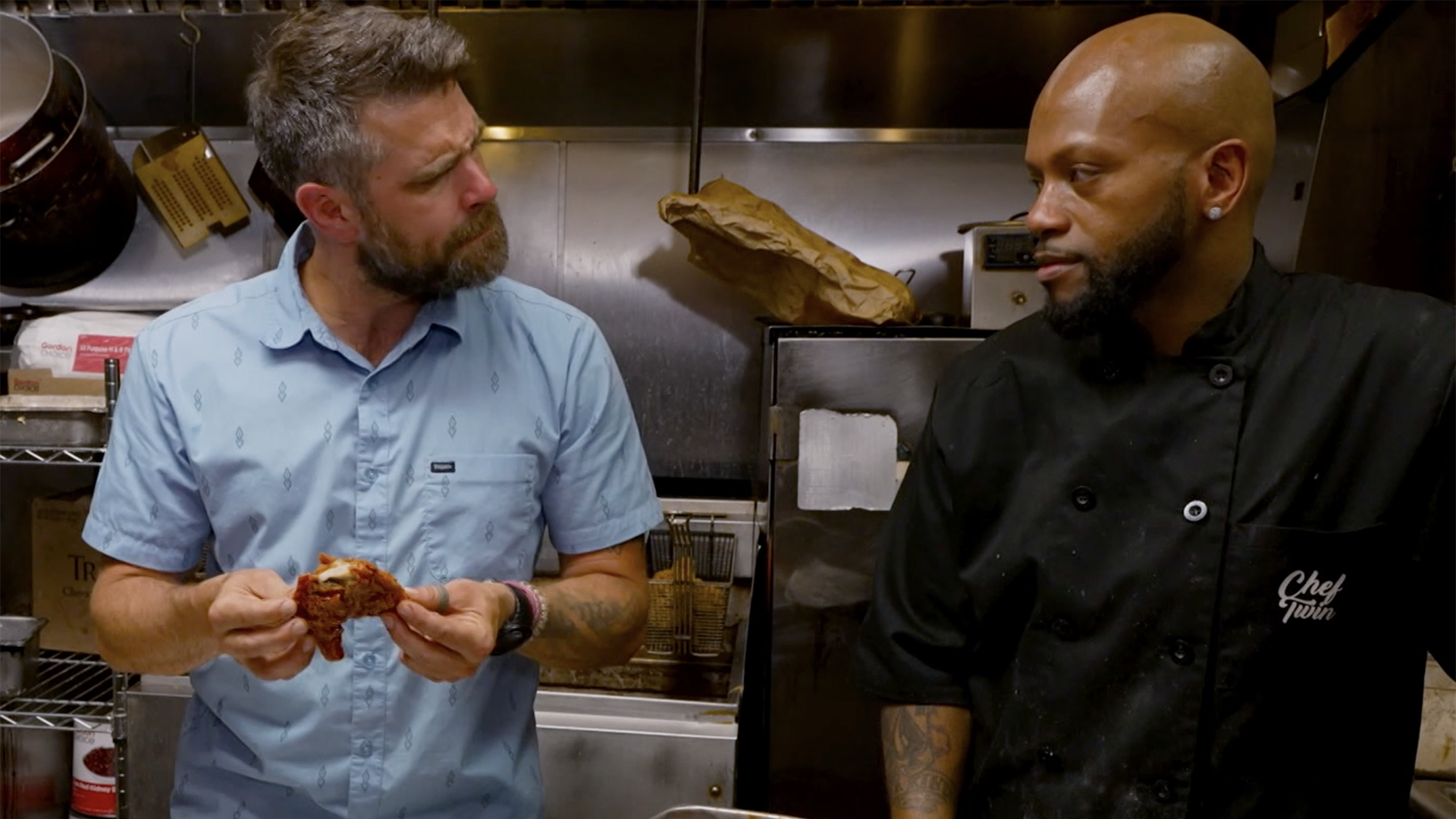 Phillip's story about the origin of soul food took me deep into the injustice of slavery. Food scraps from plantation owners were cast out as discarded items, only to be incorporated into the birth of a new cuisine. It's a story of resilience. It's a story of patience. It's a story of survival and love. It's a story that reminds me of my privilege and the struggle of Black culture in a post-slavery society.
It's a reminder to listen more. It's a reminder to keep working to open hearts and bring stories to the front that need to be heard.
Phillip and Heidi put in the time and energy every day to change their community and the lives around them. They have pushed, against all odds, to change the system that has oppressed and destroyed cultures of color since the arrival of Columbus, and undermines the idea that "all men are created equal."
Fried chicken, as it turns out, tastes like thoughtfulness. Fried chicken tastes like listening. Fried chicken tastes like opening your heart to savor the story of a neighbor who has lived a different life, with different barriers and found success. Fried chicken tastes like lifting others up and building bridges instead of barriers. Fried chicken tastes like love.
Fried chicken is iconic because it can truly change your life. Find out for yourself!
Forever forward,
Luke Zahm
Host
Wisconsin Foodie