'Wisconsin Foodie' host Luke Zahm visits Ruby Coffee Roasters, The Del-Bar
March 28, 2022 Luke Zahm Leave a Comment
Wisconsin Foodie airs 7 p.m. Thursdays on PBS Wisconsin.
I live for the moment when you grace my lips
I can feel the electricity you send
Up and down my body
Drawing me in
closer.
I look for your notes on my tongue
Your shades dance on my palate
I am suddenly and fully alert
My day begins with you.
Begging me to drink you up.
I love you coffee.  
(written with my first cup, Ruby Aguacate)
I may have a problem.
I think I could write sensuous sonnets all day long to my steaming cup of miracles, that glorious proof that we are indeed loved and put on this planet to experience the delights of the universe.
Coffee.
It's probably no surprise to anyone who knows how much I adore this beautiful bean water that a trip to Ruby Coffee Roasters in Nelsonville (think a tiny suburb of Stevens Point) is like Charlie's visit to the Wonka Chocolate Factory. It's sublime.
Meeting Jared and his family at the roastery gave a lot of perspective to the passion and enthusiasm he brings to the industry. He pours his love of the growers, their respective regions, their nuances and their personalities into cups that he gladly shares with me. Five cups, to be exact.
Five delicately ground, poured and lightly skimmed cups of Columbian origin (second cup now, something from the Viroqua Food Cooperative, not as many brilliant notes, but still better than tea) that are steeped in stories and the experience of the growers themselves.
To work in coffee is to work in storytelling. Stories are vital to the product. I explore their subtleties on my palate and in their origin, notice my heart rate quicken, clutch the cups with my ever-tightening grip, and pontificate while telling myself not to talk so fast, don't give away the fact that you can barely focus on one word as they spill from my mouth into the cameras. I am electricity personified.
The power of the universe courses through me as I feel Jared's words crash into me. This is a human who is deeply in love with his work, his family, his sense of place and his role as a steward of story to the larger world. He is a cultural warrior and his battlefield is found in every cup. In a place where one can drink as many varieties of coffee as grains of sand in an hourglass, he has found a way to cast the magic of the farmers that truly set his brand apart.
Honestly, it's one of the best examples of the alchemy I know – that translation of love and passion into something real and palpable. Something to experience. Something to savor. Something to enjoy.
Good energy equals good food. Or in this case, good energy equals the best cup of coffee you will ever experience in a lifetime. I promise.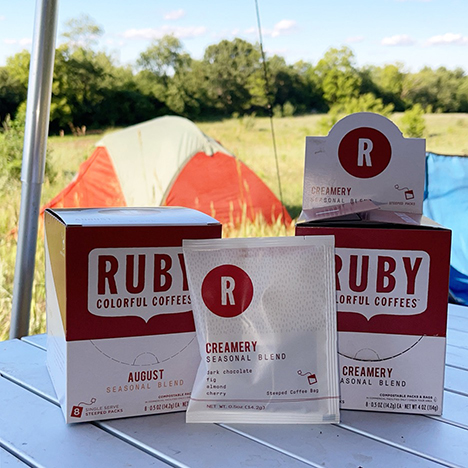 The Del-Bar
As a kid growing up in Wisconsin, the Wisconsin Dells were the equivalent of Walt Disney World, Las Vegas and Wisconsin's Northwoods all rolled into one oddly appealing destination for my kid brain. It was always filled with curiosities and oddities that sparked my interest, from the downtown corridor of shops, to the waterslides, the gorgeous natural beauty, the odd collection of tourists and families and the food. Always the food.
As a parent, I allow my three children to cast their birthday wishes into the universe, and every year, almost without fail, the Wisconsin Dells is a destination that I visit to celebrate the birth of at least one of my kids.
Of course, the campy attractions that once mystified me as a child have lost their magic, but the food still stands as the focal point of our family travels. Or at least my focal point of family travel.
Basically, I'm saying that I will endure an entire 24-hour period of hotel waterpark madness and its associated sounds (do they have to ring the bell every time they dump the huge bucket of water, and who is actually listening to the music over the sound of hundreds of children shrieking in delight), sensations (how much chlorine is really in this lazy river, and for that matter, how much urine is safe in this delicate balancing act of chemistry) and sights (I like to take survey of the bad tattoo work and the number of questionable piercings that didn't age quite as well as intended).
Needless to say, this endeavor is endlessly fascinating.
But the food. I adore the food. And always (forgive me for being loyal, but if it ain't broke, don't fix it) The Del-Bar. When Arthur [Ircink, producer] and I were discussing restaurants to profile, The Del-Bar was near the top of my list.
And why, you might ask? Because it is a model of consistency and delicious. Because it is captivating in design and execution. Because it absolutely crushes dinner every. single. time. And because it's always a reminder for me as a chef that the best and most memorable meals aren't always found in the most exclusive restaurants; that there is remarkable beauty and elegance in Wisconsin's supper club culture and it's uniquely ours to savor and share.
Owner Amy Wimmer has this magic in her that reminds me of the Wisconsin Dells of my youth. It's real. She greets me every time I make my way through the Frank Llloyd Wright-inspired foyer to the host stand where she is unfailingly smiling and kind.
It's obvious that she is busy juggling tables, staff, kitchen messages and an enormous dining room, but her eyes convey an easy elegance and warmth. In fact, it's her eyes that welcome you into The Del-Bar and set the table for a meal that is astounding in the fact that the experience is exactly what you need: elegant and warm; a menu filled with Wisconsin supper club delights and culinary adventures; a wine list that is curated to meet the needs of the most discerning diners, but also filled with delicious options that are accessible to everyone who walks through the doors; service that is elegant without ever crossing into being pretentious.
It's immediately obvious that this restaurant is packed, but without the perils of an overly worked restaurant. It's bursting with diners who are truly enjoying their experience in the Wisconsin Dells area and for a few short hours, I am whisked away to a place where our supper club culture is truly the best dining experience in the state. I'm always sad to leave, but the twinkle in Amy's eyes remind me that she is there, just like the two generations before her, making diners feel like they are truly at home. God bless the supper clubs!
Obviously, I have a lot to say about both of these icons in Wisconsin food and dining, but instead of taking my word for it, go visit them both. Explore them and many, many others with an open heart and a hungry belly. I guarantee you'll find magic in places you never considered looking and sometimes, it will be surprising how truly accessible they really are.
Forever forward,
Luke Zahm
Host
Wisconsin Foodie