'Wisconsin Foodie' host Luke Zahm visits Drath Wagyu Farm, Rare Steakhouse
April 4, 2022 Luke Zahm Leave a Comment
Wisconsin Foodie airs 7 p.m. Thursdays on PBS Wisconsin.
Ogdensburg, Wisconsin. Population 185.
Not the most likely place to discover a culinary treasure that literally leaves diners shaken by the experience of something so delicious, so uniquely different that sometimes they can't even comprehend what is happening on their palates.
I've been a professional chef for over 20 years and somehow had never had the experience of trying Wagyu beef. Of course, I've heard about the amazing flavor, marbling and experience that is Wagyu, but I hadn't had the experience for myself. Honestly, I would chalk this omission to a lack of connection for me. I really do like knowing the story of the food I consume. Previous to my trip to Ogdensburg, I had never met any Wisconsin farmers raising Wagyu beef.
This trip to Waupaca County was actually my first. Located almost smack dab in the middle between Appleton and Stevens Point, we drove into the gentle rolling hills that reminded me of home in the Driftless. The small towns felt familiar and had the amenities necessary for incorporation:  tavern, church and softball field. Somewhere, in a quiet valley in the countryside, we found a gravel road that led us to Drath Family Farm.
The brothers Drath (Nathan and Keary) were happy to welcome us to the "home" farm. Located on a quiet, dead-end road, we pulled up and were immediately greeted by four of the most incredible steaks I have ever seen. Two ribeyes and two New York strips that were amazingly marbled were presented as a welcome gift.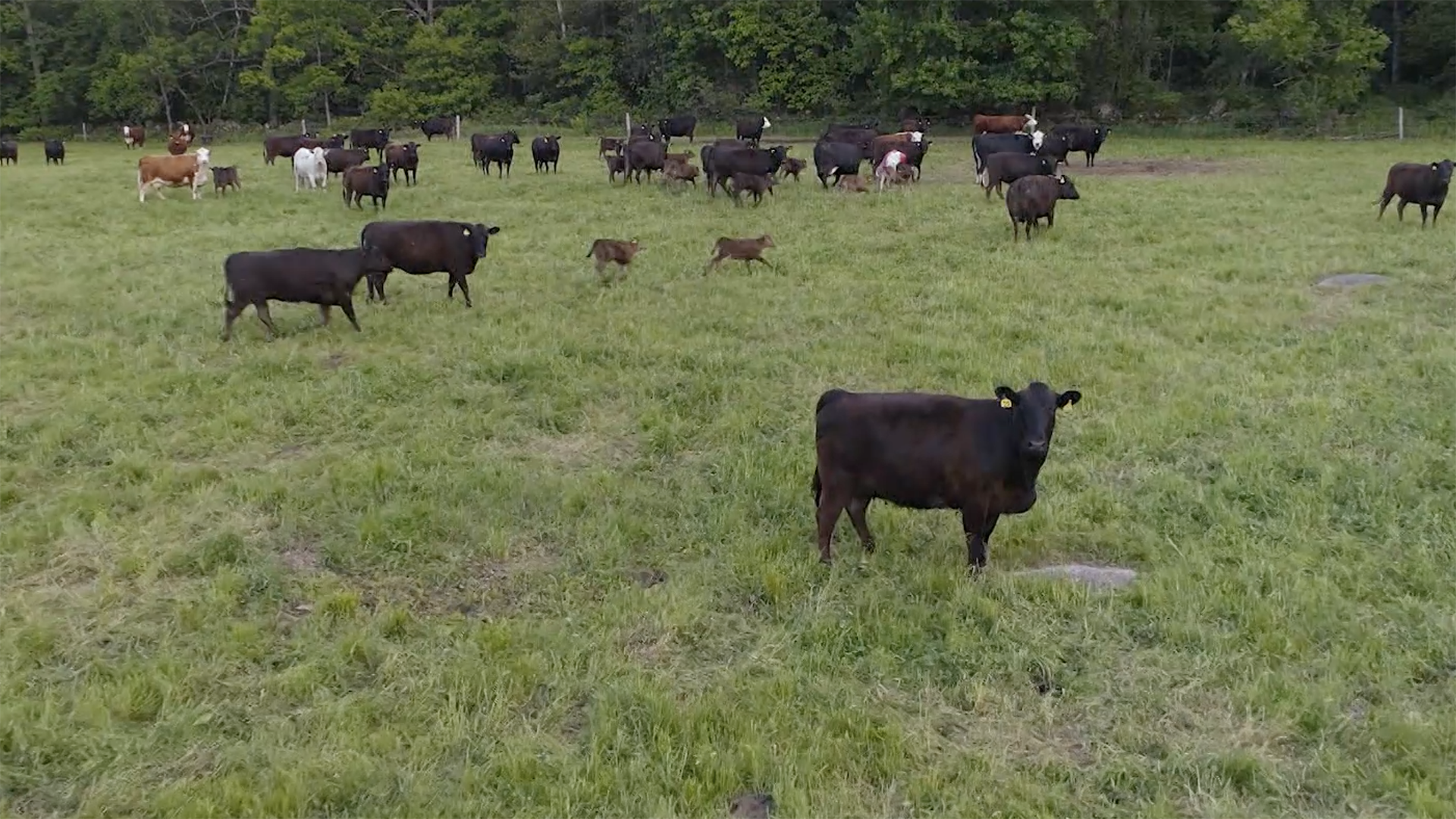 I quite literally opened up my Taxa Camper, pulled out my stove and proceeded to cook them up for all to try on camera, or at least attempted to cook them up per the farmers' specification. I'm no stranger to the pressure and stress of a professional kitchen, but it was nothing compared to the stress of two farmers watching my every move as I salted, peppered and seared the steaks to their specification. About midway through the sear, my propane stove started to freeze up, causing concern on the set. I felt them stiffen, worried that their product would be sullied by my tiny camping stove and aluminum cast pan. And I was well aware that their pride, their financial input and their passion for keeping their family farm alive and working was in my hands.
The Drath family story is not uncommon in Wisconsin: former dairy farmers turn their sights on different avenues of income to keep the multi-generational farms functioning. In their case, the milking cows were moved off pasture and ginseng was planted, then when milk prices continued to drop, Keary and Nathan decided to take a radical step into the future.
They had researched and found avenues into the world of animal genetics, and for a brief time in the 1990s, Japanese Wagyu or Kobe beef genetics were available for purchase. Today, they are regarded as a national treasure of Japan and are closely guarded as such. All of this being said, the pressure was beginning to build for me to make sure I didn't mess these amazing steaks up!
Finally, the equipment cooperated and we were able to finish the sear. I let the steaks rest. I sliced them thinly for all of us to sample standing in the lawn of the farmhouse. I took my first bite of the Wagyu…
I melted.
The texture of the Wagyu beef was unlike any other bite I've ever had. It begins with all the familiar notes of beef (umami, salt, richness), but as it progresses on my palate it unfolds depth, character and elegance that I've never experienced.
My palate went haywire. My brain didn't know what to do with the flavors and sensations I was experiencing. As I try to write about it now, I don't know if I have the command of words to adequately describe what I experienced, but I can say for sure that it was life-changing.
One of the things I adore about this place is the ability to link contrasting stories — from deeply rural pockets of the state to our urban centers.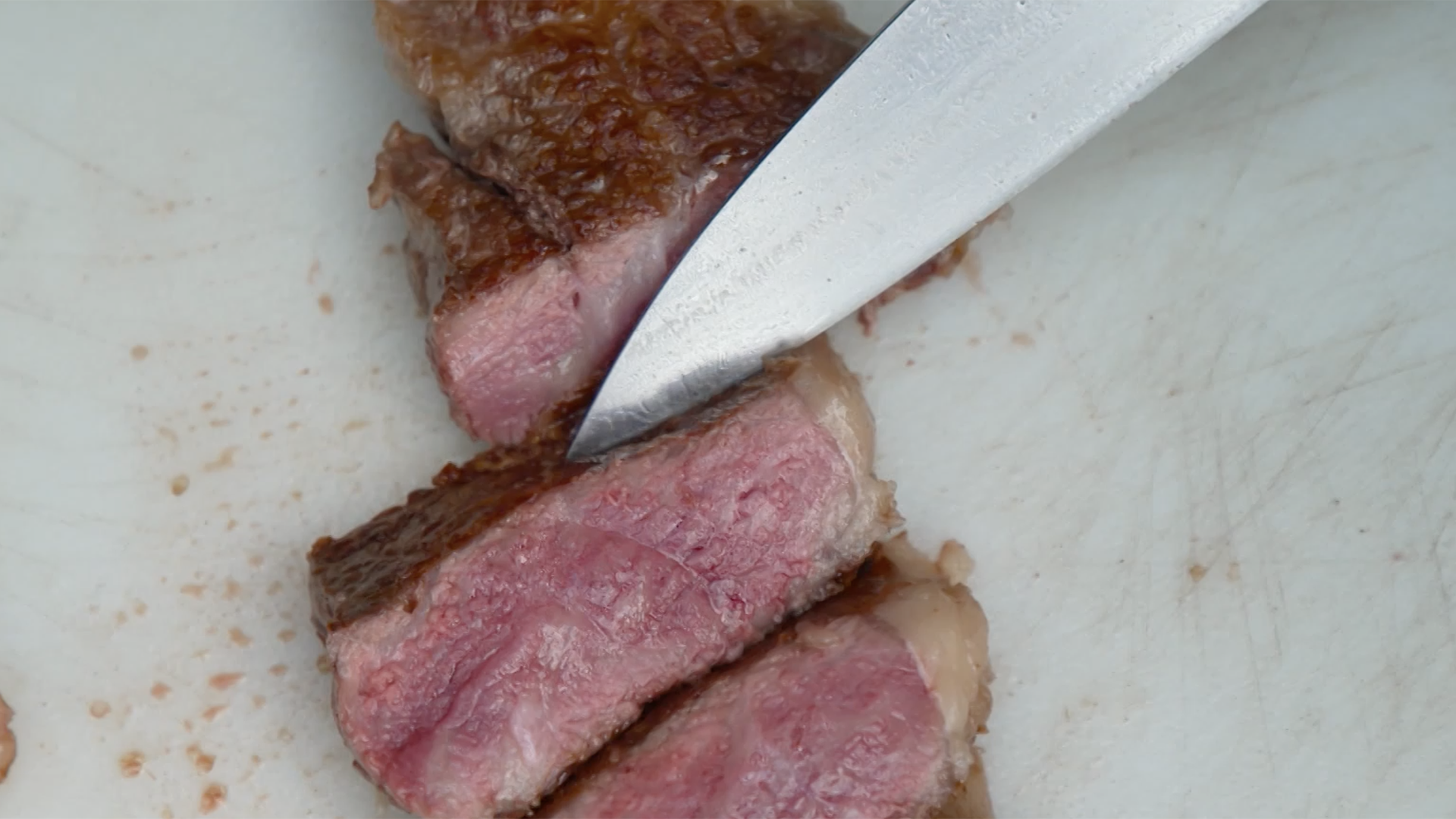 I wanted to see Wagyu in her full glory, and Rare Steakhouse, located in downtown Milwaukee, provided an opportunity for me to meet up with Chef Todd Leech, who was generous enough to walk me through the Wagyu program in his restaurant. Kindly, he presented me with two options to try: the standard A5 Japanese Strip Loin and a special treat, the "Olive."
Both of these amazing cuts of beef come from Japan and have the paperwork to prove it (honestly, it's a certificate of lineage complete with a nose print of the animal and its parents), but the Olive was especially unique. It came from an island off the coast of Japan where olives are grown, and as such, the animals were fed a unique diet that only contained olives.
Chef Todd prepared the beef in exactly the same fashion as I had employed on the farm: salt and black pepper, medium high heat to sear, then flip. Sear again. Rest. Slice thinly against the grain.
I tasted the A5 and was immediately taken back to the place where words no longer matter. They fail to adequately describe my dopamine response in my brain (seriously, it's that wild). Anxiously, I reached for a slice of the "Olive."
I cried. My brain was overloaded. My chemicals swirled and my emotions weren't able to keep up with the electrical impulses that relayed between my tongue, my emotional recall, my words, my ability to think rational thoughts that are communicated through tones recognized as the English language. Basically, my palate was speaking in tongues to my brain. It was that good. Even now, as I write about my Wagyu experiences, I'm at a loss to describe them adequately.
My advice? Try them both for yourself. See if your words serve you better than mine, or if like me, you turn into an electrochemical puddle over the culinary gift that is Wagyu right here, in Wisconsin.
Forever forward,
Luke Zahm
Host
Wisconsin Foodie