'Wisconsin Foodie' host Luke Zahm visits Baron's Gelato, Leon's Frozen Custard and The Pearl Ice Cream Parlor
January 31, 2022 Luke Zahm Leave a Comment
Wisconsin Foodie airs 7 p.m. Thursdays on PBS Wisconsin.
Imagine this: You're navigating Milwaukee traffic late in the day with two nine-year-old boys who have eaten their weight in gelato and custard. You're trying to deliver a monologue before the sunlight fades into the night, but can't shut them up long enough in the back seat to get a word in. You remember the W.C. Fields quote: "Never work with children or animals." They kind of seem one and the same at this moment, and you now fully understand his rationale.
And so begins the episode…
When you talk about Wisconsin being the Dairy State, most people can tell you their favorite cheese, butter or milk from the long list of options we boast. However, when [Wisconsin Foodie producer] Arthur Ircink and I were spitballing ideas for an episode involving ice cream, custard and gelato, we had an array of opinions about whose work defines the "essential" staples for the Wisconsin trifecta.
We wrestled with the huge list of businesses and frozen treats that have given our lives shape and meaning, and since I'm from southwestern Wisconsin (608 for life!) and he's from the greater Milwaukee area (414 represent!), we deadlocked in disagreement. To be fair, in our disagreements, Arthur usually wins.
We decided the best way to get a relatively unbiased opinion was to involve our two sons. (See what I did there?) Both have an enormous sweet tooth, both are cuter than homemade shoes, and we thought it would be fun to include them in an episode so they could travel the state with their dads, sort of like a "take your kid to work day, if your work involves hanging out with Willy Wonka" vibe.
Right away, my son Silas got a huge win. An avid fan of camping and swimming with me, we posted up at Kohler Andrae State Park and got to experience the magic of Lake Michigan at her warmest. We walked the beaches, swam in her placid waters and lived a moment of our best lives before the taping began.
Taping began in Sheboygan at Baron's Gelato.
Now, as a rule, we make a point of profiling businesses that most folks can access during their travels across the state. Baron's was kind of an exception; they don't have a traditional parlor where their frozen gelato can be purchased. This delicacy can be purchased at groceries and restaurants across Wisconsin or can be found in random locations with their gelato cart. Baron brought us into his world of flavors, and they didn't disappoint!
We jumped in the van and made our way down the coast to Milwaukee, home of Leon's Frozen Custard. Silas and I had never been to Leon's, and the experience was just that – an experience! Owner (and Leon's son) Ron Schneider has been working in the custard business since the 1960s. To say that he's a lightning rod of a human would be an understatement. I honestly had no idea that someone could make custard controversial! Thankfully, the product served at Leon's is delicious and the staff shines brighter than the neon lights.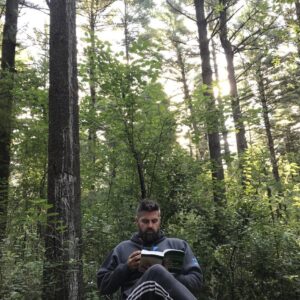 As the day faded, Silas and I ducked into my secret campsite in the Kettle Moraine State Forest. Every time I stay overnight in the Milwaukee area, I use this place as my sanctuary. It's a place that is quiet enough to make me feel like I'm at home. I've found over the years of travel that hotels make me uneasy, and my real home is in wide-open spaces.
The next day was hot – perfect ice cream weather! Silas and I made the drive across Wisconsin to the hills of the Driftless. Home!
La Crosse is home to the ice cream parlor of my youth: The Pearl Ice Cream Parlor. An icon downtown, I've quite honestly waited in line in sub-zero temperatures to get frozen treats. That's serious dedication!
We rounded out the experience by making cones, tossing scoops and, of course, getting to know the people behind the scenes that make this destination ice cream shop tick. As we wrapped filming, the summer rains blew in across the Mississippi River, signaling it was time to wrap our shoot.
The boys, tired from being on task for so long and full of Wisconsin's frozen delights, quietly made their ways back into the cars, excited for the impending sugar crash and sleep.
Summer in Wisconsin. It really doesn't get any better than this.
Forever forward,
Luke Zahm
Host
Wisconsin Foodie