The Lights Go Up on the 2021 Wisconsin State Honors Concerts on Oct. 28!
October 26, 2021 Samantha Nash Leave a Comment
The Wisconsin State Honors Concerts are taking the stage for an annual showcase of the state's talented young performers. Following up on last year's virtual show, fans of these high school musicians will be able to enjoy the performances two ways this year – at live concerts in Madison on Oct. 28 and 29 and streaming on pbswisconsin.org starting Nov. 1!
Since 1968, the Wisconsin School Music Association has invited students from around the state to audition for a spot in one of these advanced ensembles. The program's band, treble choir, orchestra, jazz band and mixed choir are each lead by a different celebrated conductor, who guides the students through learning several complex compositions.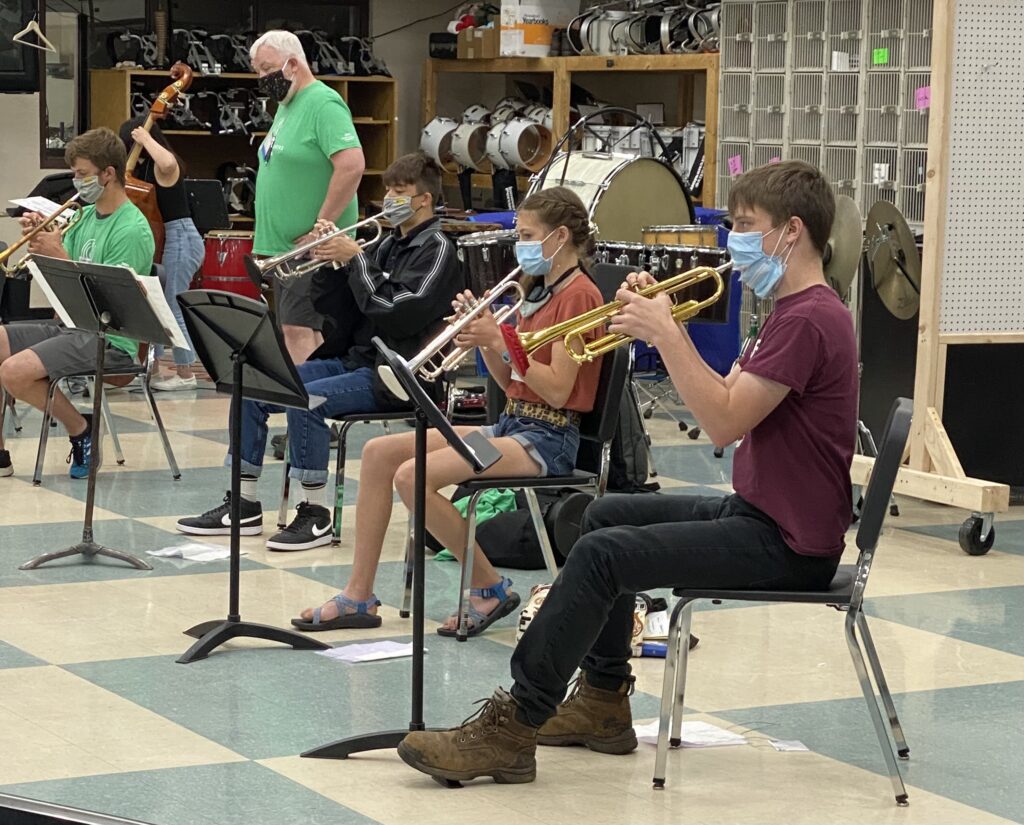 This process, which typically includes a multi-day summer camp, functioned a little differently this year due to ongoing concerns about the COVID-19 pandemic. In the past, students would come together with their conductor to learn and practice in person, but this year the program used a hybrid approach – the performers spent three days learning their parts remotely via Zoom, then joined together for one day of in-person, socially-distanced rehearsal.
While this departure from the norm presented challenges, mixed choir conductor Frank Watkins said this batch of young people are uniquely qualified to succeed.
"These students are very resilient, and luckily they're of the tech generation, so they know how to navigate these spaces," Watkins said. "You measure progress by seeing the smiles on their faces and in the music they make. On that last day of in-person rehearsal we put together what we did on Zoom and could hear how hard they worked in the final product."
The change in format even offered some benefits that were previously unavailable to the program; with instruction occurring online, the conductors were able to invite composers to speak directly with the students about the pieces they were learning.
Joni Jensen, the treble choir conductor, said the opportunity to make these types of connections was a powerful motivator for her ensemble.
"Our first piece is by Rosephanye Powell; she was one of several composers we had come talk to us at our camp, but she was the one that just lit a fire under those singers," Jensen said. "They couldn't believe how passionate she was about her music and how empowering it should be."
The musical selections in this year's program span from modern works by living composers like Powell's "Ascribe to the Lord," to Hector Berlioz's 1830 "Symphonie Fantastique," performed by the orchestra. The program will also draw from many cultural sources – the mixed choir will perform "I Dream a World," a musical version of the Langston Hughes poem arranged by Uzee Brown Jr., and the band will showcase David Maslanka's Buddhist-inspired "Give us this Day." In their Oct. 29 concert, the jazz ensemble will play an adaption of "Better Get Hit in Your Soul" by the legendary Charles Mingus.
Orchestra conductor Mark Dupere said music has a unique ability to bring people together, in the ensemble and the audience.
"My belief is that music is a gift from above. Music can connect the whole world in ways that language is barred from. Music can be transcendent to us in a way that takes us out of our mundane, everyday life and makes us ponder and prioritize," Dupere said.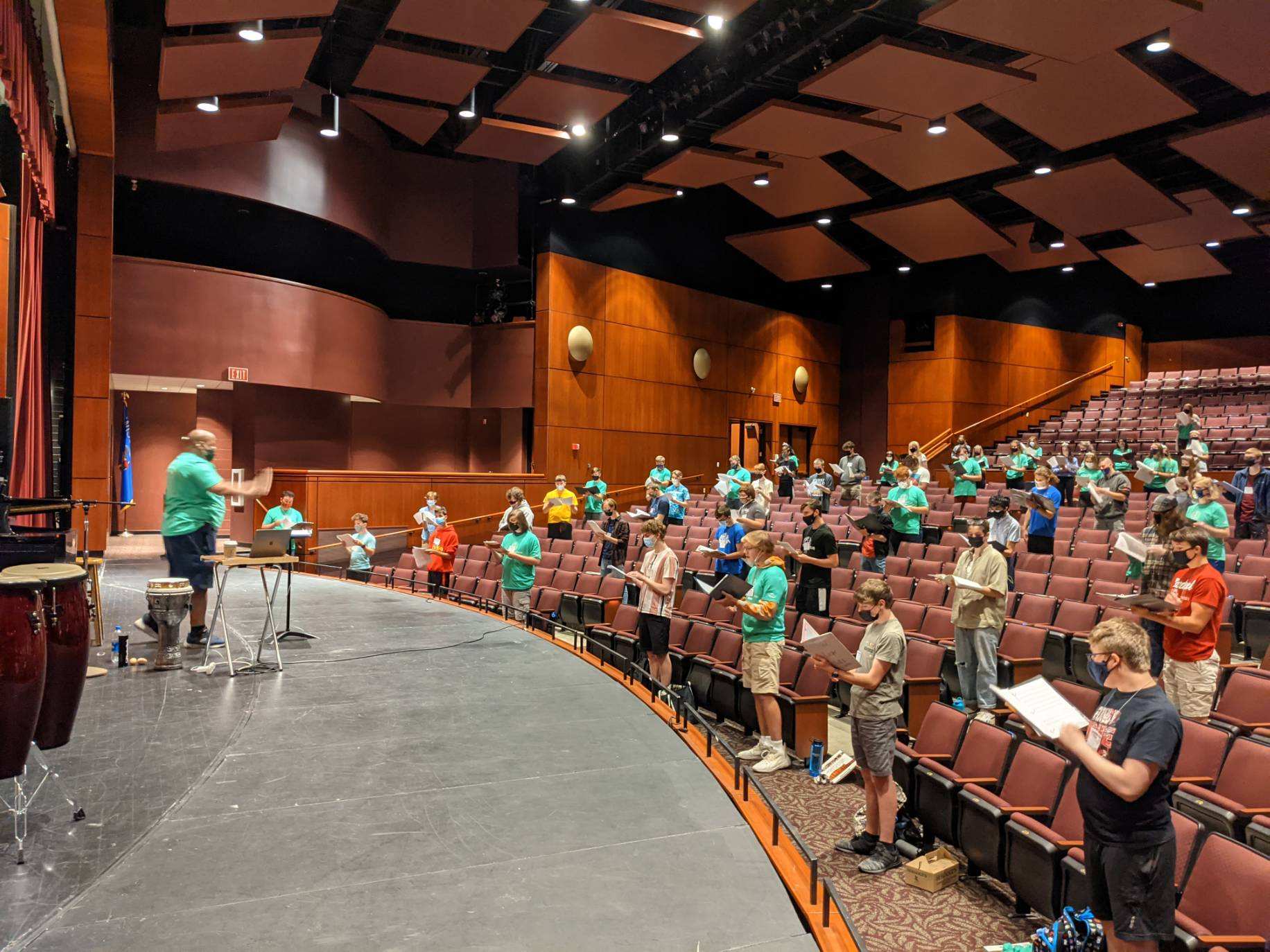 Although similar programs exist in other states, jazz ensemble conductor Jamey Simmons offered strong praise for the quality of music education in Wisconsin and for the people who work hard to keep the State Honors Project operating each year.
"Wisconsin schools are very serious about music, and WSMA is very serious about creating a really good program," Simmons said. "They should be commended, and I congratulate them. [Program director] Victoria Donahue moves mountains."
After more than a year and a half of suspended or heavily modified musical instruction, many students have felt a strong sense of loss – of companionship with their fellow musicians, of a treasured creative outlet, and of the many far-reaching benefits their ensemble work brought to the rest of their lives.
Now, as they prepare for a return to the stage, band conductor Carolyn Barber said their growing enthusiasm highlights a bright spot in an otherwise difficult time.
"The pandemic has caused us to think about what is absolutely essential, and what we have been taking for granted, something as simple as being in the same room!" Barber said. "A live performance with the audience in the same room is not the same as a recording. There is an energy that comes from the audience to the players, from the players to the audience."
All of the conductors involved in this year's program made similar observations: The students in this cohort, like many performers, have emerged with a strengthened passion and excitement for their craft.
"I think that excitement is a strange pandemic gift we've been given," Barber said.
Tickets for the Wisconsin State Honors Concerts are available from the Wisconsin School Music Association. You can attend the concerts in-person on the following dates, times and locations.
October 28 – Overture Center for the Arts
4:30 p.m.: 2021 WSMA High School State Honors Orchestra and Band
8 p.m.: 2021 WSMA High School State Honors Treble Choir and Mixed Choir
October 29 – Monona Terrace Convention Center
11:30 a.m.: 2021 WSMA High School State Honors Jazz Ensemble
Full recordings of each concert will be available on pbswisconsin.org starting Nov. 1, and Wisconsin Public Radio will broadcast highlights from the shows on Nov. 25 and Dec. 26.
Made in Wisconsin Wisconsin School Music Association Wisconsin State Honors Concerts