The Final Forte 2011
March 25, 2011 Wisconsin Public Television Leave a Comment
Watch Wisconsin's Young Artists Compete: The Final Forte at 8:00 p.m. Monday, March 28 on Wisconsin Public Television.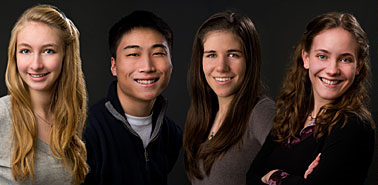 Ariela Bohrod, Elliot Yang, Leah Latorraca and Valerie Clare Sanders.
Every year I am amazed with what these kids can do.  Part of it may come from my lack of ability to play an instrument, but each of these young artists is truly great at what they do. If you'd like to see just what I'm talking about, you can see each artist in action by watching their profiles courtesy of In Wisconsin by using the links above.
The competition is quite an opportunity, but only one artist can receive top honors. Make sure you tune in Monday to watch their full performance with the Madison Symphony Orchestra and find out who won.
Music public television Wisconsin Public Television Program In Wisconsin Final Forte Madison Symphony Orchestra