The Final Forte 2013
March 12, 2013 Wisconsin Public Television Leave a Comment
Watch Wisconsin Young Artists Compete: The Final Forte at 7 p.m. Thursday, March 14 on Wisconsin Public Television.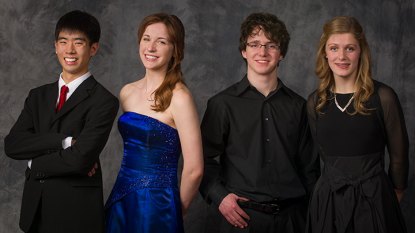 It's competitions like these that always make me feel a little sad inside. I mean not really, but I do wish I would have learned to play an instrument when I was growing up. Sure I could play a few simple nursery rhymes on the piano, but the music bug never really latched on. I think my sister stole all of the musical talent in the family, so instead I think I'll just sit back and enjoy other people's musical skills.
Year after year I am amazed by these kids. The time and dedication they have to put into their respective instruments to perform at this level at such a young age is simply astounding. Kind of makes you wonder though – is it that doing something consistently starting at a young age makes you great at it? Or are some people just lucky enough to find their special niche and a very young age?
Don't forget to check out each competitor's bio and learn a little more about how they got to where they are today:
C. Andrew Dunlap
Christopher Eom
Lauren McNeel
Chloé Tula
public television Wisconsin Public Television Program Madison Concerts Final Forte Madison Symphony Orchestra The Final Forte Music PBS