Seymour's librarian extraordinaire provides PBS KIDS-themed programming
June 22, 2022 Marci Glaus Leave a Comment
Elizabeth Timmins wears all of the hats at the Muehl Public Library. As library director and programming extraordinaire, Timmins is the only full-time librarian in Seymour, Wisconsin.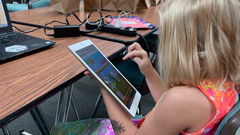 She joined PBS Wisconsin Education more than a year ago as a participant in the PBS KIDS Community Learning Cohort to support family and community engagement. Since then, she has shared her curiosity with the Building for Kids Children's Museum in Appleton and shared her cohort story with educators alongside PBS Wisconsin at the Wisconsin Library Association Conference.
Through her experiences with the Community Learning Cohort, Timmins attributes the high-quality PBS KIDS resources, games and media, along with the camaraderie during some of the darkest days of COVID, as reasons for feeling joy and hope.
The Muehl Public Library was one of 15 across the state selected to participate in the community of practice through virtual training on PBS KIDS Ready to Learn digital media resources. Libraries received a $1,000 implementation stipend to fulfill their own PBS KIDS program during the summer of 2021. 
When asked how her experience working with the PBS KIDS Community Learning Cohort supported her work and the community, she said, "It saved my life. I was in a complete depression about COVID – wondering "what value do I have in this situation" because it was so, so difficult. When this came through, it was such a gift."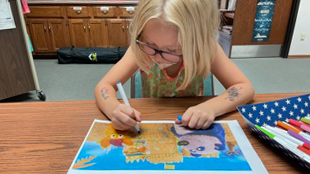 Last summer, the pandemic shut down efforts for hosting groups for children for library programming Timmins had planned as part of her cohort learning experience. Determined to serve her community and fulfill her plans, Timmins ended up scheduling one-on-one appointments with kids to experience her Donkey Hodie-themed program. As a result, she says, "Now I have stronger relationships with families." One parent even came back to her and asked to teach their child about library skills.
Timmins continues to grow her library programming efforts with the rich media and activities available from PBS KIDS and PBS LearningMedia. This summer, the Muehl Public Library is back in person for children's programming celebrating the Collaborative Summer Library Program theme, "Oceans of Possibilities". As part of the theme, Timmins is integrating Splash and Bubbles games and activities and even partnering with the Community Family Resource Center for broader reach. 
"It was standing room only," she said of the first in-person children's programming day this summer. "It was amazing. We were right back where we were. PBS materials are so well-known and high-quality!"
With 20 years of experience working for her community at the Muehl Public Library, Timmins remains excited about learning new things to create meaningful and playful learning experiences. "For me, we are such a small library – just to have these opportunities. I'm always saying we can be just as great as any large library. We've got the resources, the talent, the community. It's just a matter of keeping up with opportunities."
Images provided by and used with permission from Elizabeth Timmins.