Q&A: Author Susan Apps-Bodilly on new special, 'Jerry Apps Food & Memories'
November 17, 2022 Tara Lovdahl Leave a Comment
Join beloved Wisconsin author and historian Jerry Apps and author and educator Susan Apps-Bodilly in exploring the ways food evokes memories and brings people together. In the all-new special Jerry Apps Food & Memories, they share stories through food Jerry's mother, Eleanor, painstakingly prepared for the family.
A companion to the Apps' Wisconsin Historical Society Press book "Old Farm Country Cookbook: Recipes, Menus, and Memories," Jerry Apps Food & Memories premieres at 7 p.m. Monday, Nov. 28 on PBS Wisconsin.
In anticipation of the premiere, Susan Apps-Bodilly spoke with PBS Wisconsin about food, memories and her connection to her grandmother.
PBS Wisconsin: What was it like to work with your dad?
Susan Apps-Bodilly: It was great. I'm used to helping my dad with his writing projects because he lets me edit and read first drafts before they get published — especially with his fiction, he's always asked me for ideas. And also my mom worked on the book, too. She was a big help. So it was really great to work with both my parents. 
My mom is a home economist; that was her college major. She's a very good baker and cook, and she has taught me a lot about canning and cooking my whole life. She was my 4-H leader in cooking when I was growing up.

PBS Wisconsin: What made this project unique?
Apps-Bodilly: It was interesting to talk to my dad because it was sort of a reverse of his storytelling. Usually he thinks of something to tell a story about and then he tells the story. But when we were deciding which recipes to use, I would pull out a recipe card and say the name of the dish and whose recipe it was. Many times I didn't even know who these people were, and he would say, "Oh, that was a neighbor." 
It was really fun because, believe it or not, there were new Jerry Apps stories I hadn't heard before! It was talking about family and community and connecting how food brings people together. In most cases, it was a pretty deep emotional connection to the event where the food was. 
For example, I really had never talked to my dad about the passing of his grandparents who lived just across the field. Until we did this book, I never knew that his grandpa passed away at the date of Pearl Harbor, and they laid him out in the parlor of their house. My dad said, "I still can't stand the smell of certain kinds of flowers," because the flowers and the food that people brought over really connected his memory of that happening. And I never knew anything about that until we started talking about food that you would bring to a funeral lunch.

PBS Wisconsin: You've written other books by yourself. What topics are you drawn to? 
Apps-Bodilly: I'm a full-time second grade teacher, and I'm interested in anything related to history and curriculum and having kids learn about the past. So as a teacher, I was really intrigued to write the "One Room Schools" book. Also, there was a one-room school that both my dad and his mother attended.
At nearly every talk I've done about the "One Room Schools" book, lots of people who went to one-room schools come, and they all say that they got an excellent education in that one-room school. It's almost like you did eight years of curriculum every year, over and over. Because if you were in third grade, the teacher would put you in a small group to do your third grade lessons while everybody else is working. So everybody else who's working could listen. If you're past that age, you could review. And if you were younger, you could preview the lesson.
Another book I wrote called "Seeds in Soil" just came out last spring. That was a unique project because I incorporated the history of Wisconsin, and I started each chapter with a primary source like a photograph, letter or a piece of music that had something to do with gardening. They were paired with prompts, "observe, think and wonder," to encourage kids to go deeper with the material. So it's a way for families to think about the past, but it also includes directions for gardening.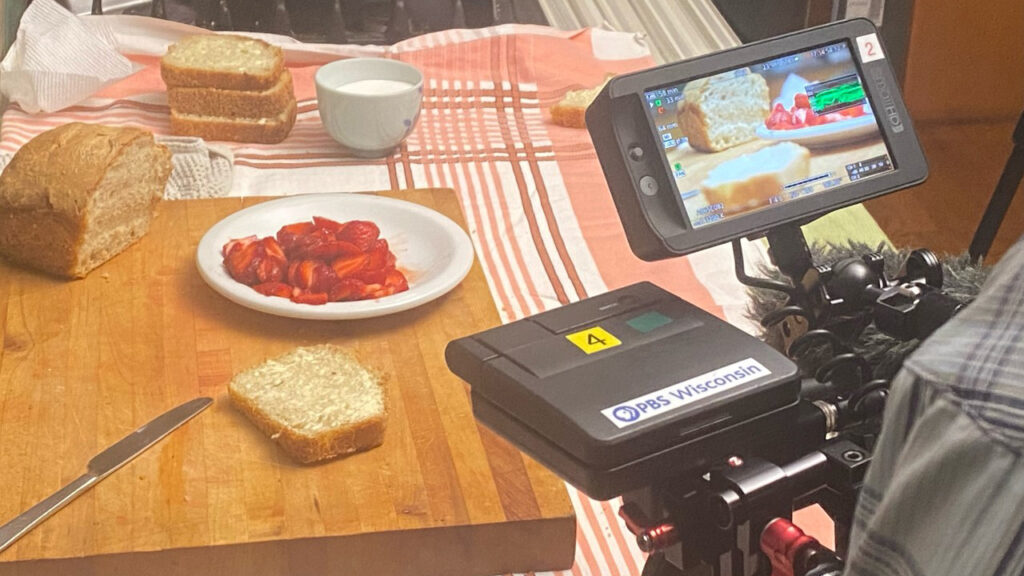 PBS Wisconsin: Were you influenced by your dad to become an author?
Apps-Bodilly: I can't imagine how I wasn't. His first book,"The Land Still Lives" came out when I was in fourth grade, and my fourth grade teacher was so excited, she had him come into class, and he did a little book talk.
Growing up, he told us stories. And the way he did it was, he would tell my two brothers and me to give him an animal. Of course my brothers liked trying to make it as random as possible, like zebras. And then my dad would take a few minutes to make up a bedtime story to go with it.
Plus his dad, my grandpa, was a phenomenal storyteller. That's what they did. On Sunday afternoons, my dad and his two brothers and my grandpa would go outside under the tree and just talk. They didn't know that they were telling stories, but they always were. Even a fishing story would get bigger every time they told it. My brothers and I would just sit and listen because it was really interesting to hear how these stories developed. Then my dad and his brothers would get into an argument: "That's not how it happened!" or, "I don't remember it like that!" It was just so entertaining.
When I was in sixth grade, I did a poetry unit in school and I submitted three poems to Cricket Magazine. I got a really nice rejection letter, but I was really impressed. I still have it. It was nice to start thinking about writing when I was that young.

PBS Wisconsin: Do you remember hearing a lot of your grandmother's stories? 
Apps-Bodilly: I got less direct stories from her, except for times like when we were looking at pictures. She was more like, "let's do things together." Like she would bring me out to the chicken house. "Can you help me with this?" or, "Let's do the dishes." So those are my memories of her more than her just sitting and storytelling.
PBS Wisconsin: What are some of your favorite memories of your grandmother?
Apps-Bodilly: One of my favorite memories is going to get the eggs from the chicken house because the chickens knew her and they liked her. She was determined for me to have that same relationship, but the chickens did not like me.
She was stout and not real tall — a German lady. She wore her apron that goes over the top and ties in the back, and she carried her basket. I watched her, and she would reach under the chickens and put the eggs in the basket. And every time I tried to do that, they pecked me and she thought it was hilarious. I screamed, "They're pecking me!" And she just laughed and laughed. Those were definitely her chickens. 
She was in charge of the chickens, and we called it her egg money because she would trade eggs at the general store in town for groceries and whatever they couldn't grow on the farm, like sugar.
She was very, very kind — very good to me. I know she did not understand how I could not wake up as early as they did, because I didn't have an alarm clock when I went to stay with them, so I would come down for breakfast in the morning and they were already all done with breakfast. She would leave breakfast ready for me at the table, and I remember she'd react like, "Oh, you're up," but she never would say that. She made a full egg breakfast and would sit down with me, even though I'd slept in.
She loved music, and she had a record player. She loved Christmas and everything about Christmas and putting up a tree.
She loved to play cards. Have you ever heard of Smear? If you're from up there, you know how to play it. She loved to play cards and she was very smart about it and was almost competitive. If she had a good hand and someone said, "It's a misdeal," she would get really mad and say, "Ah! I had such a good hand!" It was very funny.
And she and my grandpa had a fun relationship. He used to tease her and pull pranks on her. We'd be sitting, and then for no reason, he would get up and go answer the door and start talking like there was somebody there. And she would call, "Herman! Who's at the door?!" And then she'd have to stop what she was doing, like she was crocheting, and go to the door to see that nobody was there. He would just bust out laughing like it was the funniest thing. They were really, really fun and very happy.

PBS Wisconsin: What do you hope viewers take away from Jerry Apps Food & Memories?
Apps-Bodilly: I hope that they will take the time to talk to somebody older — even if it's not a relative. People have asked me, "How do you get started on this?" I tell them just to start with a question or something easy, like, "What did you usually have for breakfast?" or "What was your favorite food growing up?" Usually, if you just start with something really simple, people will start talking, and then the stories start coming out. 
You can appreciate the past, and then keep that going in your own family. Keep the storytelling going. You can save stories through something tangible, like a recipe. Pick that one thing that you're always going to make at Christmas to represent your family history. If you don't have anything like that, you can start a new tradition.
Make sure the kids are involved. Make sure that kids are in the kitchen and in the garden and learning how to grow things.
PBS Wisconsin: What are some of your favorite dishes that your grandma prepared?
Apps-Bodilly: She made very good sweet rolls, and she put different things on the top, like homemade strawberry jam. Later on, when she was buying canned pineapple, she added those in with cinnamon, and that was good.
It was interesting because most of the recipe cards were desserts and cakes and things because she really knew how to cook everything else from memory. We still make my grandma's cherry chocolate cake a lot. It's really fun to think about her.