Pie Week Recap: The Great Wisconsin Baking Challenge
August 28, 2017 Jonna Mayberry Leave a Comment
It's the semi finals, and there's plenty of drama and plenty of bakes. But only four bakers remain!
We broke from convention this time, transforming the week's challenge from patisserie to pie.  Everyone loves pie – and we couldn't bear the thought of going all summer without baking a whole bunch of pies. But don't think we forgot about our beloved Great British Baking Show friends: We did incorporate some inspiration from this week's episode since pie crust is a type of patisserie.
Let's showcase the efforts of our local bakers and recap this week's episode of The Great British Baking Show. If you haven't seen this episode yet, here's your spoiler warning!
ROUND 1: SAVORY PALMIERS
This challenge started with a lot of French phrases from the judges, who declared that the bakers would need to embrace their French sides.
Paul and Mary requested 24 savory palmiers: Two different flavors (12 of each), and full puff pastry. You should be able to see the layers of the puff pastry all the way through, according to Paul.
It's a Little Too Quiet: "Semi final … It's just so empty in here." – Candice
Best Palmier Explanation From Paul: "If it's too thick, then it becomes something else. It becomes a … pastry." Anything but a PASTRY!
Favorite Real-Talk Moment: "I've just used plain flour, which is what I do at home." *SHRUGS* -Andrew. 
Funniest Moment: During filling prep, Jane whispers that Candice is "a bit quiet" and focused. Cut to Candice: "I CAN HEAR YOU WHISPERING!"
Watch It, Selasi!: Selasi finished Mary's sentence … but Mary wasn't pleased with the interruption. 
MB: "Tell me all about your …" 
Selasi: "… PARMIERS"

Then, he made a "Bakers, two hours!" announcement that threatened to put Sue out of a job.
The Takeaway: In the end, despite dough disasters and filling faux pas, they all kept calm and carried on. Sue and Jane even chanted "It will be absolutely fine."  Like Andrew said: "That's the British thing to do!" 
HOW OUR LOCAL BAKERS DID:
Our bakers' first option was the Curry Puff Challenge, which asked our bakers to prepare a mini pie consisting of the savory filling of their choice in a baked pastry shell.
Joshua in DePere crafted a Currywurst Puff using local Austin's bratwurst and was very happy with the results. "Just look at the layers in the pastry. My favorite part was seeing them come out of the oven with flakes that were beyond what I could have hoped for."
Amanda from Madison, whose bake is also featured later in this blog, created British classics with a Wisconsin twist: steak and ale pie and a Cornish pasty. The filling, adapted from a past Great British Baking Show contestant, "was  a mix of beef chuck roast, onions, carrots, mushrooms and beer."
ROUND 2: High-End Savarin

Now, this was "kind of unknown territory," in the words of Andrew. Even Paul admitted that the Savarin is quite a tricky thing to accomplish. The Savarin is a yeasted cake that's dependent on a good proof. If the bakers don't wait long enough, the cake won't reach the top of the mold. And if they wait too long, it will balloon. In addition, the cake needs to be moist all the way through.
The Savarin is a yeasted cake that's dependent on a good proof. If bakers don't wait long enough, the cake won't reach the top of the mold. And if they wait too long, it will balloon. In addition, the cake needs to be moist all the way through. So, it's slightly complicated!
Things Are Heating Up: The poor bakers were so hot in the tent that Selasi needed his face toweled down by Mel, and Andrew was worried his chocolate wouldn't set.
Most Heartwarming Moment: A hug between Candice and Mel. "I may have just got chocolate on you." 
Timely Jane: Selasi knows better than anyone that Jane is ALWAYS on time.
Tense Moments: This challenge was truly a nail biter, with many bakers working to cool their cakes and decorate with just a few minutes left.
Best Nickname for a Savarin: "Yeasted Ring of Doom."
The Takeaway: Even Paul has a heart. He gave the bakers a break on melted cream, knowing that the tent was extremely hot. "Are you starting to be nice?" -Mary
HOW OUR LOCAL BAKERS DID:
We opted for a Wisconsin favorite for this challenge, asking our bakers to craft a cherry pie, and the results did not disappoint.
Mary Jane in Eau Claire made a Luscious Cream Cheese Cherry Pie, using the vodka pie crust recipe from American Test Kitchen and homemade pie filling.
Kristin in Fitchburg knows that you can't go wrong with pie and ice cream. She also incorporated plenty of local flavors:  "I used butter in my pie crust, Door County cherries in pie filling and ice cream, Penzey's almond extract in my pie filling and Sassy Cow whipping cream and milk in my ice cream."
The Door County cherry theme was strong this week. Ruth in Oshkosh used them as well and added a little extra sweetness by donating to Pie on the Porch at the Oshkosh farmer's market.
But Jean Margret from Blanchardville had a trick up her sleeve this week … her cherries were from Lafayette County! She incorporated plenty of local ingredients, and rated her pie as "absolutely lovely."
Bren in Green Bay used a historical recipe to add a fresh twist to her cherry pie: Green Cherry Tomato Pie! "The bakers of this historic time period would bake with what they had available so that nothing would be wasted," explains Bren. "They used fruits and vegetables that we do not commonly rely upon today such as green tomatoes."




Another creative twist this week was Jill's Cherry Poptarts, which turned her cherry pie into the perfect on-the-go treat.
And Team Shlimder from Madison continued their impressive 9-week Brandy Old Fashioned theme with their BOF Cherry Pie. "Sticking with the Brandy Old Fashioned till the end… one bake to go!
ROUND 3: Fondant Fancies
For the Showstopper, the bakers needed to create two different types of fondant fancies (basically 36 petit-four-esque treats). There was lots of Génoise sponge, buttercream, and fondant, and the judges were looking for glossy, smooth fancies.
Not Fancying the Fancies: "I don't think I'll ever make these again." -Selasi


Funniest Host Moment: "Did you ever think when you were growing up, that you'd be making little tiny pastel-pink sponge cubes to entertain people?" -Sue.
Most Endearing Moment: When Selasi got a dot of buttercream on his nose.

HOW OUR LOCAL BAKERS DID:
Cheeseheads know cheesecake, so we asked our bakers to show us their best cheesy dessert! Some of our bakers picked the classic cheesecake, and others opted to add some twists along the way.
Sharon from Columbus made a Bucky Badger Lemon Cheesecake, complete with a Bucky Badger made of berries.
Wynde from Eleva Wisconsin also chose to showcase state pride with a Wisconsin Cream Pie Cheesecake, complete with all of the flavors of a Boston cream pie.


Jill in Hollandale used Wisconsin ingredients and discovered that sometimes you just can't go wrong with chocolate. "I thought about fruit pies or fruit topped cheesecakes with Wisconsin ingredients – but there is just something special about high-quality chocolate cheesecake that I cannot pass up." We can't blame you, Jill!
Jeung Hwa from Madison opted for soufflé cheesecake, which entailed slowly incorporating the egg whites into the cake mixture and baking the cake in a bain-marie.
Stephanie in Stevens Point chose to make a savory version of the challenge with her Bacon Cheesecake Bites, which captured the flavors of a BLT or club sandwich lunch – including the chips. We love the creativity!
And Ralph from Madison made Käsekuchen in C-Minor German Käsekuchen (trans. "cheesecake"). "Am I happy with the result? Well, it's not the German cheesecake I know (hence the c-minor) but we enjoyed the Wisconsinized version so much that we devoured half of the cake in one sitting," said Ralph.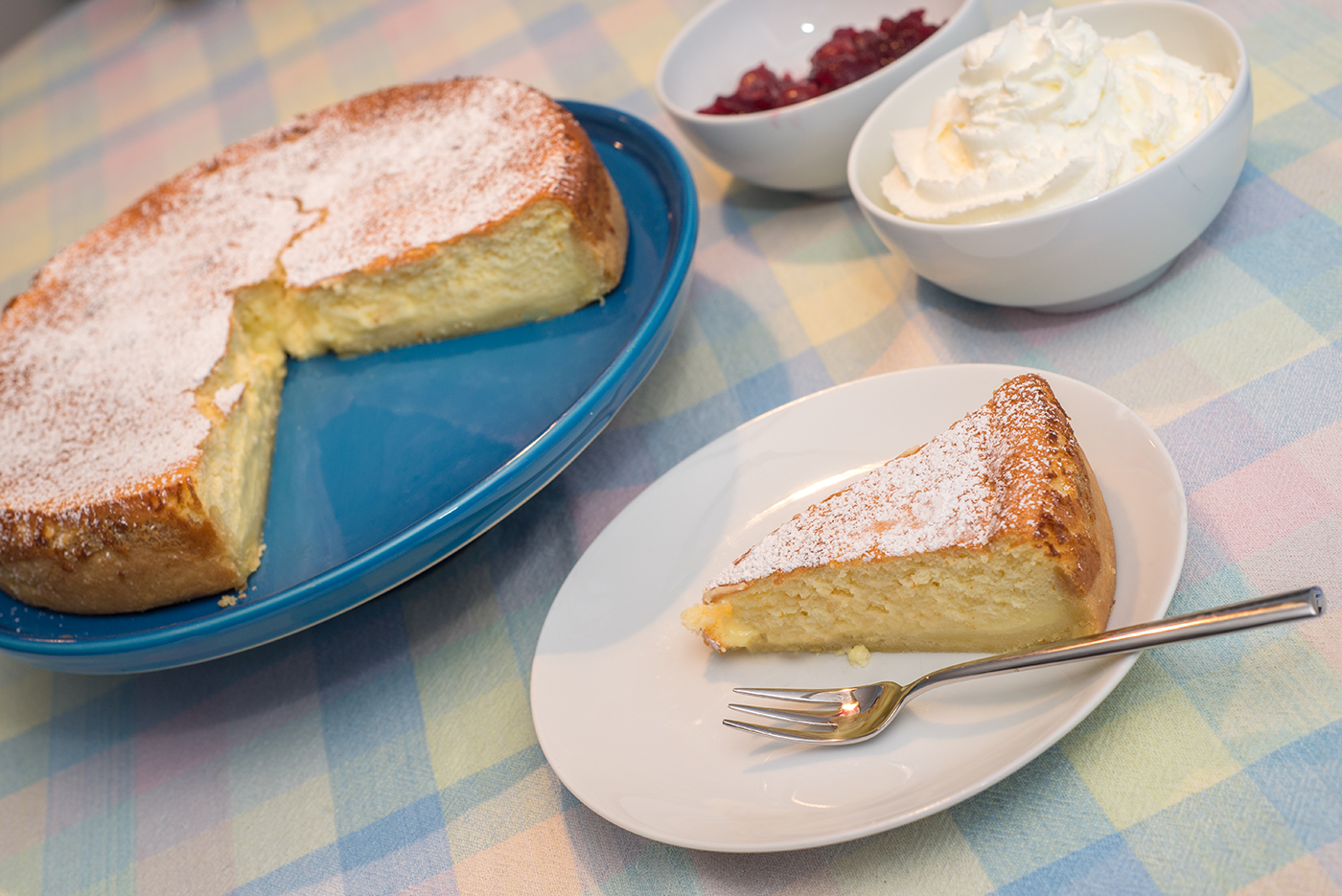 THE RESULTS
Star Baker: Andrew, for a second time!
Kicked Out of the Tent: Selasi. He had a tough week. And a humor-filled week. We'll miss him, and the rest of the tent will, too.

Meet Our Featured Bakers for Pie Week!


Amanda from Madison, WI
Steak & Ale Pasty
Amanda drew inspiration from Madison favorite Teddywedgers and adapted a filling recipe from a former Baking Show contestant.


Team Kramer from Wauwatosa, WI
Taste of Summer Cherry Pie
Team Kramer used vodka for a flaky crust and filled their pie with cherries picked in Door County at Choice Orchards.

Rebecca from Stevens Point, WI
Pointer Cherry Pie
Rebecca used cherries from the University of Wisconsin-Stevens Point campus and dedicated her pie to the students, staff and faculty who call themselves the Pointers.
Team Dettweiler Family 4th from New Franken, WI
Family 4th Great American Pies
Team Dettweiler took collaboration to the next level and went a little rogue on this challenge, with sweet (and savory) results!
Molly from Green Bay, WI
The Cheesehead Cheesecake
Molly's cheesecake is a nod to America's Dairyland with cow-inspired spots, miniature cheese wedges and lots of farm-fresh Wisconsin ingredients.
Sarah from Wisconsin
Triple-Layer Black Currant Chocolate Cheesecake
Sarah used black currants, a British favorite, and added lots of Wisconsin twists along the way. 
The Great Wisconsin Baking Challenge Food baking The Great British Baking Show