New Season of Sherlock Goes Viral
February 7, 2012 Wisconsin Public Television Leave a Comment
Over in the UK, where the entire second season of Sherlock just aired, public hysteria has grown over the season finale, titled "The Reichenbach Fall." I won't give away any plot lines other than the fact that the episode focuses on Sherlock and his arch rival Moriarty, and that at its end Sherlock's credibility is in serious question. It's this hanging plot line that has struck a chord with viewers across the pond – and around the world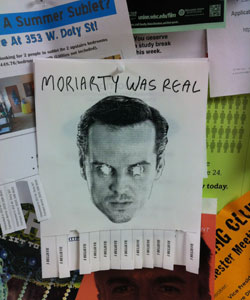 (can't keep a lid on anything in this Internet age). Viewers have sort of inserted themselves into the story by campaigning in support of the great detective. This is all the result of one blogger who suggested real-life fans of the series act as fictional fans by supporting Sherlock. The #ibelieveinsherlockholmes hashtag has gone viral, appearing on posters, t-shirts, wristbands and even on city streets in graffito. We first learned of the viewer-generated marketing campaign after the poster on the right appeared near WPT's offices on the UW campus. I won't get into the reasons why it reads "Moriarty Was Real." You'll have to find out for yourself when Masterpiece "Sherlock Season 2" airs on WPT in May 2012. Until then, believers of Sherlock here in the states will have to settle for sneak previews like the one you can watch below.
If you want, learn more details about this viewer-generated campaign at movieviral.com. The article reveals a bit more about the season 2 plot line, but not enough to spoil it, in my opinion.
Watch Sherlock Season 2: A Scene from Ep. 1 on PBS. See more from Masterpiece.
PBS Wisconsin Public Television Wisconsin Public Television Masterpiece sherlock sherlock holmes