New Additions to Racial Justice Content
September 15, 2020 Sigrid Peterson Leave a Comment
PBS Wisconsin continues to expand its delivery of streaming, broadcast and K-12 educational media resources devoted to understanding and addressing the crisis of institutionalized racism in Wisconsin and the nation.
In early June, in the wake of the killing of George Floyd at the hands of Minneapolis police, we launched an expanding special collection of on-demand PBS Wisconsin and PBS programming.
This wide-ranging assortment of multi-genre storytelling and reportage, taken as a whole, provides context that reveals the police killings of George Floyd, Breonna Taylor, Philando Castile, Eric Garner — and now, the police shooting of Jacob Blake in Kenosha, Wisconsin — not as isolated incidents but part of a broader pattern of systemic racism endemic to American history and society.
Ongoing, PBS Wisconsin is refreshing this collection with new streaming content, digital storytelling and current local reporting throughout the state to further conversation and motivate change.
FROM OUR PARTNERS AT PBS MILWAUKEE
We're thrilled to offer our audience streaming access to two established, original series produced by our talented partners at Milwaukee PBS. Black Nouveau is Milwaukee PBS' award-winning and long-running public affairs program centering the Black experience in our state's largest and most diverse city. Now in its 29th season, returning with new episodes on Oct. 1, the show will feature a new host. Earl Arms, media relations manager for Milwaukee Public Schools and former communications director for Wisconsin Lt. Governor Mandela Barnes will take over for veteran Milwaukee broadcaster Joanne Williams.
¡Adelante! is a monthly Milwaukee PBS series celebrating the rich heritage of Latinx people, led by producer and host Patricia Gomez. The program airs in Spanish with subtitles in English. Program segments originally taped in English are captioned in Spanish. Originally from Mexico, Gomez has more than 24 years of experience in public television including more than 15 years with the Mexican public television station WMSLP in San Luis Potosi.
ON-AIR AND ON-DEMAND
Among the forthcoming PBS content scheduled both on-air and streaming on-demand is a suite of programs taking historical deep dives into both the post-Civil War Reconstruction Era and crucial elements of the long Civil Rights Movement in the United States. These eras constitute protracted and complex chapters of the story of African America — crucial knowledge many critics of U.S. education cite as absent from Americans' historical literacy.
Jim Crow of the North
10 p.m. Thursday, September 24 and On-Demand
airing on the PBS Wisconsin Channel
Reconstruction: America After the Civil War
10 p.m. Wednesday September 30 and On-Demand (with PBS Passport)
airing on the PBS Wisconsin Channel
The Murder of Emmett Till
8 p.m. Monday, October 5 and On-Demand
airing on The Wisconsin Channel 
Freedom Riders
7 p.m. Monday, October 12 and On-Demand
airing on The Wisconsin Channel 
Freedom Summer
7 p.m. Monday, October 26 and On-Demand
airing on The Wisconsin Channel 

WISCONSIN VOTER STORIES
The right to vote, which includes safe, transparent, and equitable access to voting, was hard-won through decades of struggle by BIPOC (Black, Indigenous and People of Color) Americans, gender minorities, and any person who was not a man who owned property in the United States. Overt and oblique attempts to disenfranchise the vote through an array of voter suppression tactics continue today.
For this historic election cycle, PBS producers set-out to capture a diverse set of personal Wisconsin Voter Stories — short testimonials that reveal how the right to vote impacts and motivates Wisconsinites of various intersecting identities.
The full set of Wisconsin Voter Stories can be viewed on-demand at Wisconsin Women Vote, a collection of streaming content that celebrates the 2020 Centennial of the ratification of the 19th Amendment and its connections to contemporary struggles for voting rights, equal rights, Indigenous rights, civil rights, and free and fair elections.

STATE STREET MURAL PROJECT
The Downtown Street Art and Mural Project arose on May 31, 2020 in Madison, Wisconsin following local peaceful protests against police brutality and the killing of George Floyd by Minneapolis police. Civil demonstration in Madison — part of a global cascade of public protest in support of Black Lives — was followed by social unrest resulting in property damage to State Street businesses along Madison's central downtown pedestrian thoroughfare.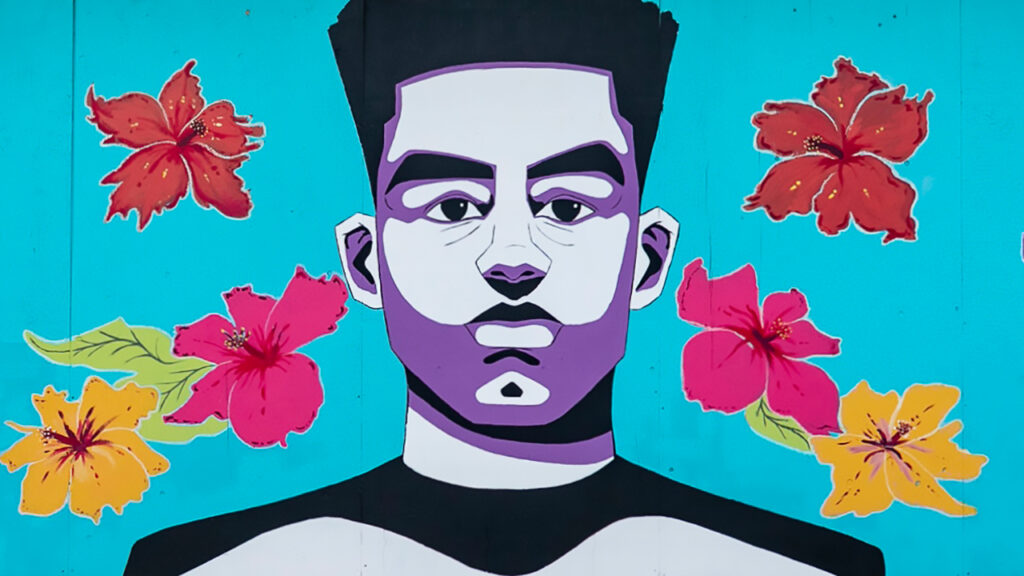 Cities across the nation sustained similar acts of vandalism in May and June — as did Kenosha, Wisconsin following the police shooting of Jacob Blake — the motivations for which are interpreted variously as inexorable acts of impassioned disobedience over racialized economic oppression, a sign of lawlessness attendant to popular uprising, and anti-capitalist dissent.
PBS Wisconsin documented the vivid and rousing murals erected on boarded-up State Street storefronts supported by the City of Madison's Department of Planning, Community and Economic Development using a 360° camera. These come together in a virtual gallery to showcase the extraordinary talents of the artists and share their stirring, evocative calls for justice with a wide audience.