Ladies and Gentlemen, It's (Almost) The Beatles!
December 6, 2011 Erik Ernst Leave a Comment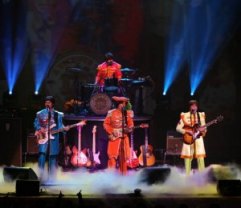 Watch Rain: A Tribute to the Beatles at 7 p.m. Thursday, Dec. 8 on Wisconsin Public Television.
The Beatles were with us for way to short of a time. In fact, it's really amazing to see that the world's most influential rock band output such an innovative catalog of work in just seven years, from 1963-1970. Then, they never performed together again. When looking at their live performance life — it was even shorter. Much of their best work was only ever heard on record.
What would it have been like to hear the great songs of Sgt. Pepper's Lonely Hearts Club Band in concert? Heck, for many of us born after 1970, what was it like to experience the Beatles performing at all?
The members of Rain might not be the Fab Four, but their convincing performance is an amazing recreation. I attended a Rain show a few years ago and was blown away by the multimedia path that the band took us on. From the band's earliest days to their final recordings, we got a small glimpse into the Beatles experience. Now, you can enjoy the show that has become a Broadway smash hit.
Tune in and enjoy. And, take advantage of the great opportunity to pledge your support to Wisconsin Public Television and receive tickets to see the band perform in Madison or Appleton next year!
Watch a preview of the show below.
The Beatles Madison Appleton Rain Music public television Wisconsin Public Television Wisconsin Public Television Program youtube Beatles