Help PBS Wisconsin give quilts to refugee children in our state
August 2, 2022 Tara Lovdahl Leave a Comment
In the past year, Wisconsin has welcomed many new neighbors from Afghanistan, Ukraine and other countries to our communities. Whether they have called Wisconsin home for years or just days, PBS Wisconsin Education is a resource for all children.
To welcome our new neighbors, PBS Wisconsin Education collaborated with resettlement agencies and other community organizations in Wisconsin to find a meaningful way to help. The start: a backpack filled with enrichment and learning opportunities for recently resettled refugee children. In addition to giving children materials to be ready to learn in school, these backpacks will also contain a comfort item such as a plush toy or handmade quilt.
To help fill the backpacks with comfort items, PBS Wisconsin Education collaborated with The Great Wisconsin Quilt Show organizers to reimagine the event's annual community service project, Quilt to Give. As a result, this year during The Great Wisconsin Quilt Show, Sept. 8-10, quilters are invited to create a lap-size or larger quilt to donate to the backpack project. Anyone is also welcome to donate fabric or a quilt they made at home.
The project has funding to put together 500 backpacks to welcome children to Wisconsin, and aims to continue this work indefinitely. Backpacks will be prepared for age groups 0-5 years and 5-8 years.
The driving force behind this huge collaborative effort is PBS Wisconsin Director of Education Alyssa Tsagong. As someone married to a Tibetan refugee, for Tsagong, these refugee crises hit home.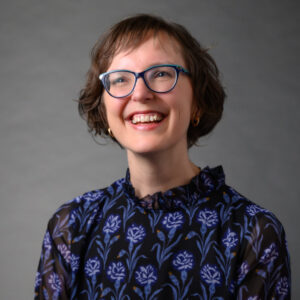 PBS Wisconsin: How did this project come to be? 
Alyssa Tsagong: There were a large number of refugees who were sent in a temporary way to Fort McCoy. Wisconsin was a destination for many, many Afghan refugees in a very rapid and kind of unexpected way. Like everybody, that just made me feel horrified of what they were going through and wondering what role might we play in offering some sort of support.
I brought that question to conversations with Duy Nguyen, an assistant superintendent at the Wisconsin Department of Public Instruction (DPI), and Bojana Zorić Martinez, who is the state refugee coordinator at the Wisconsin Department of Children and Families (DCF). They are both refugees, and my husband is a refugee. And we all, in different conversations, talked about something we would hear over and over again from unexpected places.
It's a common story to hear from people, whether they are refugees or immigrants or however it is that they end up relocating to the United States, that they find PBS KIDS as a foothold to support them learning about the language and the culture in an accessible, friendly way.
One time when we were doing advocacy visits at the Wisconsin State Capitol and I was the staff assistant, the young staffer told the advocate that I was with that he had learned English from watching PBS KIDS. His family came as immigrants.

PBS Wisconsin: In what ways do you think PBS KIDS makes its programming accessible?
Tsagong: I think that the care that PBS KIDS takes in terms of reflecting diversity and diverse experiences supports both academic learning goals and social skills with every program. 
For example, in Molly of Denali, a lot of the learning goals revolve around informational text. These are the English language arts skills that you need to be able to read a menu or a map or use an index or a glossary in a book. So it's these carefully designed programs that help support young people in being ready for school and ready for academic success while being playful and inviting and fun. That's the secret sauce to why they support kindergarten readiness for all kids. And so, of course, that's also helpful for children who are looking to adapt to a new country, both academically and socially.
PBS Wisconsin: How did this all lead to backpacks?
Tsagong: When Fort McCoy was receiving this enormous number of people, the focus was the basic needs. But we kept that dialogue going and kept asking that question: how could we create a process by which any child who was new through a refugee pathway would be able to receive a welcome from PBS Wisconsin to say, "Hi, neighbor, we are glad you're here and we're here for you."
That was something that we brainstormed with our colleagues from DPI and DCF: What are different items that are not just nice but also useful? 
And that started to take shape in talking to Duy and Bojana and their teams and talking to the six resettlement agencies in Wisconsin that reach a majority of refugees that are arriving in the state. That came together as an idea to fill a backpack with a comfort item like a quilt or a plush, some books that are appropriate for emerging and English readers, and some simple information about how to access PBS KIDS resources.

PBS Wisconsin: What kind of impact do you hope these backpacks will have?
Tsagong: We're focusing on that early childhood element because it's my understanding from our partners that the systems that are designed to support our new neighbors mostly revolve around workforce development for adults. And then, of course, the school districts are resources for school-age children. But in terms of preschool age children, that's an area where there's less formalized work and support.
But to me, this is a small thing. It's complex to figure out the logistics on our end — but it's a backpack. It's not life-changing. But Bojana said, "You don't know, it is the small things that can make a real difference." Some children may have watched Alam Simsim, which is the Afghan Sesame Street. Daniel Tiger is available through different international broadcast networks, translated. So for some children, these will be familiar characters and a new context that will hopefully be a semblance of comfort and familiarity when so much is unfamiliar.
Here is a community that is faced with something kind of unimaginably challenging. And so what is the small thing that we could do to offer support that we're uniquely positioned to do? We make the content that is meant to address those things. Daniel Tiger is designed to support kids through transitions and to help them manage their feelings and emotions and to give parents tools. And that's where our strength is.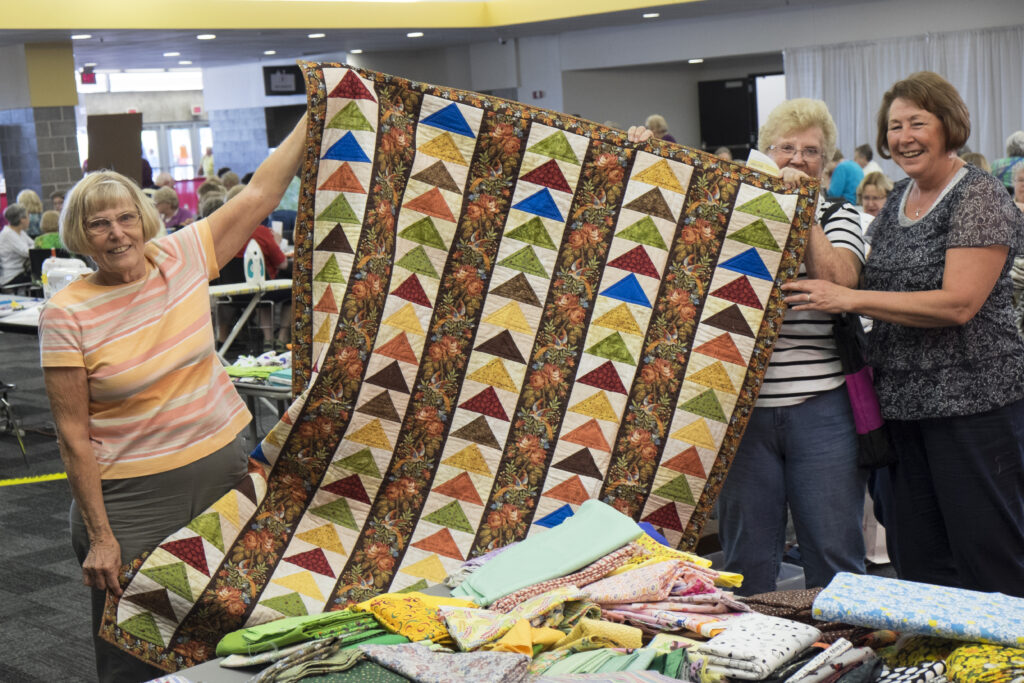 PBS Wisconsin: What inspired you to include quilts as a comfort item?
Tsagong: The credit goes to Jen Kobylecky, manager of education engagement at PBS Wisconsin Education, for the idea. She saw PBS KIDS fabric was available and she recognized something that we are uniquely positioned to do here. We have media and we have this robust community of quilters from our legacy of broadcasting and creating Sewing with Nancy and hosting The Great Wisconsin Quilt Show. This is a strong community connected to PBS Wisconsin.
And if you've met a child, you know that having a cozy blanket is something that's comforting. And you can feel the difference in a handmade item. I think that the care that the maker puts into it carries. I really do think that the love and attention that someone puts into making a handmade item is felt by the recipient. 
PBS Wisconsin: What is your hope for the scope of this project?
Tsagong: I believe in the capacity of Wisconsinites to be welcoming neighbors and to draw on what makes thriving communities. My goal is to continue to offer a welcome from PBS Wisconsin, on behalf of all of our members, viewers and staff, for as long as children are finding their new homes here. We can remember what Mister Rogers taught us: to be kind and to be curious and to be helpful.
Here's how you can help at The Great Wisconsin Quilt Show
Plan a half hour or more to participate in Quilt to Give by ironing, cutting fabric, and/or sewing.
Donate fabric in bright colors: 1/4 yd. or more.
Donate a finished, new quilt. The quilting process and more details are available at nancyzieman.com/blog.
Thank you to our community partners
Wisconsin Department of Children and Families
Wisconsin Department of Public Instruction
Resettlement agencies:
Catholic Charities of the Diocese of Green Bay
ECDC Multicultural Community Center
International Institute of Wisconsin
Jewish Social Services of Madison
Lutheran Social Services of Wisconsin and Upper Michigan/Refugee Resettlement
World Relief Fox Valley