Wisconsin Week Recap: The Great Wisconsin Baking Challenge
August 21, 2017 Wisconsin Public Television Leave a Comment
And we're back! After a three-week hiatus to allow for baking vacations and the Wisconsin Public Television summer fund drive (we welcome your support and donations anytime!), our Wisconsin Week challenge has finally concluded.
Many of our local bakers really upped their game for Week 8, with impressive presentations and ambitious blends of local ingredients. The Great Wisconsin Baking Challenge deviated slightly from the goals of Episode 8, which were to embrace the era of Henry VIII by baking creations to please the upper class at a fancy Tudor banquet. Rather, we wanted to see bakers bake for regular Wisconsin folk, tapping local farms, businesses and backyard gardens – and sourcing inspiration from our great state itself.
But don't worry. You can find references to Game of Thrones in both.
It's time to showcase the efforts of our local bakers and recap this week's episode of The Great British Baking Show. Spoiler warning!
ROUND 1: MINI PIES
With five contestants left, this Signature Challenge had the power to set the tone in the quarter finals. While Jane was convinced this was her last time baking in The Tent, it was the fate of another baker that hung in the balance. While the flavors were open to the contestant's creativity, the judges wanted to see hot water crusts and pies that held their shape – and presented in way fit for a Tudor meal.
Duct Tape Never Fails: Jane using a duct-taped pie mold. Ingenious!
Bucking Borders: Andrew drew inspiration outside the British Isles for his Leonardo Da Vinci Spiral Masterpiece. Just wow.
Bribery Attempt: Selasi tempted Mel Giedroyc with pies to give him more time. No judgment from us!
Totally Inappropriate: Paul Hollywood prematurely squeezing Jane's pies.
Best Joke: "You have five minutes to make Anne Boleyn get ahead!" -Sue Perkins
The Takeaway: Overachieving doesn't always pay off. (Okay, well, maybe it does Miss Star Baker.)
HOW OUR LOCAL BAKERS DID:
Naturally, the first two ingredients to blend together for a Wisconsin themed mini pie is beer and cheese. Right!? That's just what Stephanie in Stevens Point thought and whipped together Badger Beer Cheese Hand Pies – one of "the most delicious things" she admitted to ever creating.
Ruth in Oshkosh wowed us with the presentation and detail in her Cheddar Apple mini pies, featuring her love of autumn in Wisconsin.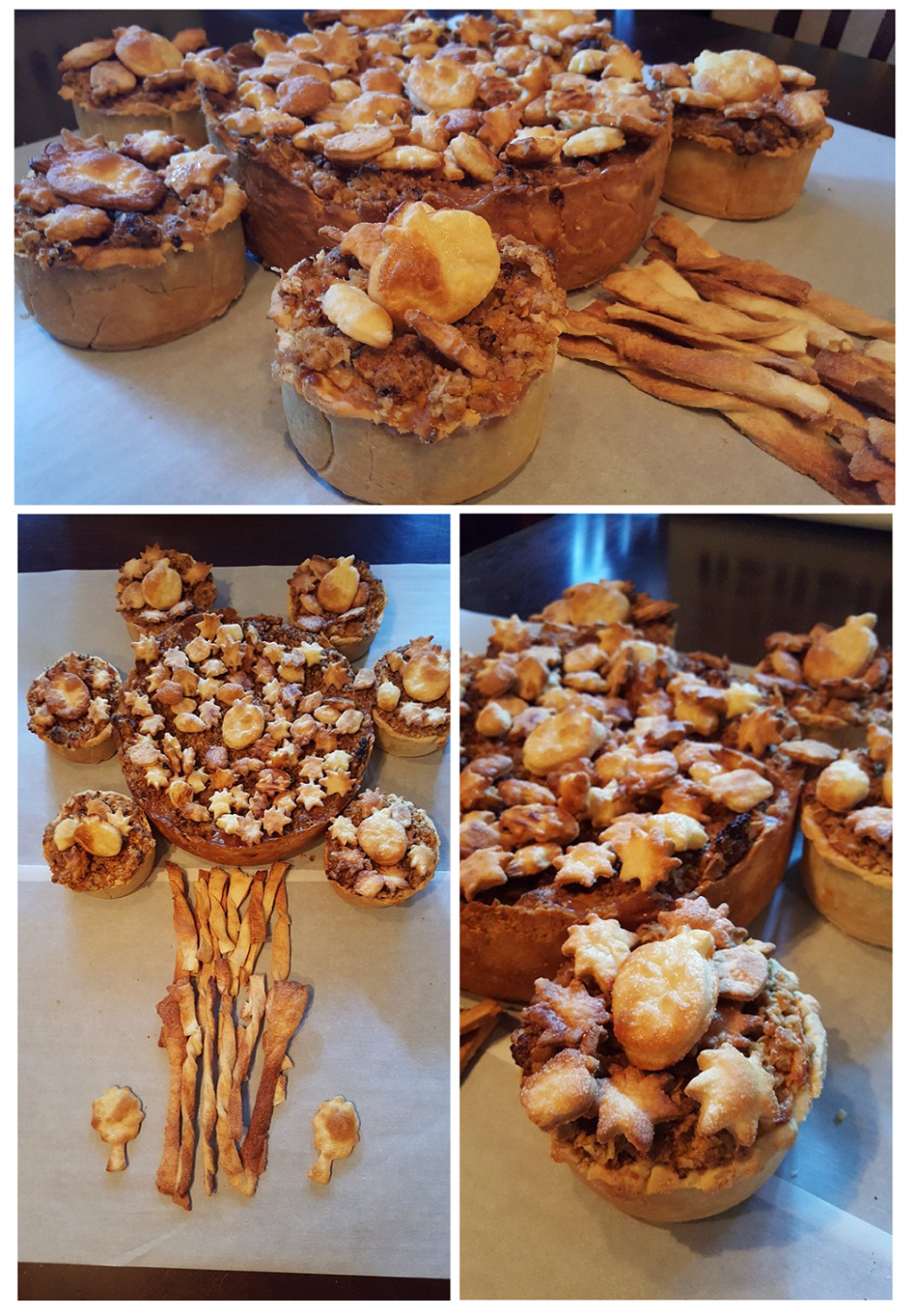 Sweetness infused the pies of several of our local bakers. Joshua in De Pere mixed cheddar cheese into his Carmel Apple Mini Pies. In a similar vein, Greta in Verona mixed together apple, cheddar and maple syrup.  Kim in Hudson combined pecan pie with strawberries to make Mini Pie Flowers.
Towers found their way into two baking stories, with Kevin in Viroqua's fantastic pie creation of the Allen-Bradley Clock Tower in Milwaukee, one of the largest clock faces in the world! And Jill in Hollandale presented her apple and cherry Tower of Mini Pies – in which she secretly wants to live.
Fruit pies continued to be a popular amongst our crew of bakers. Jean-Margret in Blanchardville made distinct pies filled with gooseberries, blackberries, cherries and peaches – and her husband supplied a poem to go with them!
Regular bakers Bren and Betty teamed up this week to bake together at the Heritage Hill State Historical Park, where they focused on the Wisconsin Belgian community's end-of-summer harvest festival called Kermis. They write: "The very first Kermis took place in 1858 five years after the first of the Belgian immigrants arrived to claim land here in northeast Wisconsin. Ever since that first time, each weekend in late August and on into September and October, have seen Kermis celebrations in one village or another of the Belgian settlement area." You must really take a moment and read their full baking story about making this quintessential Belgian treat from scratch.
Mary Jane in Eau Claire opted to go recipe free by free-styling her Wisconsin Best Mini Meat Pot Pies. Rebecca in Stevens Point honored the founding of the State of Wisconsin with a decal baked into her Farmer's Market Chicken Pot Pies.
The centennial celebration of the Wisconsin State Capitol inspired Michaeleen in Portage in the presentation of her apple and raspberry mini pies.


And Molly in Green Bay reminded us that "Wisconsin tastes pretty good," especially when shaped by mini pumpkin pies – from pumpkins already ripe! (Long live summer!!)

ROUND 2: JUMBLE BISCUITS
While the Technical Challenge of Celtic knots and knot biscuit balls hails from the time of the Tudors, modern times called for fancy rulers, calculators and electronic weight scales to breakdown the designs and perfectly divide the batter. Paul was looking for a good pattern, crisp on the outside, and soft in the center.
Take Baby Cheetah Steps: Selasi's advice to achieve greatness.
Best Phrase: "Rumble in the Jumble!" – Sue Perkins
Miscalculation Mayhem: Andrew's formula for translating the Celtic knot diagram … 22 times longer than it is thick?! Or not.
General Confusion: So much in life depends on when you add the sugar. (Sugar was the big Tudor "look at me"!)
Huh? Moment: "They look like something out of a Bond film." – Candice referring to the shape of the biscuits.
The Takeaway:  Master your dexterity!
HOW OUR LOCAL BAKERS DID:
We love how two local bakers ditched the Tudor theme and instead fashioned their jumble biscuits into knots that you would use in the great Wisconsin outdoors! Jeung Hwa in Australia tapped into her love of being out on Wisconsin's many lakes (more than Minnesota!) by weaving her dough into two boating knots, the Carrick Bend and the Flemish. Joshua in De Pere brought together pretzels and Spotted Cow for his Beer Bread and Pretzel Outdoor Adventure Knots.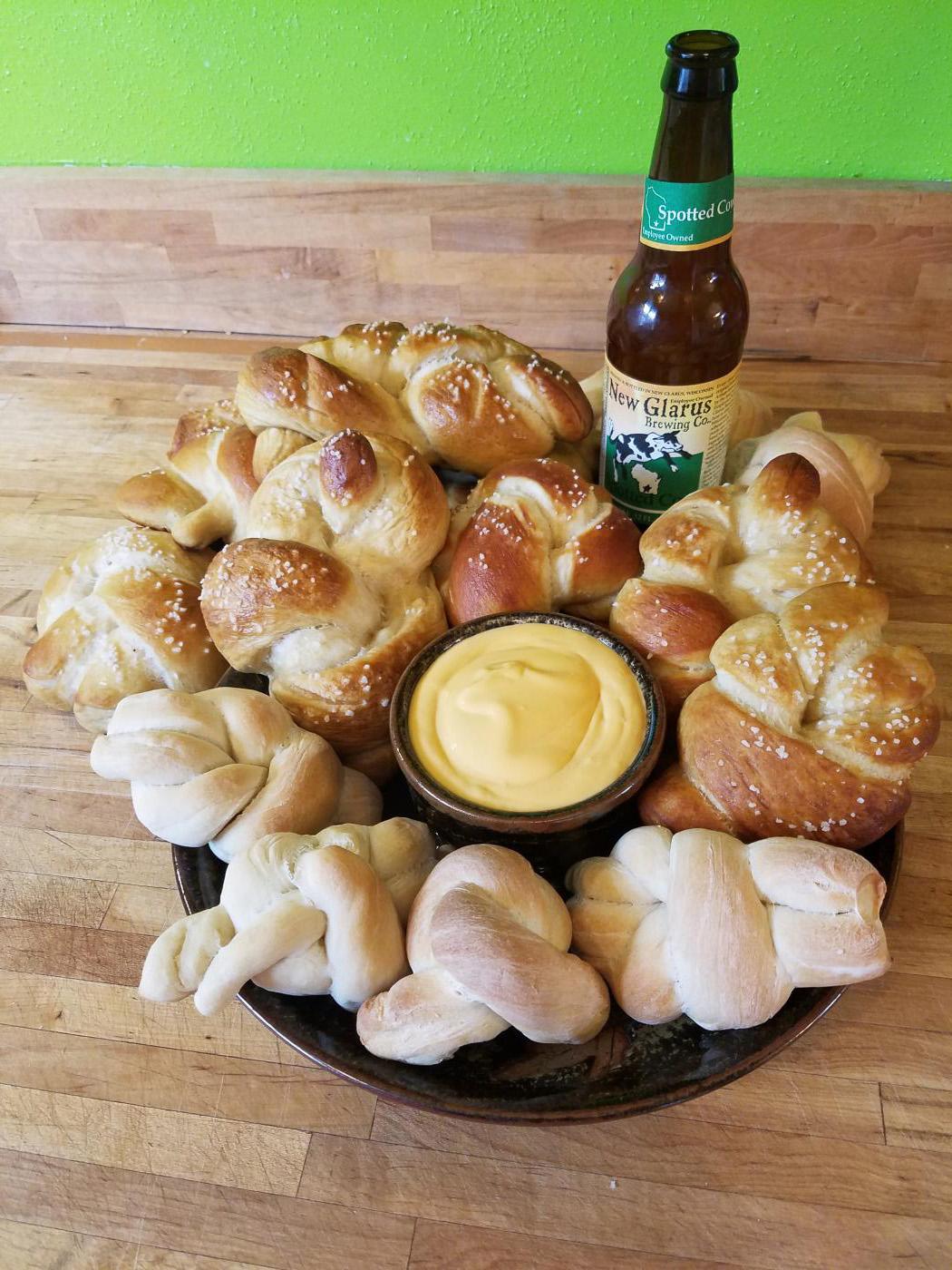 In her Trillium & Gloves jumble biscuits, Linda in De Pere gave a nod to the Milwaukee Brewers and a popular flower. Wynde in Eleva twisted her dough into the Wisconsin State Flower.
Sarah attempted to use ingredients only sourced from her property. She got really close with her From Our Property in the Northwoods Jumble Biscuits. Team Shlimder in Madison succeeded in continuing their 8-week brandy old fashioned flavor theme, with Door County cherries simmered in brandy, bitters and fresh orange juice – then somehow rolled into knots. They swore they shared them with a neighbor…
Many of you used your passion for Wisconsin and the Badgers to inspire "W" shapes for your biscuits. Sharon in Columbus loved dipping her Badger band jumble biscuits into her coffee. Aileen in Madison topped hers with red sprinkles. Karen in Niagara was the only person to attempt shaping dough into the actual state – not easy to do! Peg in Hilbert did it the easier way with a Wisconsin-shaped cookie cutter!
In a completely unique baking submission, Jean in Madison rolled her dough into historical figures Wisconsin Effigy Mound Jumble Biscuits, noting that "I am in awe of and greatly respect Wisconsin's effigy mounds."
And Team Kramer in Wauwatosa was inspired by the Milwaukee Irish Festival and baked Spicy Celtic Knot Cookies, topped with green sugar.
ROUND 3: 3-D MARZIPAN CENTERPIECE
This Showstopper Challenge had to include marzipan, be made completely from scratch, and be entirely edible! With its simple ingredients of ground almonds, honey and sugar, marzipan was a traditional source of sweetness – and a way for the Tudors to showoff even more during dinner parties. Modern marzipan involves more sugar, obviously.
Major History Lesson: Selasi's crown marzipan.
Best All-Time Elaborate Marzipan Peacock: Candice
Can't Stop Giggling: Paul explaining to Andrew that a jousting pole usually goes in the hand.
The Takeaway: A proper Tudor surprise is always a crowd pleaser.
HOW OUR LOCAL BAKERS DID:
The Tudors loved their feasts. Well, so do we in Wisconsin. We had four local bakers take on this challenge – and all showcased very creative Wisconsin twists.
Using a recipe from 1901 that can still be found today at the Watts Tea Shop, the Joshua in De Pere showcased the Milwaukee skyline out of marzipan, decorating an angel food cake with layers of custard and boiled white icing.
Ralph in Madison tapped his love for Bucky the Badger and marzipan for his Bucky's Blackberry Super Bowl using local jam and three types of sponge. As he notes, with the new academic year beginning, badgers will be everywhere. If only, this cake was, too!
Marzipan was transformed into other Wisconsin animals. Bees buzzed the Summer Beehive Centerpiece by Dottie in Eagle River. And a walleye jumped out of Cake Monona, hooked by one stellar marzipan fisherman (who Marie in Madison is married to!)
THE RESULTS
Star Baker: Candice
Kicked Out of the Tent: Benjamina. The flirtation between her and Selasi stops here.
Meet Our Featured Bakers for Wisconsin Week!
Michaleen from Portage
Capitol Creation
Sourced from farmers markets, these apple and raspberry mini pies honor the Wisconsin State Capitol, which is celebrating its 100th anniversary this year.

Kevin in Viroqua
Milwaukee Pie Tower
Mixing bratwursts, cheese curds and a lot of math, these mini pies became the Allen-Bradley Clock Tower in Milwaukee – one of the largest clock faces in the world!

Jean in Madison
Wisconsin Effigy Mound Jumble Biscuits
Showcasing respect for Wisconsin's effigy mounds, these jumble biscuits are inspired by the mounds shaped in animals and a man, the only one found in North America.

Jeung Hwa in Canberra, Australia
Boat Knot Cookies
In celebration of pleasant lake life in Wisconsin, these jumble biscuits are beautifully twisted into two boating knots, the Carrick Bend and the Flemish.

Marie in Sun Prairie
Cake Monona
Her marzipan husband (more handsome in real life!) hooked a tasty walleye swimming in butter cream frosting across Lake Monona. The best fishing is in Wisconsin!

Dottie in Eagle River
Summer Beehive Centerpiece
A nod to the state's beekeepers keeping us stocked with delicious Wisconsin honey, these marzipan-shaped bees are swarming sugary buttercream and marzipan flowers.

Food baking Great British Baking Show Great Wisconsin Baking Challenge