All the Best Music – On One Public Television Station
January 17, 2013 Wisconsin Public Television Leave a Comment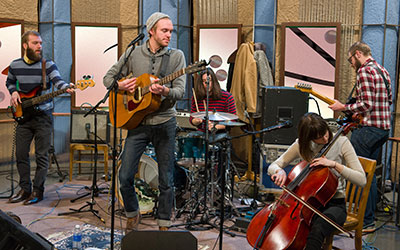 It's pretty hard to find a public television fan who hasn't heard of a little music show called Austin City Limits. But did you know Wisconsin Public Television has its own little music show called the 30-Minute Music Hour?
OK. 30-MMH is a bit more little than ACL is – we haven't yet welcomed a Jack White or Steve Miller into our studios. But over the years we have recorded plenty of reputable acts (Peter Yarrow, Carolina Chocolate Drops) and a few that broke out after performing on the 30-MMH (JC Brooks and the Uptown Sound, Kings Go Forth).
I'm happy to say both shows are rolling out new shows all month long. Just this week, 30-MMH recorded three local bands Pioneer, PHOX and Miles Nielsen and the Rusted Hearts. Those episodes are set to air in February, but why wait when you can watch all three online now.
Browse the entire 30-MMH video archive. Or, if you prefer the big screen, check out the upcoming broadcast schedule. New episodes premiere 10:30 p.m. Fridays.
And don't forget about new music from Norah Jones, Tim McGraw, Esperanza Spalding and several other great bands premiering soon on Austin City Limits. Watch Sundays nights at 11 or online for up to one month after the broadcast.
Video: Miles Nielsen and the Rusted Hearts on 30-Minute Music Hour.