56 Up
October 11, 2013 Wisconsin Public Television Leave a Comment
A half century ago, director Michael Apted (The World Is Not Enough) worked as a researcher on the film Seven Up!, which documented the lives of several seven-year-olds in Britain. Seems a bit innocuous in today's reality TV soaked culture, but because Seven Up! was followed by 7 more films, the body of work has become one of the most significant documentary series of all time.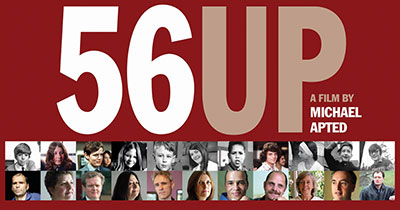 Apted stuck with the project and directed all the subsequent films – including the latest, 56 Up – which airs 9 p.m. Monday, Oct. 14 on WPT. In a 2006 interview with moviefone, the now 72-year-old director doubted whether the series will outlive him. See his perspective now and learn about the genesis of the Up series in this POV interview.
Aside from its global appeal as a landmark documentary series, Up has local appeal too. One of the film's stars is Nick Hitchon, a professor of electrical engineering at the University of Wisconsin-Madison.
In the film, Hitchon admits that he'd prefer to be known for his scientific contributions. But, he seems accepting of his movie star status, even if the films don't portray a true representation of his life. (Hear Nick and fellow star Suzy speak on the limitations of compressing 7 years worth of time into a documentary that's barely more than 2 hours long).
Tune in this coming Monday, or watch online to see how Hitchon and his fellow stars – long removed from childhood – are settling into middle age at 56.