Wisconsin's Covid Condition: Omicron starts retreating, leaving rising deaths in its wake
New pushes for COVID-19 testing and treatment continue to roll out as the rapid and intense omicron surge declines from peak levels in many parts of the state, though fatalities caused by the disease continue at the highest rate in more than a year.
By Will Cushman
January 28, 2022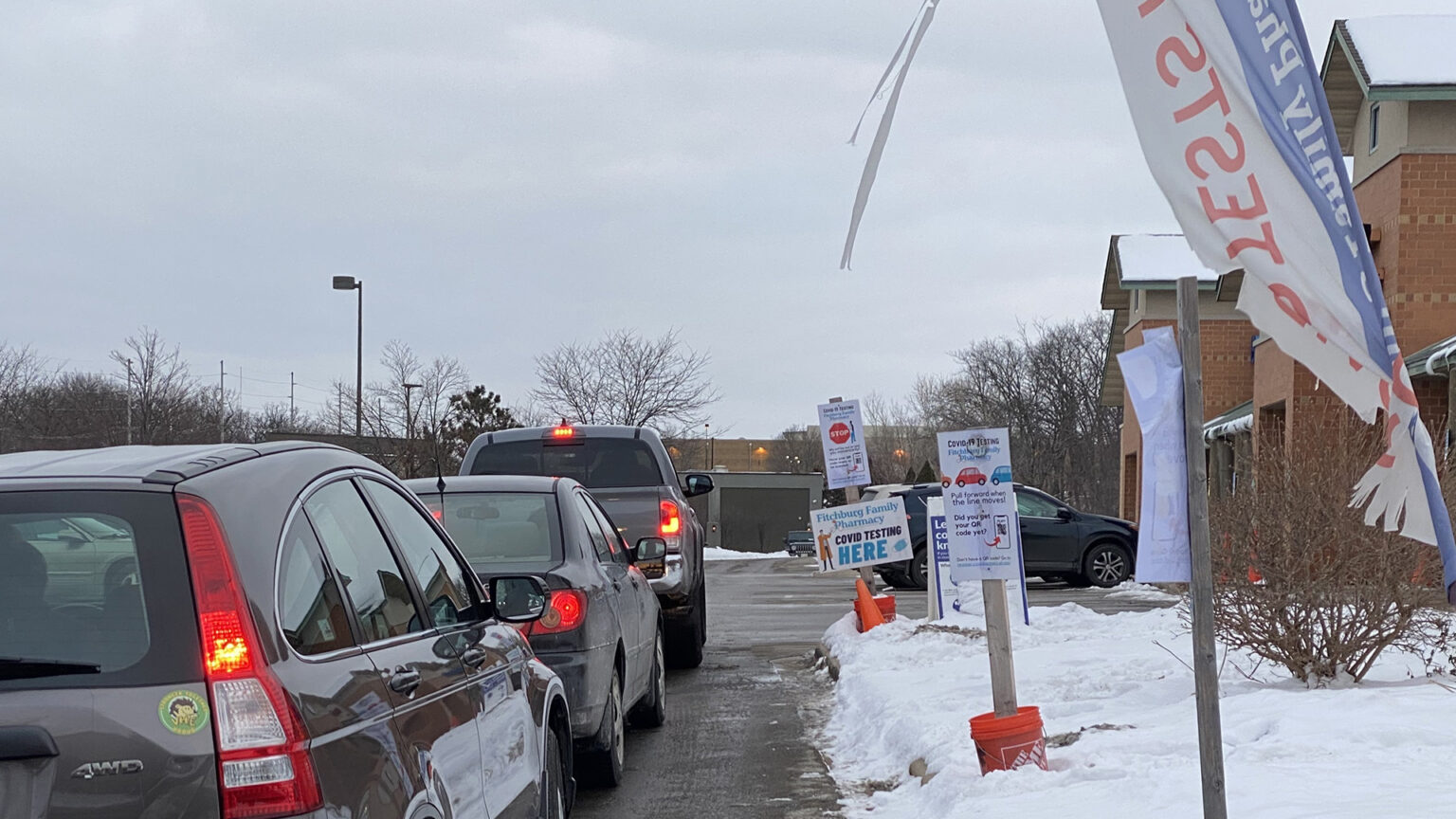 ---
Just a week after Wisconsin health officials said evidence of the omicron peak was not yet apparent, the situation is clearer: infections of the highly transmissible COVID-19 variant are in retreat. This decline from record-level pandemic highs occurred about as quickly as omicron's rise in late 2021 and the first weeks of January 2022. At the same time, though, the number of new cases and hospitalizations caused by the virus around Wisconsin is continuing at higher rates than at almost any other point during the pandemic.
At the same time, the number of new covid-related deaths, a pandemic indicator that lags behind swings in cases and hospital admissions, has risen to its highest level in more than a year. This growth in deaths is just one piece of evidence signaling the unique traits of omicron — the variant's ability to evade some methods of preventing and treating covid that were previously successful is now coming into greater focus. Here is the status of the COVID-19 pandemic in Wisconsin.
A familiar pandemic pattern
The relentlessly steep rise in new COVID-19 cases and related hospitalizations throughout most of January in Wisconsin abruptly reversed in the latter part of the month, with the two metrics falling in tandem at a quick pace.
The 7-day average for new confirmed cases stood at 7,301 for Jan. 27, according to the Wisconsin Department of Health Services. That's well less than half the average from just one week prior, though a change to the state's disease reporting system that resulted in several days of elevated case counts somewhat inflated the 7-day average for several days in mid-January.
Statewide total daily hospitalizations have also declined over a similar period, though not as rapidly. As of Jan. 28, the Wisconsin Hospital Association reported 1,700 Wisconsinites were hospitalized with COVID-19, including 360 patients in intensive care units. The total hospitalization figure amounted to a decline of about 15% from a week before and a drop of more than one-quarter from an all-time pandemic high of 2,278 hospitalizations set on Jan. 12.
The decline in hospitalizations has been steepest in the hospital emergency readiness region for southeast Wisconsin, encompassing metro Milwaukee, Racine and Kenosha, along with the Fond du Lac area. Nearly all parts of the state have seen hospitalizations drop to varying degrees over the latter part of January, with the exceptions of a region in north-central Wisconsin that includes Wausau and another in the western part of the state that includes La Crosse. Still, there remained more people hospitalized with COVID-19 on Jan. 28 than during nearly all prior points in the pandemic, save for near the peaks of the state's two most intense surges.
The average number of new deaths attributed to COVID-19 rose to its highest levels in more than a year in late January 2022. The 7-day average for new deaths stood at 31 for Jan. 27, down from a recent peak average of 37 reported for Jan. 24. Average daily deaths had not reached above 30 since December 2020.
The state health department reported that in December people who were not fully vaccinated died from COVID-19 at a rate 14 times higher than among fully vaccinated Wisconsinites, and were hospitalized at a rate 10 times higher. Statewide, 59.2% of Wisconsinites were fully vaccinated as of Jan. 27.
Omicron leaves its mark
While COVID-19 vaccines are solidly effective in reducing the risk of hospitalization and death, the omicron variant has more readily evaded prior immunity gained from both natural infection and vaccination than previous variants.
In December, after omicron began spreading in the state, fully vaccinated Wisconsinites were diagnosed with COVID-19 at lower rates than those who weren't fully vaccinated, but the gulf in disease rates was markedly narrower than differences in hospitalization and death rates. (Despite this shift, data published by the Centers for Disease Control and Prevention indicate that booster doses are highly effective in further lowering the risk of infection along with severe disease and death.)
Combined with omicron's exceptional transmissibility, its ability to evade prior immunity drove its rapid spread, with a huge spike in demand for testing following in turn. The skyrocketing demand has pushed a growing reliance on antigen tests, which offer speed and convenience compared to PCR testing, even if their results are not as reliable. In response, the federal government has sought to make antigen tests more accessible by offering four free tests per household every month and mandating health insurance providers cover the cost of up to eight tests a month.
Demand for testing has also led to a proliferation of sites advertising both rapid antigen and PCR testing in communities around Wisconsin. The operators of some of these sites have drawn complaints about their practices, and on Jan. 26 the state health department and Wisconsin Department of Agriculture, Trade and Consumer Protection released a joint advisory providing Wisconsinites with information about how to determine the legitimacy of a testing provider and outlining the process for filing complaints.
Following infection, omicron can manifest in subtly different symptoms than previous strains, but the variant is more pronounced in distinct effects of some available treatments. Most notably, on Jan. 24 the U.S. Food and Drug Administration limited authorization for two common monoclonal antibody treatments because they were found to be ineffective against omicron. The FDA said the treatments can still be used for people likely to have been infected with another variant. With more than 98% of specimens analyzed in Wisconsin during the second week of January identified as omicron, the FDA's decision has effectively halted those treatments.
On the other hand, Pfizer announced a handful of lab studies suggesting its anti-covid pill Paxlovid remains effective against omicron, while the drug-maker Merck expects its covid therapeutic molnupiravir to also remain effective against the variant.
Meanwhile, the omicron variant remains in wide circulation across Wisconsin even as cases fall. As of Jan. 27, all 72 counties in the state were continuing to see "critically high" levels of transmission, according to the state health department, though case activity was falling in a majority.
Even as a Mayo Clinic model forecasts that the steep decline in cases should hold steady, it's no sure bet thanks to another unique aspect of the omicron wave. A subvariant of omicron that researchers initially expected to be outcompeted by the one that first swept the globe has itself started spreading in some parts of the world, most notably in Denmark. The subvariant, labeled BA.2, is fairly closely related to the initial omicron variant, and while scientists are still working to understand it, one potential consequence of its spread might be to lengthen the omicron wave.
---
Recent Here & Now
//php dynamic_sidebar( 'news-sidebar-2' ); ?>