Second Case of More Transmissible Coronavirus Variant Identified in Wisconsin
A Patient in Waukesha County Was Found To Be Infected with The B.1.1.7 Strain as Officials Work To Expand Surveillance of Genetic Variants
By Will Cushman | Here & Now
February 9, 2021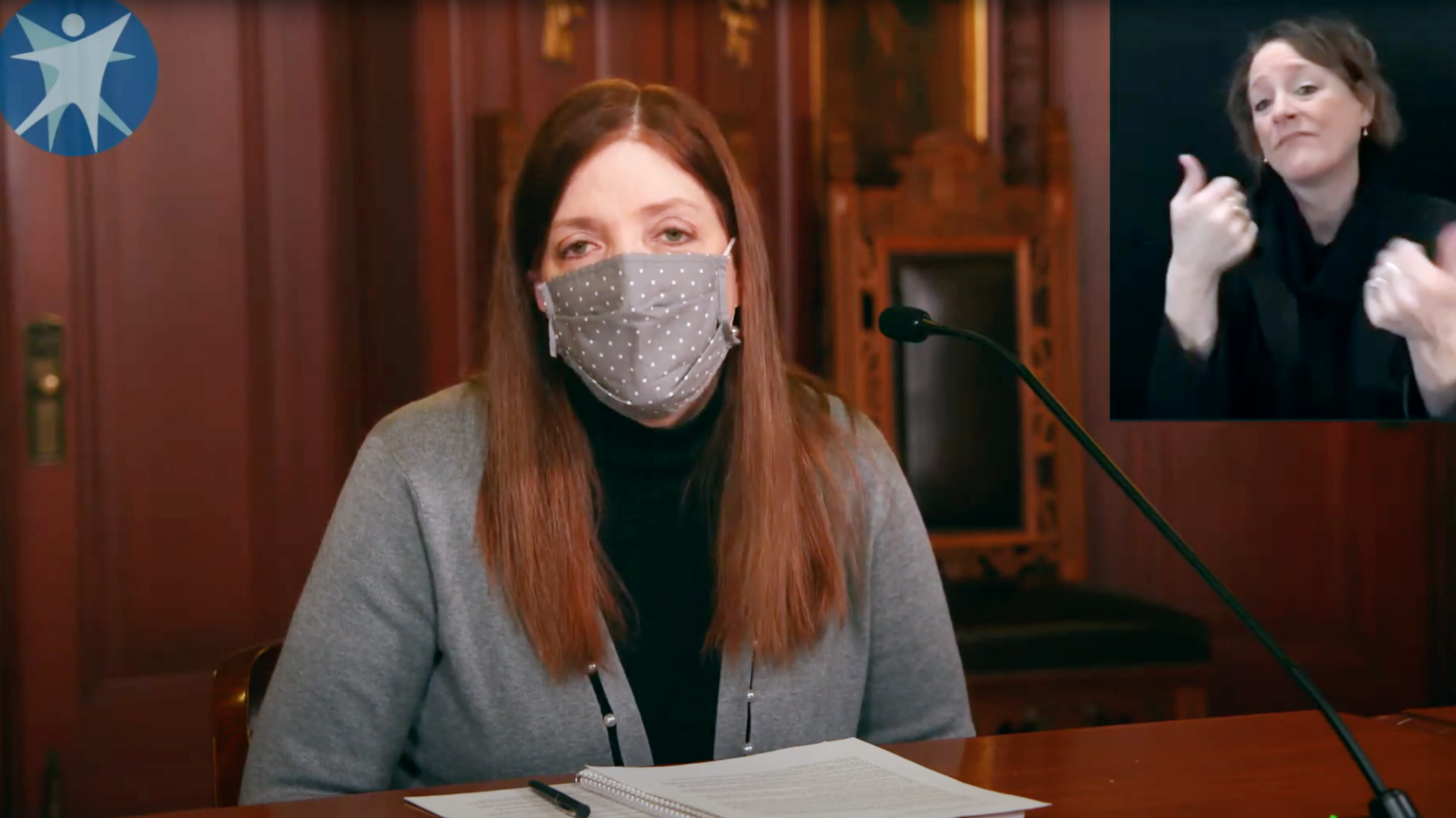 ---
A second confirmed case of a coronavirus variant strain behind a recent surge in COVID-19 cases in the United Kingdom and elsewhere has been identified in Wisconsin, state health officials announced Tuesday.
The variant strain — known as B.1.1.7 — was identified in a resident of Waukesha County. It came less than a month after this strain was first identified in Wisconsin in a patient in Eau Claire County.
The Eau Claire County patient had traveled internationally in the weeks prior to their diagnosis. During a Feb. 9 press briefing, officials with the Wisconsin Department of Health Services said no more information about the case in Waukesha County, including the patient's travel history, was yet available.
B.1.1.7 is one of several variants of SARS-CoV-2 — the coronavirus that causes COVID-19 — that have health officials in Wisconsin and around the world on alert even as mass vaccination campaigns pick up steam. Data from the U.K. show that B.1.1.7 is significantly more transmissible than variants of the virus that have circulated widely in the United States during the first year of the COVID-19 pandemic. B.1.1.7 may also be associated with an increased risk of death.
The announcement in Wisconsin came amid more encouraging news on the COVID-19 front — nearly 800,000 doses of COVID-19 vaccine had been administered in Wisconsin as of Feb. 8.
Julie Willems Van Dijk, deputy secretary of the state health department, told reporters on Tuesday that roughly one-third of Wisconsinites age 65 and older have received at least one dose of vaccine. Meanwhile, Tuesday marked the first time since September 2020 that the state's 7-day average for new daily cases dipped below 1,000.
Willems Van Dijk said the second positive identification of the B.1.1.7 variant in Wisconsin demonstrates the ongoing urgency of the pandemic and the need to maintain protective behaviors like masking and avoiding in-person social gatherings.
Dr. Ryan Westergaard, state epidemiologist and chief medical officer for communicable diseases, said it should come as no surprise that the B.1.1.7 variant is cropping up in Wisconsin given its heightened transmissibility and the ease of domestic and international travel. Indeed, a February 2021 study awaiting peer review shows that the variant strain is already spreading rapidly in the U.S.
Westergaard warned there are likely many more cases associated with the variant already in Wisconsin, noting that fewer than 1% of confirmed coronavirus cases in the state are analyzed for genetic mutations.
"When we find a case [of a variant strain], we're back where we were with diagnostic testing many months ago, where we're detecting a tip of the iceberg," Westergaard said.
Only a handful of laboratories in Wisconsin currently have the capability to identify variant strains of the coronavirus, Westergaard added. Identifying a variant strain is more complicated than simply confirming the virus's presence in a sample. It requires specialized equipment to carry out a laboratory process known as whole genome sequencing. The process makes it possible to identify the genetic mutations associated with specific variant strains.
While Wisconsin is at the leading edge of a national push to genetically sequence coronavirus samples, the state's current capabilities remain far behind where health officials like Westergaard want them to be.
"We're actively seeking more funding, more supplies [and] more staff to do this because it's going to inform how we understand the variants in the future," Westergaard said.
Other variant strains are believed to be behind crushing outbreaks elsewhere around the world. A strain circulating widely in South Africa — known as the B.1.351 variant — has prompted authorities there to halt administration of a COVID-19 vaccine produced by AstraZeneca, citing evidence that it did not offer adequate protection. Available evidence has not shown a similar impact on the effectiveness of other COVID-19 vaccines.
There is also no evidence to suggest that any COVID-19 vaccines are less effective against the B.1.1.7 variant identified in Wisconsin.
---
Recent Here & Now
//php dynamic_sidebar( 'news-sidebar-2' ); ?>