WPT Education's Capitol Game Gets Top Score
October 17, 2018 Luisa De Vogel Leave a Comment
This October, WPT Education was excited to introduce Jo Wilder and the Capitol Case, a free online video game set in and around the Wisconsin State Capitol, that assists educators in teaching social studies, while giving students the chance to be "history detectives."
Nikki Lutzke, a teacher partner in the Parkview School District, said, "[Jo Wilder and the Capitol Case] brought learning to us concretely… and forever changed how this teacher views learning about and teaching history!"
[vimeo 294780052 w=640 h=360]
Jo Wilder and the Capitol Case from WCER on Vimeo.
Read more about how this exciting project came to life – including the essential collaboration of students and teachers from around Wisconsin!
Jo Wilder and the Capitol Case is the result of a successful partnership between WPT Education and the Field Day Lab (an educational game developer within the University of Wisconsin-Madison's Wisconsin Center for Education Research, or WCER), along with a cohort of teachers and students from around the state.
Designed to address the newly revised Wisconsin Academic Standards for grades 3 through 5 in Social Studies, English Language Arts and Information & Technology Literacy, players use detective skills to solve mysteries about real artifacts from Wisconsin's history and use evidence to prove their discoveries. As the plot unfolds, players discover primary source materials.
Then, like real historians, players engage in investigation, identification, corroboration and contextualization of evidence with their primary sources. To win each challenge, players must summarize the evidence and argue their case.
 "The collaborative design process that brought teachers, historians, game developers and public media together has led to a playful entry point for students into the process historians follow," says Alyssa Tsagong, WPT's Director of Education.
"We know that Jo Wilder and the Capitol Case will be used alongside other WPT Education local history classroom resources, drawing on the rich stories of our state to spark the kind of curiosity and engagement that will lead to authentic learning experiences."
Lifelong Wisconsinite Mike Scoville is in his 20th year as K-12 Library Media Specialist at Gibraltar Area School District in Fish Creek. His favorite part of teaching is watching students grow and begin to grasp new concepts.
This game offered the perfect opportunity for Scoville to share new ideas – and new ways of working – with his students while sharing his love for the natural beauty and history of our state.
"We created a game that helps students develop historical inquiry skills, meets state standards and, of course, keeps kids engaged and excited!" he says. "In my book, the game's hero, Jo Wilder, has joined the ranks of video game heroes such as Mario, Pac-Man and Sonic the Hedgehog."
Scoville continues:
While I didn't grow up with a gaming system, I always jumped like Pitfall Harry at any chance to play at a friend's house or arcade,  and I jumped again at the chance to be a Teacher Fellow for the design of Jo Wilder and the Capitol Case.
As a fellow, I was able to really dive into the world of gaming, getting a backstage look at the design!
After the first two days of brainstorming with producers, historians and fellow Wisconsin teachers, I was eager to see how our ideas would take shape. We found so many awesome possibilities for introducing historical inquiry concepts while engaging students in a virtual exploration of the Wisconsin State Capitol.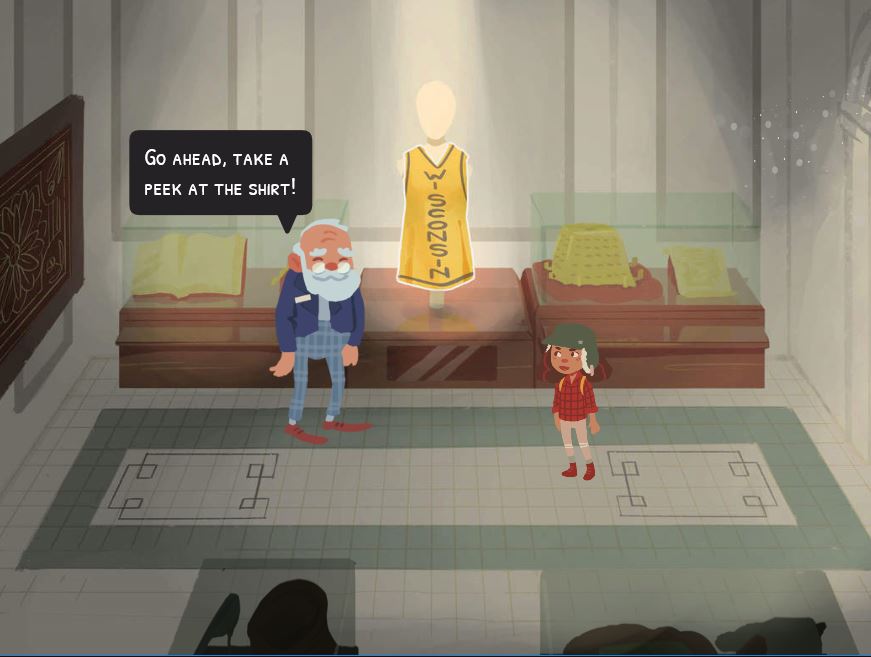 But what would the students think? The result of all those discussions and careful research is one of the coolest educational video games I've ever seen.
The game asks students to hunt for clues, corroborate evidence and piece together logical arguments to solve mysteries from Wisconsin history. Like the arcade classic Frogger, my fifth and sixth graders wanted to hop right in and play. But without careful reading, Jo's mysteries are hard to solve. Once the students slowed down, they found the keys to completing the levels, and they noticed a host of great Wisconsin "Easter eggs" hidden throughout the game!
The experience of having a window into the game production process has been incredible for my students. As we play-tested each version, we saw how WPT and Field Day incorporated students' suggestions.
In the very beginning, when the game was just sketches, they wondered why there was no badger in the game. After all, it's a game about the Badger State! Sure enough, in our next playtest we were introduced to Teddy the badger. We were thrilled; it encouraged a great discussion about the importance of editing, taking feedback  and revising work.
But the best part of participating in this game design process has been watching my students' faces: seeing them struggle to figure it out and smile when they did. These are just a few of the comments I heard as my students excitedly play-tested the adventure:
"Awesome!"
"This is actually pretty neat!"
"I can't wait to play all the levels!"
This spring, I accompanied the fourth graders to Madison to see the Capitol and the Wisconsin Historical Society Museum.  By that time, they had all solved the game's first level, "The Yellow Basketball Jersey." The students were all blown away when they found the actual artifact on display in the Wisconsin Historical Society Museum! Jo Wilder and the Capitol Case brought our existing fourth grade curriculum full circle.
From inquiry to application to recognition and recall, the students really leveled up for this challenge. I can't wait for future students, all over Wisconsin, to do the same in the coming years.
Play the game today at wpteducation.org!
This project was made possible by generous funding from the Wisconsin Department of Public Instruction, the Wisconsin Center for Education Research, Ron and Colleen Weyers, Francis A. and Georgia F. Ariens Fund within the Brillion Area Family of Funds, the Ruth St. John and John Dunham West Foundation, Inc., the Conney Family in loving memory of Mildred Conney, Edvest College Savings Plan, Technology Education Foundation, Roger and Lynn Van Vreede, Eleanor and Thomas Wildrick Family, American Transmission Company, National Guardian Life Insurance Company, BMO Harris Bank, the Timothy William Trout Education Fund, and Friends of Wisconsin Public Television.