'Wisconsin Foodie' host Luke Zahm visits Emmi Roth cheese, Anaway's Place cabins
January 24, 2022 Luke Zahm Leave a Comment
Wisconsin Foodie airs 7 p.m. Thursdays on PBS Wisconsin.
Waking up in a field in rural Green County in the middle of the summer may be one of the best memories of the entire season for me.
I was alone at this Hipcamp, after a break in filming for one day to travel from northern Wisconsin to the rolling, lush hills of southern Wisconsin. The sun was warm and the quiet of the previous day left my heart full, ready to jump in the Foodie van and make my way into Monroe, home of Emmi Roth Cheese.
Emmi Roth has always been home to some of the best cheese on the planet and one cheese in particular had recently caught my attention. The "Monroe" was a recent addition to their line, and after conversations with cheese mongers in Madison and Milwaukee, I was informed that they weren't currently in production.
I found this news to be most disappointing as I had already included it on a menu I'd written for an event I had been asked to design and execute later in the summer. I had to know who was responsible for the creation of the lauded cheese, and I wanted to see if there was any still hiding in the caves. I started the day full of wonder and curiosity (it's the best way to begin a day of filming – or, life in general).
After a few moments of pleasantries, I found the crew being debriefed by cheesemaker Madeline Kuhn, a now dear friend I had yet to meet. Madeline worked with us to develop a sort of tour of the facility and update us on Emmi Roth's safety, COVID-19 and sanitary protocols. Right away, this plant felt different. It was large and complex – so many moving pieces and people to capture, all while they were quietly creating these products that have become the lifeblood of the Wisconsin identity: our cheese.
As we walked through the labyrinth of Emmi Roth, I was struck by Madeline's laser focus on the people and process around us. I understood that she was absolutely unique in her position – there's only one female master cheesemaker in the United States (her name is Pam Hodgson, and she is also from Wisconsin), and she had this intensity that burned inside her when she talked about cheese. It was apparent from the moment we met!
As we conversed during the filming, I asked about "Monroe" and I swear that she almost blushed through her mask and hairnet. It was her baby! As we came to the aging caves, she humbly brought me to a cart that contained less than 20 wheels of this fudgy, pudgy, gooey celebration of milk, enzyme, bacteria and love.
She promised me I would have the cheese I needed for my menu. (Now I was the one blushing.) This is the unspoken love language of the food industry. This is how we show up and validate each other, through our actions and responses.
Have you ever been so moved by something you've eaten that you can't help but cry?
My whole career as a chef has been a game of "connect the dots" between emotional points involving food. It's not enough for me to create food that simply tastes good anymore. I need to create experiences that convey my passion and the story of these makers/farmers/producers into the mouths and hearts of waiting diners. I feel endlessly grateful that I get to make my living weaving this tapestry of love for you.
As I age, I'm also struck by the tremendous sense of place and its ties to deep emotion for me. We were invited to stay at Anaway Place outside of Richland Center after years of hearing about its cabins of glass tucked deep into the hills and forests of the Driftless Region. It was completely out of this world. Literally, I felt like I woke up inside a cloud. I couldn't necessarily discern where the snowy hills stopped and the low hanging fog of February began. It was magical.
As I sat in the cabin (there are no televisions and your phones don't really work either) I reached for a piece of paper and began putting together visions of a menu that would capture the essence of this place, the intention of the architects who designed each cabin to be completely unique and how it was evolving into a destination that has been profiled by Condé Naste, Midwest Living and many travel blogs.
What did this place mean? How do I connect to it through food?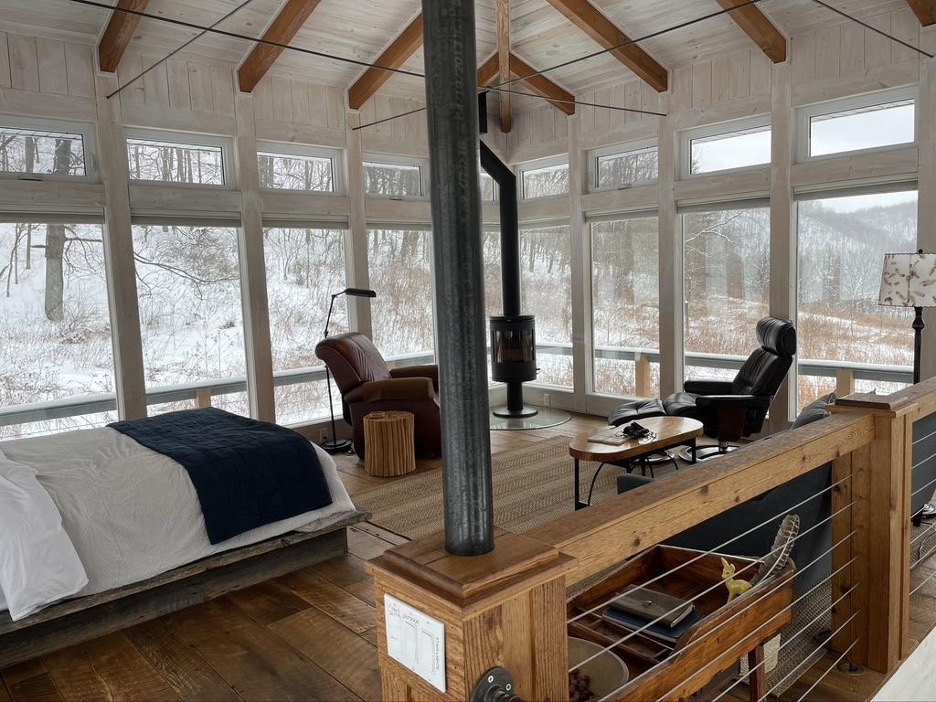 I came up with this:
+biophelia+
+Dinner at Anaway+
Wisconsin Foodie taping
June 19th, 2021
=As guests arrive=
6pm
LITTLE HOUSE
The first few bits of this dinner have the ability to set the tone for the entire experience. We are going to tell the idea that big things come in small packages (aka the Little House residence).
The mojito sorbet is served in a lime and spun with dry ice to create a texturally smooth and pleasing contrast, which feels effervescent on the palate. The mint and rum blend smoothly together, creating an experience that will set the dinner forward with contrast.
The Monroe cheese on oak course is an homage to our cheesemaking history and will be profiled on Wisconsin Foodie. This course is especially important, as it will be the cooking demonstration portion of the show that brings the cheese forward and into the consumer light. The actual cheese will be placed on a hand-cut, white oak round that will be placed in a refractory oven to melt and ignite. Rhubarb/strawberry jam will be added to both sweeten and awaken the full experience of the cheese. The biscuit will serve as the vehicle for enjoyment.
Smoked trout canape serves as the testament to the crystal clean waters of the Driftless and serves as context for Wisconsin, which in an Ojibwe dialect, can be roughly translated to the "gathering of the waters." The duckweed lavash is a crunchy foil (and a protein bomb!) that will carry the smoked trout, creme fraiche and paddlefish roe.
mojito sorbet
Served in lime husk.
dry ice
mint simple syrup
rum
lime
smoked trout canape
Served on bread and butter plates.
spring pickle (rhubarb, pickled mustard seeds)
duckweed lavash/cracker (Lauren and Kyle recipe)
creme fraiche
paddlefish roe
smoked "Monroe" on white oak:
Emmi Roth Monroe cheese (cheesemaker Madeline Kuhn will deliver at event)
oak slabs soaked in brandy, then heated on grill before service
local rhubarb/strawberry jam
organic valley buttermilk biscuit
Slice, sugar and torch the Monroe fresh from the Emmi Roth cellar. The oak slabs soaked in brandy are for essence and smell only.
COURSE 1
MEADOW WOOD
Waking up in the meadow wood cabin midwinter, I found myself questioning where the sky ended and the walls began. For me, it created an almost dream state, which I'm reflecting in a course that's lighter than air itself. The mousseline floats on the palate and is reinforced by the subtlety of the white pine aioli, pickled red onions and microgreens. This will also be served in white pine boxes that will be soaked then superheated to lend scent to the course.
Served in a shallow wooden box.
Red Cliff Band of Chippewa walleye mousseline
Levi Miller pickled red onion
white pine/spruce tip aioli
Thoreau's Garden microgreens
Beverage: Rose Cava
COURSE 2
WOODLAND
At first glance, the woodland cabin echoes a "castle-like" design with its spiral staircase and indeed, looks fit for a princess. When contemplating what a princess would enjoy as a dinner course, I wanted to combine the clean lines in the design components and found myself gravitating towards the complexity of sea scallop. Daikon radish salad combined with fermented lemon, sugar, fish sauce and chilies added to the complexity and contrast of the course, while preserving the clean palate finish. Lastly, in order to play with the concept of a cabin fit for a princess, we are inclined to put a simple pea under the mattress, leaving only one question for the diners: Will she discover it as she sleeps?
This course will be served on clean, white plates.
seared sea scallop
Driftless Organics daikon salad
fermented lime dressing
hope sweet pea puree
Beverage: Sancerre
COURSE 3
THE LOG CABIN
This course is slightly more rustic in design and approach, based on the log construction and primal essence inspired within. Local vegetable ratatouille, braised in Driftless Organics sunflower oil and herbs, create a light but bold flavor profile. The color contrast in the vegetables creates a delight for the eyes, and when placed on grilled disks of Meadowlark polenta then surrounded by a crystal clear Uplands Cheese consomme, create a sophistication that takes us outside of our childhood fantasy of Lincoln Logs and into a more modern definition of rustic.
This course will be served in handcrafted wood bowls.
farmers market ratatouille
grilled Meadowlark polenta
Pleasant Ridge Reserve consomme
herbed pistou
smoked paprika oil
Beverage: Chardonnay
COURSE 4
HILLSIDE
Being the original cabin on the property, I felt a strong desire to pay tribute to the course that built the Driftless Cafe. As a chef, I resisted the idea of a signature dish for the cafe. But as its popularity grew, more members of the media came back to the question, "What are you known for?" The beef at the cafe echoes the original cabin. Are there things that we would love to change about their design? Of course!
We wouldn't be where we are without the original experiences that brought people together.
Organic Valley beef tenderloin
seared lacinato kale
demi glace
black truffle
Beverage: Valpolicella
COURSE 5
GLASS HOUSE
This dish plays on my experience as a landowner in the Driftless. More often than not, the forest seeks to take over spaces that have been cleared. It's a matter of keeping her at bay, and this course succumbs to the idea that the forest will someday take over the space again. All elements of this course will be foraged or hunted, making it absolutely unique in design.
Also worth noting, there is a vulnerability in this course. Being in an all-glass house in the forest is an exercise in vulnerability. How many layers of clothes do you take off before you ask, "Do these hills have eyes?"
The use of foraged and hunted ingredients in combination with an otherworldly szechuan peppercorn (prickly ash buds) sauce, make an experience that will baffle diners as their palates numb.
This course is served on large steel platters/or glass.
wild harvested venison tenderloin
foraged mushrooms
ash numbing sauce
cabernet redux with honey
Beverage: Cabernet
COURSE 6
THE BARN 
The barn's design combines elements of functionality, sophistication and clean lines. The croquembouche (cream puff tower) is meant to be shared in groups/pods. This is similar to the barn space. Its design lends to group enjoyment. By nature, its architectural! The pulled sugar glass adds elements of depth, texture and light to the arrangement. Wisconsin has a fascination with cream puffs, so the lighter-than-air whipped cream holds palates and imaginations captive while showcasing what we do best.
croquembouche
Organic Valley whipped cream
alcam butter caramel
strawberry preserve
sugar glass
Beverage: J Henry Bourbon
Beverage: Ruby Coffee
As diners gathered at Anaway, we had assembled an all-star cast of chefs to execute the event: chef Lauren Montelbano, chef Kyle Julius, chef Jon Rosnow, chef Jason Trahan, chef Mary Kastman, chef Tannr Brothen, and apprentice Tucker Hughes.
Together we foraged, cooked, planned and ultimately executed a dinner to remember! I'm so thankful for their help (and all of the help I've ever had) to make this idea come together for the diners. I feel like we told the story of the cheese, of the place, of the people and ultimately, a version of the story about us.
The night fell in the evening and as the final participants said their goodbyes, we knew that we had written a new chapter in the book of dining in the Midwest. A chapter filled with love, dreaming, intention and hope. I'm so excited to share it with you.
With sincere gratitude and love,
Luke Zahm
Host
Wisconsin Foodie