'Wisconsin Foodie' host Luke Zahm cooks with Inga Witscher, of 'Around the Farm Table'
February 22, 2022 Luke Zahm Leave a Comment
Wisconsin Foodie airs 7 p.m. Thursdays on PBS Wisconsin and is available to watch on-demand on the free PBS Video App.
When the heat of the summer descends on us like a blanket, it never ceases to amaze me that we fluctuate between -20 degrees Fahrenheit in our winters and 90 degrees Fahrenheit in our summers. How can we live in such a uniquely vacillating environment with relative ease and comfort?
I've often asserted that one of the core components that make Midwesterners so darn resilient is our ability to survive such wild fluctuations, and more aptly, thrive. We possess all sorts of adaptive skills that allow us to enjoy each season to its fullest capacity, pushing us to truly focus ourselves on the "here and now" before the weather changes yet again. Our seasons ground us in true humility. We often find ourselves looking forward – longing for what is to come, but in truth we are right here, right now, all the time.
This episode marks a very beautiful memory of summer for me. It starts like this: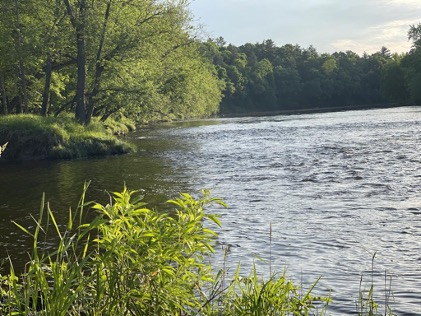 I wake in the stillness of the summer morning to the birds singing their songs to the sun in the early morning heat. Quietly, a white-tailed deer browses on the forest floor mere feet from where I'm camped. This part of my day has to move quickly. I'm expected to meet Arthur and the crew in Eau Claire by 9 a.m. to film with Inga Witscher (Around the Farm Table) at the Eau Claire Farmers Market. I roll out of my sleeping bag and fire up my tiny stove to make the all essential nectar of the Gods – that delicious Ruby Coffee. Once my brew is pressing, I make my way to the river's edge with my towel, undress and slip into her silent waters. I feel the water pull around me and cement this moment somewhere deep. The sun streams through the trees, reminding me that my day requires movement. I exit the river, pour my coffee and begin another journey into the stories of this place I love.
Eau Claire Farmers Market
I pull up in the Wisconsin Foodie van (generously underwritten by Sleepy Hollow in Viroqua), which has all the subtlety of pulling up in a NASCAR racer. Finding parking for a full sized van and my TAXA trailer is tricky on a sunny Saturday morning, and I can see that the farmers market is already bustling. I steel myself for a moment and repeat my mantra (put out love, and they'll feel love) before exiting the van, over and over until my nerves fall away. I'm ready. Let's find the crew.
Dan Peters, our director of photography, is a relatively easy spot in the crowd. He's dutifully carrying his studio camera by his side, capturing all the activity of the market in the morning. Dan is one of the kindest, most supportive and cheerful humans you could ever hope to encounter. He's somehow managed to live 40 lifetimes in his 30+ years, with stories and experiences that absolutely dwarf anyone I've ever met. Spent four years as an EOD specialist in Afghanistan? Yep. Rode a motorcycle across China to Pakistan? Check. Lived with a family on the Mongolian plateau? Of course! Hiked across New Zealand? Sure! Been extradited from Cuba for making an illegal documentary about bicycling and then hitchhiked from the Yucatan to Tijuana for four months? Bingo. Seriously, this guy shoots productions all over the continental United States and the world yet still manages to share a smile and excitement every single time we cross paths. I'm eternally grateful for his demeanor and optimism. When I struggle, he's always quick to tell me that he loves me and is proud of me. He is exactly the medicine I need. His faithful sidekick and furry companion, Weaver, is relaxing in Dan's Toyota. He's wet from having taken his morning bath in the Chippewa River that courses directly in front of the market, inviting folks from far and wide to bask in the park and enjoy the splendid city of Eau Claire. We are all happy to oblige.
The market is gorgeous, the people are kind and as I deliver my first monologue of the morning, I catch the familiar smile of my PBS Wisconsin colleague from the corner of my eye. It's Inga. In her gingham print and sun hat, she's as radiant as she projects from the television. I'm struck.
When I'm arriving at a location, I've learned the hard way that I have to keep myself a little distant from the subjects. I am naturally curious, and I approach every single taping as an opportunity to learn and grow as a chef and human. As you might imagine, I'm kind of like a puppy when I get to actually meet people I've been researching. I want to ask so many questions that open up the storylines for viewers, but those are questions that need to be asked on camera. With angles. And buildups. And proper phrasing. Basically, I need to do my job. So when I arrive and we're building our rig, I'm limited to talking about: 1. the weather. 2. the Packers. 3. the Brewers or Bucks (or Badgers).
As I walk closer to Inga, her husband, Chance, and her father, Rick, in the St. Isidore's Dairy market booth, I want to explode with questions! I have so much curiosity surrounding her daily life, her dairy operation, her cheesemaking operation and how she manages to balance all of it and still be an amazing television personality. We've arranged to spend four days in the region to capture her story, and she has graciously allowed us to camp in her pasture. As we complete the first taping of the segment, we have time in the heat of the day to explore Eau Claire. What a charming city! The art, the food, the shops, the baseball – all of it was on point and display for us.
With the introduction segment out of the way, we finally ventured to Inga's summer kitchen to prepare a farm fresh pasta course using the ingredients from her farm and the farmers market. We pulled it off, and let me tell you, it was delicious!
St. Isidore's Dairy
The next morning started early, with milking and moving the cows. Being no stranger to dairy operations, I steeled myself for what usually is a large part of the day, only to find myself face-to-face with six beautiful cows. Six. The beauty of St. Isidore's Dairy is in the balance between milking, cheesemaking, storytelling and farming.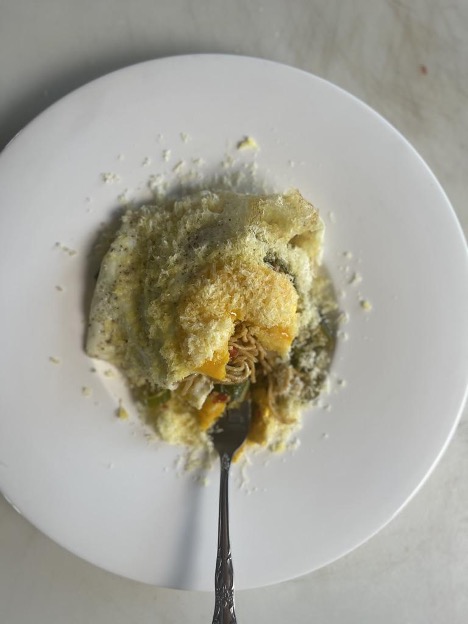 Inga was happy to show me around the barn and walked me through the milking process. The animals, used to her gentle nature, didn't flinch when I approached them or when the cameras got close for their shots. It was as if they were a direct extension of Inga's calm and pleasant nature, and her love for them was apparent in her frequent words of affirmation and petting. Even I was at ease, washing the udders and attaching the milking equipment.
After about 25 minutes, Inga and I moved the portable fencing to allow the girls to graze on new pasture and enjoy the fruits of summer. It was a magical experience watching their joy as they moved into "new grass" and contentedly chewed as the sun drew higher and the day got warmer. There would be no cheese made today, which allowed us to break down our set, grab a nap and then head for one of the many lakes that dot the Eau Claire area.
After some much needed rest and relaxation, we found ourselves back on the farm, but this time with a different mission. We wanted to see the magic of Inga's cheesemaking for ourselves, and she put on a show. We walked and assisted with the process, from transporting the milk, to curding, to draining, salting and finally pressing. We were then taken inside the aging cellar and allowed to pull a wheel to sample. It was magic. I can't stress enough that even if Inga wasn't a beloved television personality, she would be famous for her St. Isidore's Bandaged Cheddar.
Working with another television personality taught me a lot on this shoot. Namely, that I have a lot to learn about being a true professional. Inga's sense for reading the mood of the scene and absolutely crushing it will stay with me for a long time. In fact, after shooting with her, I became more acutely aware of myself on camera. I owe her a lot!
So, dear readers, as this draws to a close, I hope you tune in for an episode of Wisconsin Foodie that takes you inside the mind and life of one of our own. I'm quite sure that you'll walk away feeling the same sense of pride and amazement for the one we call "Inga."
Forever forward,
Luke Zahm
Host
Wisconsin Foodie
Made in Wisconsin Luke Zahm Wisconsin Foodie Eau Claire Around the Farm Table Inga Witscher