What We Watch: Luisa De Vogel
August 18, 2020 Alyssa Beno Leave a Comment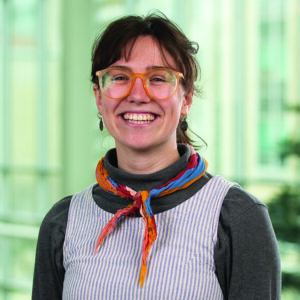 Luisa De Vogel is the Education Coordinator at PBS Wisconsin. Here are some of her top public television picks.
1. Arthur
My all-time favorite PBS show is still Arthur. Even today, watching it gives me the same cozy feeling I had when my brother and I watched it with our after-school snacks as kids. And honestly, the lessons the show teaches about friendship and life in general are still relevant to adults!
2. Hip-Hop U: The First Wave Scholars
I loved the PBS Wisconsin documentary Hip-Hop U: The First Wave Scholars. The students and artists featured were all just so talented and I love that they were all based right here in Madison. The documentary used so much creative lighting, color and animation, it's an engaging piece of art itself. I watched it three times within the first week it was released!
3. Nature
When I'm stressed out, I really like watching Nature. I love being transported into a totally different environment and watching how animals interact with each other. It's relaxing to be able to listen to the sounds of nature even from my downtown Madison apartment.
If you could do one activity with a PBS show host – past or present – what would it be and who with?
I grew up watching Zoboomafoo and love exploring the outdoors, so going for a hike with the Kratt brothers would be a dream come true. I can just imagine how much they could teach me about the environment around us. At least I can watch Wild Kratts to get the same effect from my living room.
Thinking back, what's the first PBS show you remember watching?
I watched a lot of Sesame Street as a kid, and that's the first show I remember watching. But, if my dad is in front of the TV, there is a 90 percent chance he is watching This Old House, so in reality I'm sure that's the first PBS show I watched.
Do you have any special memories or lessons learned from engaging with PBS, either by watching a show, visiting the website, attending an event or working here?
One summer day when I was a kid, my mom took me to the Milwaukee County Zoo, and low and behold the Kratt brothers themselves were there signing autographs! Of course I made my mom wait in line with me to meet Chris and Martin. It wasn't quite a full hike, but it was still pretty cool to meet them and it was certainly a memorable trip to the Zoo.
What's your PBS host 'quote to live by'?
I think this Mr. Rogers quote speaks for itself, "Listening is where love begins: listening to ourselves and then to our neighbors."
How do you share your love of PBS with family, friends and the community?
I'm constantly talking about the things I learn at work, whether it's my favorite fun fact (that the plastic recycling sorting system was created by a woman in Wisconsin) or classroom resources from PBS that I would never have heard about if not for working here. I love pointing people towards all of the great stuff PBS Wisconsin has to offer.
Is there a PBS show, episode or event that you're looking forward to?
On October 9 the "PBS KIDS Talk About: Race and Racism," special will feature conversations about race and racial justice-related topics between young kids and their parents. I'm really excited to watch the program and I'm hopeful it will be a resource for parents looking for strategies to start these conversations with their own kids. I'm not a parent, but I love sharing these tools with my friends who are parents and the educators I work with and I'm personally very curious about how to approach these topics with the young kids in my own life!
Hip-Hop U: The First Wave Scholars Wild Kratts Nature Sesame Street This Old House Arthur