Let's Grow Stuff: Spring Inventory for Gardening
March 11, 2021 Benjamin Futa Leave a Comment
The first day of spring is moments away – March 20, for those keeping track! Before long, warm temperatures and bright bird calls will beckon us outdoors as we begin another gardening season. These few weeks before new growth are a great time to make sure you have a basic supply of materials and tools ready to go for the season ahead. Nothing is more annoying than needing some twine to tie up your tomatoes as you watch them fall to the ground with their weight, only to realize you don't have any twine. In this spirit, here's our list of things to stock up on before the season begins. 
THINGS TO PURCHASE AND RESTOCK
I said it once and I'll say it again – twine!
I prefer twine over plastic twist ties because twine is made of natural materials and will fully decompose in a year or so. Using twine makes fall clean up a breeze because we can simply bundle up all of the year's growth and toss it in the compost, not worrying about what we might find next year as we go to spread that compost back over our garden. Twine is great for tying up heavy stalks of things like tomatoes, dahlias and sunflowers.
Stakes, preferably bamboo or tree limbs.
Stakes and twine go hand-in-hand. If you need to tie up a heavy plant, you need something to tie it to! If you're growing against something like a chain-link fence and you can tie your plants directly to this, you're golden. But, if you're growing out in the open, stakes are a must-have. The simple combination of stakes and twine can take the place of expensive and cumbersome tomato cages, too. If you have large trees or shrubs in your landscape with straight, thick branches (1"-3" diameter), you can always harvest your own stakes, too. Things like Willow, Hazelnut, and shrub Dogwood can be good candidates for growing your own stakes. You can also purchase something like T-posts which are normally used for field fencing, but those may be a little overkill for most of our gardens. Plus, they're bulky and not very attractive.
Test and inspect your watering supplies.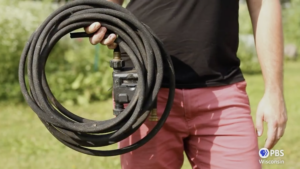 Check the condition of important items like hoses.Do your hoses have holes, does your sprinkler just sputter? It's important to know what you're able to fix and repair versus when you need to replace something outright. If you're noticing a leak or spraying water from a connection point (i.e. one end of the hose, not in the middle) this likely can be fixed by simply installing a new washer. A pack of washers normally costs between $1-3 and can be found at most hardware stores. I always make sure I have a pack of washers on hand for the season because you never know when you may need one.

Stock up on straw.
If you're planning to mulch with straw or grow in straw bales, buy these the moment you see them at the garden center. With the rapid rise and popularity of gardening these past two years, these supplies will move quickly. If you aren't able to snag any straw, not to worry, we'll cover all kinds of mulching options in an upcoming episode of Let's Grow Stuff.

THINGS TO SAVE AROUND THE HOUSE
Save cardboard from home deliveries.
Cardboard will come in exceptionally helpful if you're planning to expand your garden and you need to get rid of grass quickly and organically. To learn more, check out Getting Rid of Grass from season one of Let's Grow Stuff. Only save cardboard that's clean (i.e. you're able to remove most of the packing tape and shipping labels).
Plastic or cardboard egg cartons.
These can work great for indoor seed starting in the spring and you won't need to buy new seed trays each year. You'll need to make sure you poke a drainage hole in the bottom of each cell. To learn more about starting your own seeds indoors, check out the latest episode of Let's Grow Stuff, Indoor Seed Starting.
Inventory your wardrobe.
We talk a lot about outdoor tools in gardening, but what about the tools we wear? Think garden gloves, shirts, pants, and hats. Are they still functional, do they need any buttons replaced or holes repaired? Gardening can be hard on clothing, so make sure yours are ready to go.
Inventory sun-care cosmetics.
Check your sunscreen and lip balm. I inevitably have that one day in spring where the weather is nice and I spend the entire day outside without planning to. I always get a little sunkissed and my lips are destroyed. These self-care cosmetics are extremely important and knowing where they are and making sure they aren't expired can save you a lot of pain. A final tip: try storing these in a place that's easy to see and access on your way out the door into the garden. This visual reminder can be helpful because once you're in the garden and covered with mud, you don't want to track soil all the way through your house because you forgot the sunscreen! 
Funding for Let's Grow Stuff is provided by American Transmission Company, Ganshert Nursery and Landscapes, Willy Street Co-op, Focus Fund for Wisconsin Programming and Friends of PBS Wisconsin.