"Shelter in Poems" for National Poetry Month
April 24, 2020 Sigrid Peterson Leave a Comment
The Academy of American Poets entreats us to "shelter in poems" for consolation, strength and connection. April is National Poetry Month, launched in 1996 by the Academy to share the importance of poetry and the integral role it plays in our culture.
This particular National Poetry Month, people are turning to poems more than ever for solace and hope. Poetry's meticulous attention to words and their conscientious relationship to the page as well as oral tradition compel us to slow down and pay attention — offering respite in a simple line or flow of ideas that evoke beauty, reassurance or liberation.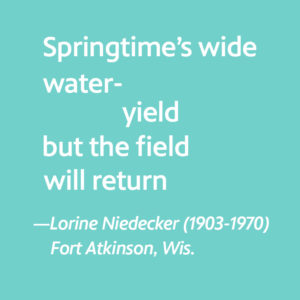 PBS Wisconsin shares in the mission to deliver poetry to a wide audience. Our catalog of streaming video is rich with poetry programming and PBS Wisconsin Education, through its partnership with PBS LearningMedia, offers a collection of standards-aligned classroom resources on poetry for students PreK to high school.
We've found inspiration, escape, new knowledge and great joy getting (re)aquainted with the poets and scholars who follow. We invite you to take shelter with them as April ends, to carry you through the coming months.
__________
Hip-Hop U: The First Wave Scholars | PBS Wisconsin Documentaries
Produced in 2018, Hip-Hop U follows a group of UW-Madison students in the renowned hip-hop arts scholarship program First Wave. It showcases the art of "spoken word," defined by the Poetry Foundation as "a broad designation for poetry intended for performance. . . characterized by rhyme, repetition, improvisation, and word play, and frequently referring to issues of social justice, politics, race, and community." The clip below features First Wave student Miona Short performing "For All It's Worth."
Wisconsin Life | A partnership project of PBS Wisconsin and WPR
Season 5 of Wisconsin Life wove its episode "Rhythm Makers" around a visit to the former writing cabin of Fort Atkinson poet Lorine Niedecker (1903-1970). Niedecker wrote much of her spare yet vivid poetry in poverty and isolation on Blackhawk Island along the Rock River. Considered an important modernist poet — she is included in the Norton Anthology alongside Emily Dickinson — her work was largely overlooked until late in her life. Niedecker's poetry is now understood as ahead of its time in its interrogation of the overlap(s) of politics, ecology and culture.
This season's Wisconsin Life showcases New Berlin visual artist Nina Ghanbarzadeh. Born and raised in Tehran, Iran, Ghanbarzadeh takes the words of Persian poets and fabricates them into intricate pieces of visual art.
Grab your earbuds and enjoy these poetry themed installments from our Wisconsin Life partners in radio:
__________
Poetry in America | from American Public Television syndicated to PBS
In early April APT launched its second season of Poetry in America. Created and directed by Harvard professor Elisa New, it aims to bring poetry to classrooms and homes around the world. Produced in a rich documentary style, each episode offers a fully immersive experience hearing, reading, and interpreting a single American poem. Poetry in America gathers distinguished interpreters from all walks of life — athletes, poets, politicians, musicians, architects, scientists, actors, entrepreneurs and citizens — to explore and debate. This recent episode takes up the great modernist poet Elizabeth Bishop's poem "One Art."
__________
University Place | PBS Wisconsin
University Place, our "digital lecture hall" showcasing scholarly talks and community events that span topics and disciplines, routinely records talks covering poetry. One of many highlights in 2019 was a lecture by Emily Wilson, Professor in the Department of Classical Studies at the University of Pennsylvania. Wilson visited UW-Madison to discuss her new translation of Homer's epic poem "The Odyssey." The first woman ever to translate "The Odyssey" into English, Wilson's work pursues new questions about a millenniums-old poem and the tradition of literary translation.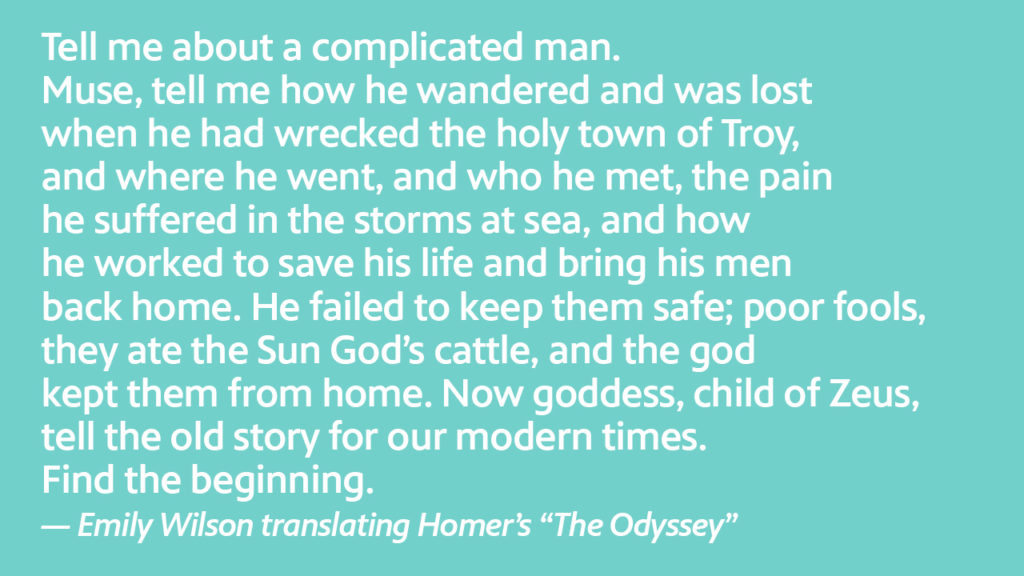 Enjoy six more University Place episodes exploring poetry:
__________
PBS NewsHour
Known as a trusted source of hard news, it is easy to overlook PBS NewsHour's extensive and ongoing coverage of literature and the arts. Many of us at PBS Wisconsin rely on the NewsHour to introduce us to unfamiliar or emerging poetic voices and critics. They read poems and provide sharp commentary in this collection of clips. We start with a clip of poet Frannie Choi offering a reading of "Introduction to Quantum Theory" as part of the NewsHour segment "Brief But Spectacular."
More of the PBS NewsHour on poetry:
__________
American Masters, PBS
The long-running series American Masters delivers in-depth portraits of icons of American literature and poetry. Some of our favorites are below, beginning with a clip from "Maya Angelou: And Still I Rise,"  in which she tells the origin story of her relationship to poetry.