Q&A: Luke Zahm, new host of Wisconsin Foodie
January 14, 2020 Susannah Brooks Leave a Comment
For Luke Zahm, landing the gig as Wisconsin Foodie's new host has been a "dream job."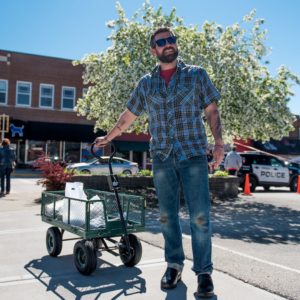 The new season of Wisconsin Foodie premieres 7:30 p.m. Thursday, Jan. 16.
Zahm is a James Beard-nominated chef, owner of the Driftless Café in Viroqua, and a strong advocate for Midwestern cuisine. A frequent Foodie guest in past seasons, he is "overjoyed" to have this opportunity.
"I'm really excited for viewers to have their perception of what we do with food in the upper Midwest blown wide open," he said. "For us to realize what's happening here is truly exceptional."
Read on to learn more about Zahm's passion for people, food, and telling stories.
What first brought you into the world of Wisconsin Foodie?
I was having a family night out and got a call from Executive Producer Arthur Ircink, who asked if I'd be interested in appearing in a segment of Wisconsin Foodie. Of course!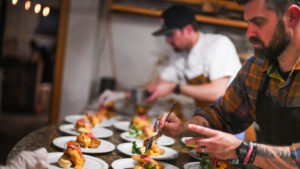 Wisconsin Foodie has been kind of a conduit to the identity of Wisconsin food, a place people outside of the Midwest consider to be flyover country. I hear all the time that if it's not happening on the coasts or in a big city, it's not relevant. Being a kid who grew up in a town with a population of 745, part of my identity has always been marginalized because of this. I was quick to jump onto the idea.
Arthur said they'd be there the next day. That didn't give me a ton of time to craft what I might say or what kind of identity I may want to put forward. He came in with his crew, and they happened to catch me in a really original and authentic version of myself.
That started the process of appearing in several episodes over the years. I got experience working with the crew in various situations, and it just kind of came to be that I find myself in this position.
Going from the kitchen to in front of the camera seems like quite the leap. What inspired you to transition from chef to TV host?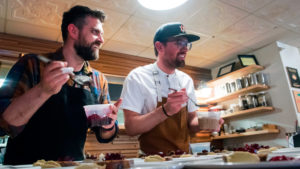 One thing that I love about cooking is that there are thousands of ways to approach any given piece of food. There's always this lens of interpretation and creativity. The way that I've been trained may be different from the way the chef next to me has been trained.
The jump into television has been an extension of that love: getting to collect some of the finest pieces of Wisconsin's identity, being able to reinterpret and reimagine what this place is and will be going forward. So many stories of food and food producers need that attention and that storytelling lens.
What's it like balancing the show with owning and operating the Driftless Café?
It's challenging! Fortunately, the café staff has been amazing. My wife Ruthie has been a rock. She's been fulltime at the café, manages my schedule and brokers a lot of things we have going on. She keeps the café functioning, is a fantastic mother of three, and also holds down a job as a part time RN for UW-La Crosse. When I think of my schedule being chaotic, she definitely carries more than her fair share of weight.
But I do think the schedule is demanding. Last weekend, I found myself at 2 a.m., sleeping in the production van for a few hours to go back to Viroqua for a dinner. Yesterday was a staff meeting for a private event; today, I'm going back into the café for a shift, but tomorrow we're hitting the road again to Chicago. It's very fast-paced right now. I do enjoy it; my personality thrives in that element. I'm not one to sit still for very long.
How is your approach to hosting unique from Kyle Cherek's style?
Kyle set the bar tremendously high. I sometimes get self-doubt: am I telling the story as authentically as Kyle did? I really appreciate that about the legacy he's created.
My chef and kitchen background sets me apart; you'll see that on camera. For instance, we just did a shoot at a pop-up BBQ in Racine, and some of the wheels fell off in the kitchen in a way we couldn't have avoided. We had the full camera crew back there. That's when the switch flipped, and I went into chef and crisis mode.
All of the pretense of doing a television show means trying to be really conscious of the story that's coming out. In that moment, it created these layers of authenticity.
Watch one of Luke Zahm's segments from last season:
How does Wisconsin Foodie bring diverse voices to the show?
There are pockets of cultural warriors in Wisconsin who are not only doing what has been passed down generationally, but also cultivating the next generation within their ethnic backgrounds.
We've got Indigenous Wisconsin cuisine and influences from Serbian culture. Hmong farmers and Laotian BBQ are using the same animals as only the high-end BBQ restaurants in Milwaukee are using. It's a different interpretation of the ingredients.
That's what holds our fascination. It takes things that we presume are naturally "us" (for whatever value of "us") and re-interpreting it through a cultural lens that is so refreshing, so needed. The beautiful part is that merging of cultures. We're telling the story of barriers breaking down and promoting this idea of one united Wisconsin.