Q&A: Joni Jensen, 2021 State Honors Treble Choir Conductor – Watch the concert here!
November 2, 2021 Samantha Nash Leave a Comment
Joni Jensen is the director of Choral Activities and professor of Voice at Texas Woman's University. Dr. Jensen has conducted numerous festival, honor and community choirs and serves as a choral clinician and adjudicator throughout the United States. She is also the editor of the "Joni Jensen Choral Series" at Hal Leonard for advanced women's choral music.
PBS Wisconsin met up with her before this year's State Honors Treble Choir performance to talk about working with Wisconsin's young vocalists and the creative way she was able to keep performing during the COVID-19 pandemic.
The 2021 Wisconsin School Music Association (WSMA) State Honors Concerts were held live and in-person on Oct. 28 and 29, and recordings of the concerts are available on pbswisconsin.org.
PBS Wisconsin: What's it like to work as a conductor in the State Honors program?
I was approached by Victoria Donohue from WSMA to come lead the treble choir. For a conductor, that is so flattering. It's a great privilege to be asked to come and do this. I haven't done a lot of work in Wisconsin, but I'm excited to work with those young singers. They really show you that what's been going on in the state is amazing. WSMA's leadership has been really organized and taken care of me the whole time.
We had a virtual camp and then an in-person day, and those singers just jumped right in with both feet. They're willing to take some risks. I put some things in my program that were meant to stretch and explore different ideas, different cultures, different modes of singing, and they were ready to jump on and experiment, and they had a lot of fun. By the end of our camp, they had created their own Instagram channel and Twitter feed for one of the characters in one of our songs, and they just had a great time doing it.
PBS Wisconsin: How do you put together a program that entertains the audience and showcases the abilities of these talented students?
Jensen: Programming is always a complicated and fun puzzle. You have certain parameters: It has to be a certain length and be at the ability level of the ensemble. I am someone who really likes to have a program that's going to be not only interesting to those trained in choral classical music, but those not, and also a program that's going to be varied enough to show our full breadth of abilities.
I'm also very, very passionate about treble — or women's — choral music, which has a reputation for being boring. There's not as much variety; a lot of the compositions written for women's voices tend to be pretty music like lullabies and love songs. And I'm like, "Forget that. That is not the whole breadth of what are about as a choir." So, I really dug in to find pieces that were able to stretch us in one way or another and experience things like passion and allowed us to have fun and be a little cocky, maybe.
The program I chose has mainly three sections. The first are two sacred settings, I guess I would call it, and they're both by female composers, which is another thing that I'm really big into because there is also a dearth of female choral composers. The first one is really fierce and intense, and then the second one is a beautiful, a beautiful setting. The second section of the program has three pieces that I would call atmospheric or environmental. Each of them paints a picture of a place and transport us there.
The last three pieces, I would say, are more ethnically diverse. The first one has a Middle Eastern feel, and yet it's a biblical text. It's one of the few women talked about in the Bible. Miriam Moses, Moses's sister, does a dance and leads everyone in a celebration. It's a lot of fun, and that's the one they latched on to, and they were like, "Miriam Girl plays the tambourine," and they did this whole handle and we're doing memes and everything. It was hilarious, they really got into Miriam. The second piece is in Bulgarian, and it's very intense, like Elsa in Frozen times thirty. And the last one is a gospel focused song, so we get to have a lot of fun and clap.
PBS Wisconsin: How do students in Wisconsin compare to the vocalists you've worked with around the country?
Jensen: The Midwest is generally known as a pocket of quality musical training, and for doing choral groups well. There are some states where it's so unimportant and the arts are dying in the schools because they've stopped funding them. It's horrible.
But Wisconsin obviously cares about the arts, and that is clear not only in the leadership and the high-quality, thoughtful way they set everything up, but also the students coming in enthusiastic and willing to put in the work. It's hard for adults to do that and to sit through all-day rehearsals. What I loved about a lot of these singers and getting to know them is they brought such a fun, youthful vigor to the whole thing and without even prompting, they were having fun with it.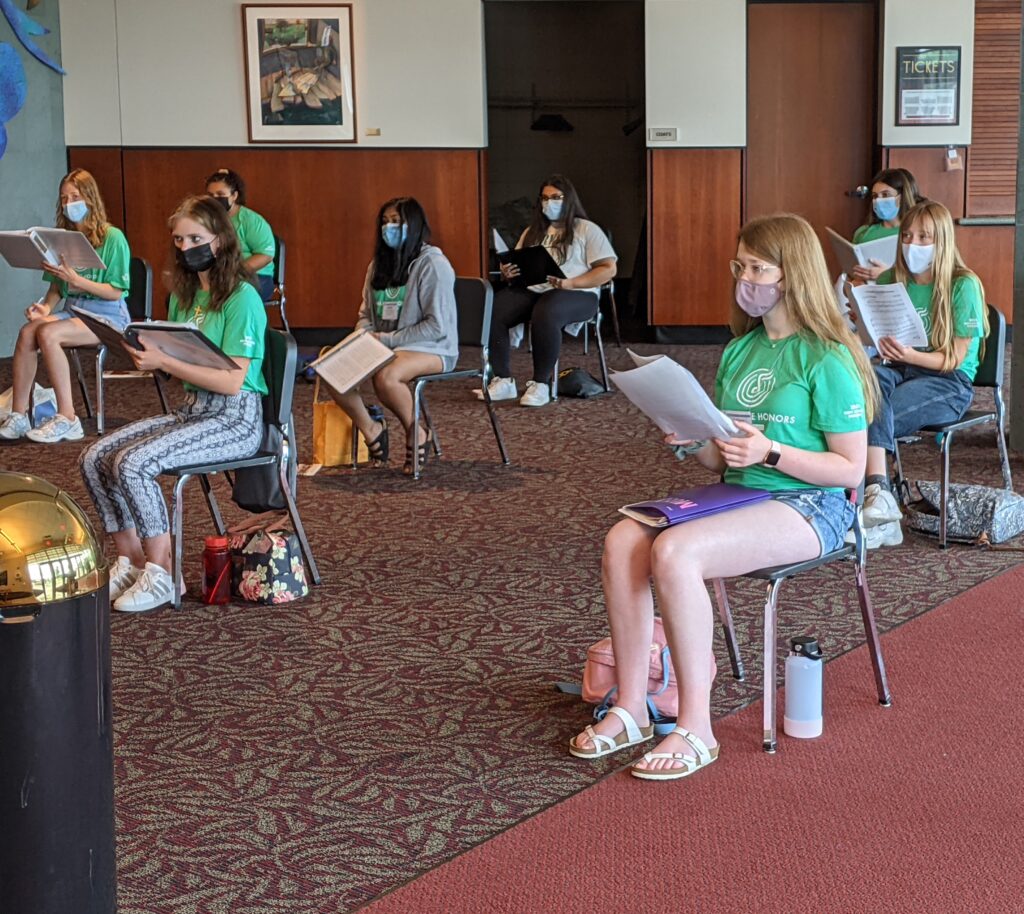 PBS Wisconsin: What has performance looked like for you over the last year and a half?
Jensen: I worked really hard through the pandemic to find safe ways for us to still be together. I know a lot of musicians went completely virtual. Although we did use virtual platforms for rehearsal and things, I was always convinced that it's no substitute. So, we worked and devised ways to make it safe for us to sing together and perform, even with an audience!
The main solution, at least at my primary place of work, was to rehearse and perform outside in a parking garage. That worked for us because it has a decent acoustic but is open enough that the air would be flowing. We ended up doing rehearsals rain, snow, shine, whatever in the parking garage. We wore masks and social distanced and were able to follow the science and determine that it was reasonably safe.
We were lugging electronic keyboards and equipment out to the parking garage every day, setting up and rehearsing. And then when we performed, we even brought out stage lighting. We brought chairs, and set them up in the garage, and also streamed the concerts. That was the main way we survived through this past year. I'm not one to bow down to problems looking at me in the face, I'm going to look for creative solutions. So that's where we ended up, and I think it worked out really well.
PBS Wisconsin: From where do you draw musical inspiration?
Jensen: I would say, first and foremost, my mother. She is a musician, a singer and a pianist, and she is always in my musical heart. She's someone that does not shy away from expression and taught me to not fear being open and vulnerable as a musician.
I had a lot of amazing experiences through my collegiate training, many of which brought me to an awareness of what can be done with music and what the impact it can have. My inspiration there is knowing what can be achieved with musical expression. The possibilities of true connection and such a vivid representation of life and experiences and what people want to share.
I love that we get to understand other people's perspectives and celebrate their music. That's something that I talk to my musicians about; I am not going to shy away from singing anyone's music.
I want to experience these people's music, from cultures, from religions, from ethnic places, from where people have experienced oppression, from people who are celebrating things. I want to experience these other people's lives and honor that. I love the fact that in music, we get to reach out and partake and appreciate other perspectives and ways of life.
State Honors Concert Wisconsin School Music Association Wisconsin State Honors Concerts Music concert Choir Made in Wisconsin