Q&A: Jamey Simmons, 2021 State Honors Jazz Ensemble Conductor – Watch the concert here!
November 2, 2021 Samantha Nash Leave a Comment
Arranger, composer, trumpeter and educator Jamey Simmons grew up in Wisconsin, earning his Bachelor of Music at the University of Wisconsin-Eau Claire, and his Master of Music in Jazz and Contemporary Media at the Eastman School of Music. Simmons is currently Director of Jazz Studies at Middle Tennessee State University, and he has toured internationally with the Glenn Miller Orchestra.
PBS Wisconsin caught up with him as he prepared for this year's State Honors Jazz Ensemble performance to discuss the challenges of playing jazz music over Zoom and the importance of music education.
The 2021 Wisconsin School Music Association (WSMA) State Honors Concerts were held live and in-person on Oct. 28 and 29, and recordings of the concerts are available on pbswisconsin.org.
PBS Wisconsin: Are there any parts of your program that are particularly challenging for your students? How do you guide them through the tough parts?
Jamey Simmons: Well, they all have their own challenges; they all have little technical sections, especially that are challenging, and sometimes it's just the concept of the different pieces that are challenging. "In a Big Way" is a shuffle, so the concept behind it is pretty easy to understand – you just want a feel-good, bluesy tune – but there are some technical surprises in it. In the ballad by Maria Schneider, called "My Lament," the challenge is in the intonation and creating a beautiful sound with the ensemble, and learning to play with a lot of finesse and gentle control of the sound in the instrument. But others, like "Bitter Jug" and "Better Get it in Your Soul" by Mingus are really fast, so they have to learn to create energy, not necessarily by being loud, but by having really good rhythm and articulation.
PBS Wisconsin: How did you overcome the barriers of technology and distance during the summer camps this year?
Simmons: It was interesting how we did it. We did three days of virtual rehearsing, and in jazz it might sound kind of strange that we did that, but we'd listen to a lot of recordings, and they played along with them over Zoom. What's pretty cool is that after three days of rehearsing online, we got together for a day of live rehearsals up in Wisconsin Rapids and we just had a blast. We got to know each other, and the band was sounding pretty good by the time we left. I got to hand it to them, they did a lot of work on that in a very short time.
PBS Wisconsin: How did that process differ from a normal year, and how have your own performances changed?
Simmons: We would have had four days of onsite rehearsals, so it was pretty different. I wasn't sure how it was going to go, either.
When the pandemic hit here, we had a spring semester where we had no performances. And then last year, everything was smaller with pared-down instrumentation and smaller size groups and bigger spacing. That was a challenge, I would say, this summer too, but we just went with as much distance as we could for a jazz band. We didn't have to do quite as much because we're a smaller group. The concert band was out there in a gymnasium. I thought, "Wow, I'm not sure how I'd do with that," but we did just fine with the jazz band being a little smaller. That last day of rehearsal it was pretty fun to be there all in-person.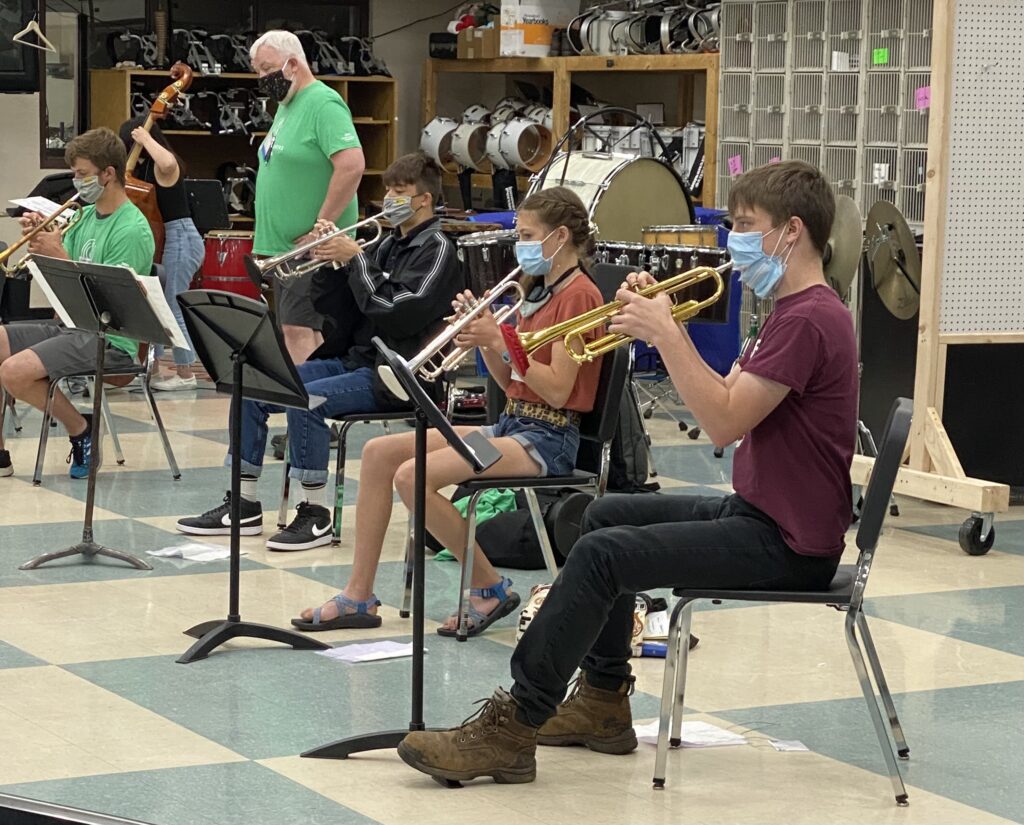 PBS Wisconsin: How has the pandemic changed the landscape of performing arts?
Simmons: It's had some lasting effects on performing arts venues, but it seems like they're bouncing back and starting to get back to business. In a way, it's made people a little more flexible with technology, which is an interesting development; I've certainly learned a lot. Most musicians I've talked to have really done some things creatively to stop the gap for a little while, and that's made them stronger with remote recording, learning to record themselves and create at home, finding creative gig opportunities and outdoor gigs, things like that.
PBS Wisconsin: What non-pandemic challenges do school music programs continue to face?
Simmons: As a high school or middle school music director, you're always facing budget issues, so those may be a bit exacerbated in the next year. You're always having to sell music, and sometimes not always on the merits of the music itself. You have to make the case of what it does for test scores and teamwork and other extra-musical effects it has on students. But selling the importance of music education itself is where we want to be going as ambassadors for that point of view. That's one of the things WSMA does; they showcase what we're doing and shine a spotlight on these very talented students. That's a very, very important role in the world of music education.
PBS Wisconsin: Why is music important to society?
Simmons: Really good music is unifying; it's another one of the ways that beauty draws people together. It should draw people together, but it takes time and effort, and if you're going to do it right, it should be an art form that's respected. A society that's culturally rich will always treat musicians with respect, with honor. It will support them, financially, in the way that it takes in media and events. I think that's pretty important. We maybe miss that, in a way, now that music has become separated from things in a lot of different ways.
Music has been used in functions – it gets used to sell things – it gets used to sell digital downloads the way that we would sell pork bellies on a commodities market. I'm in one of the centers of that, outside of Nashville, and we've started moving from being creators of music to producers of music. That's a different paradigm, and it's one that isn't always healthy. We all have to do what we can to bring those two worlds into some kind of balance for creating things that are beautiful.