Q&A: Emmy Fink, co-host of 'John McGivern's Main Streets'
January 18, 2023 Alyssa Beno Leave a Comment
PBS Wisconsin celebrates the return to public television of two beloved Wisconsin television hosts – John McGivern and Emmy Fink – with this month's premiere of John McGivern's Main Streets. 
In the series, actor, comedian and television host John McGivern travels the Upper Midwest to celebrate the people who live there and the unique attractions, history and businesses of each community. New this season is the addition of co-host Emmy Fink, former host of Discover Wisconsin and a contributor to Outdoor Wisconsin.
Ahead of the season premiere, PBS Wisconsin spoke with Fink about joining as co-host for the series' second season, her favorite memories and what it's like to work with John McGivern.
John McGivern's Main Streets premieres 7 p.m. Thursday, Jan. 19 on PBS Wisconsin and on the free PBS Video App. 
PBS Wisconsin: How did you get involved with the new season? 
Emmy Fink: Lois (Maurer, producer) had called me out of the blue … she explained to me what they had been up to since stopping Around the Corner with John McGivern and since starting this new endeavor. I had seen a couple of the shows. This was January or February, a year ago. She asked, "What do you have going on this summer? Do you some availability because this is going to be kind of a big deal." At the time I was two months pregnant with our third baby, and I'm like, "Oh, yeah. There's this one thing that is going to have to be figured out." She was like, "You know, if you're game, we'll work with you and we'll just do what we can." I was like, "Hey, if you guys are going to be flexible with me, we'll make this work. Whatever we need to do." It all started from there. I went in for the first couple meetings and like you kind of feel with John, even as a viewer, everybody is like, "I would be friends with John McGivern." It's how it feels sitting in a conference room across the table from him. In the first few minutes, I was like, "I love this guy. I loved this guy watching him on TV, but now I really love this guy."
I had never met John, but I loved their show and knew what they did, and I felt like I knew all about them just from watching them. It was really a call out of nowhere, of, we know similar people and we know of you. Is this something that you'd be interested in? I had spent four years with Discover Wisconsin, so they knew that I had been involved in Wisconsin tourism, much like Around the Corner.
PBS Wisconsin: Did you have a specific role to play as the new co-host? 
Fink: One thing that I didn't realize from watching these shows was how much memorization John had to do. He's shooting these episodes back to back. He goes somewhere, he's there for three or four days, then he'll have a few days off, then he's back on the road again. So, you only have a two- or three-day window to get really confident with all the lines for your next show. He had said that he definitely felt that from season one, and that that was really the whole hope behind adding someone is that somebody could take some of this memorization and content, especially historical facts, which is something that I really talk about in season two.
A lot of what John does, he's so good at taking an idea and having the basis, "I need to say A, B and C," and putting that into his own words and ad libbing it. It's a true talent, that's one of his strengths. Historical facts are a little bit different. You have to have a lot of "this has to be included and it goes in this order, but we still want to make it fun." So by me taking that over, and there's about four history pieces in every episode, so I took those over for him, which kind of allowed him to just be John McGivern and just go and do the fun stuff. Then we tag team the trivia because we do about two or three trivia teases in and out of the breaks. So he'll ask the trivia question, and I come in with the trivia answer. It's really fun, and we do a lot of the open and the closes together if we're there at the same time.
PBS Wisconsin: How did your experience filming change through the season?
Fink: We shot some of the episodes here at my house, we shot locally around the area, and they just made it work. I still am in every show, and I'm just not on location for every show. I'm on location at the beginning of the season, and then I'm back on location at the end of the season — so pre-baby, post-baby and then our son is in a few of the episodes with us because about three weeks after we had him, the crew came and we shot some episodes here at my house. And then he was three weeks old and we shot in Iowa City, and my husband and I and our three kids packed up and thought, well, we're going to see how he does in the car for four hours. Being a third-time mom, there were a lot of new things to figure out on the fly that I tell my husband now, I am stronger because of this. I can do almost anything now after going back to work after three weeks and feeling like I'm somewhat myself. It was a really good growth opportunity.
PBS Wisconsin: What is the most interesting historical fact you learned from the season?
Fink: I would probably say De Pere. I had done some filming in Green Bay during my time with both Outdoor Wisconsin and Discover Wisconsin, but this time we really focused on De Pere. There's a lot of history behind St. Norbert College, and it's the only school district in the state that has two school districts in one city. We were able to play up the historical side of the rivalry between these two high schools going all the way back to the 1920s.
The producer and I sat down, and we had a pretty long phone conversation with one of the De Pere historians, and when you give somebody an outlet to talk about something that they love, it was so cool. This historian was at least 70 years old, and he was so excited to share these memories that he had of these two teams playing each other. It ended up, they got into such a fight that they lit the bridge going over the Fox River, they lit the bridge on fire! There was a huge rivalry between these two high schools, and they wouldn't allow them to play each other anymore. Decades later it changed, but it's just funny. The fans stormed the field, so we actually got to film that right on one of the football fields at one of the De Pere high schools. It's neat, all those stories go so far back. It's still a big rivalry, but to think of starting a bridge on fire because of a high school game. Wow.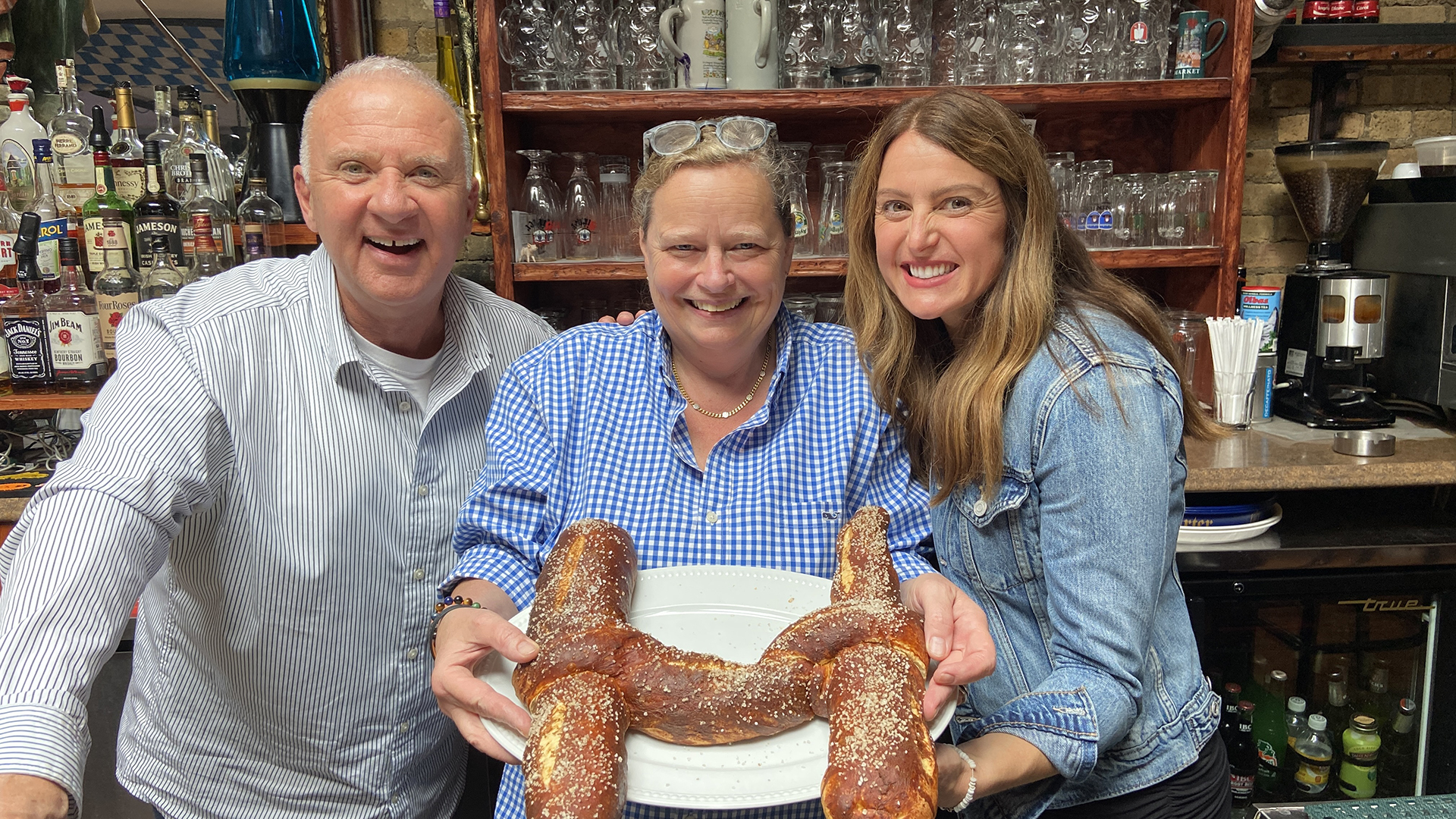 PBS Wisconsin: What is your most memorable moment from filming the season? 
Fink: Our very first show at Lincoln Square was obviously memorable because it was the first one. We were planning on filming the open to the show in this old German restaurant called Himmel's. So I had called the owner to the restaurant, and part of my job was to figure out in each episode where I could bring a prop or two into the show and have it be funny or relatable. There's huge German roots in the Lincoln Square neighborhood. So I was like, let's do something like, should I show up in a European type outfit? Then I went back to, everybody who goes to a beer garden has had the great, big, huge German pretzel. I was like, let's do something with that. I call and we get this all lined up, they're going to have a German pretzel for us. So we walk in and John and I look up in this restaurant … and this woman had probably 15 to 18 huge German pretzels sitting on the counter that had just been pulled out of her open fire. And I'm like, "Oh my gosh, hopefully I made it clear to her that we only needed one pretzel." She was like, "Oh no, of course. I didn't know if you would do one take and then break off a piece, and then you would need another pretzel that didn't look like you had eaten it." I thought, that was really, really smart. We got done and I was like, "Well, hopefully you'll be able to serve these or somebody will be able to eat them." And she goes, "These aren't even on our menu!" They're not on your menu?! We had called and said, "Do you think you could make us a couple German pretzels?" just assuming this was on their menu. It was so sweet the lengths people will go when we come into town just to have everything work out so well for us, and the kindness that people show and that was my very first episode. I looked at John and I'm like, "You really are a celebrity because people just want to make sure this is absolutely perfect for you." It was so much fun. I'll never forget this lady at Himmel's.
PBS Wisconsin: What do you think it is that makes you and John work so well together?
Fink: I have admired him for so many years watching him, so I have a slight infatuation with him. I just think he's so funny, and I feel like the best gift a host can show is when you watch them, you think, "Oh my gosh, I want to be their friend," or "I feel like I'm their friend." When I showed up in Lincoln Square and we were going to film together for the first time, I just felt like I was meeting my friend John for a fun stroll around Chicago. That's the true gift that he brings to me. He really puts me at ease, and I didn't know that he would make me feel that way. He's so good at this and he's so relaxed, but that really resonated when I was trying to come up with my lines. When we do our opens together and he's got his part and I've got my part and you're walking and you're trying to get your cadence of your walk down, all these things have to flow and there has to be chemistry, and several people have asked me that. I'm like, gosh, it's kind of like you're dating. You get home and you're like, "I hope he liked me as much as I liked him!" Because I loved him and he was great, and this is going to be wonderful.