Q&A: Deborah Blum, The Poison Squad on American Experience
January 27, 2020 Susannah Brooks Leave a Comment
In the newest episode of American Experience, Deborah Blum's acclaimed book The Poison Squad comes to life. Tune in 8 p.m. Tuesday, Jan. 28 or stream online.
In 1901, government chemist Dr. Harvey Wiley set out to prove that Americans were being harmed by chemicals in food. Determined to banish dangerous substances that threatened the health of consumers, Wiley took on powerful food manufacturers and their allies with the help of a group of volunteers referred to as The Poison Squad.
"The Poison Squad was one of the most influential scientific studies of the 20th century," says Blum, in the film. "One very obsessive, determined person can change the world. And he did."
This is Blum's second collaboration with American Experience, following 2014's The Poisoner's Handbook. (Read about the book here.)
In this exclusive Q&A with PBS Wisconsin, Blum describes the process of working with Boston's WGBH to bring her work from page to screen. Read on for more!
Blum, a Pulitzer Prize-winning journalism professor who taught at the University of Wisconsin-Madison's School of Journalism and Mass Communication for many years – just a few floors from PBS Wisconsin! – is now director of the Knight Science Journalism program at the Massachusetts Institute of Technology.
The Poison Squad also served as UW-Madison's Go Big Read selection in 2019-2020; click here to watch Blum's campus keynote speech.
The Poison Squad follows the Poisoner's Handbook model to some degree: low-profile but determined scientists whose work is now both widely accepted and lifesaving – with a little death and gore thrown in for fun. How did you get from one to the other?
It may not surprise you to know that the path from The Poisoner's Handbook began with poison. That is, I stayed very interested in early 20th century toxicology. So, of course, I saw references to this experiment called the Poison Squad study.
When I took a real look at it, it wasn't so much the poisons themselves that caught my attention – although food additives at the unregulated turn of the 20th century were insanely dangerous – but the reasoning behind it. Why would a government chemist feel so desperate about food safety that he thought the best way to call attention to it would be to poison his co-workers?
I say that because the test subjects in that study of food additives were young government employees – like Harvey Wiley, the chemist behind the experiment. And once I wondered that, it led me into this astonishing world of dangerous food, corporate influence, crusading scientists – the latter very like the heroes of The Poisoner's Handbook, the former a whole new adventure.
How had your writing or research processes changed in the interim?
Well, as a writer, you always hope that you've improved between books! I think Poisoner's Handbook taught me a lot about scene setting in historical context and what details are essential.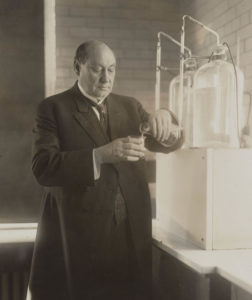 The biggest research difference for me was that Wiley spent almost all his career as a federal scientist in Washington, D.C. Researching The Poison Squad was also a deep-dive into reacquainting myself with American history and national politics, presidents and legislators, politics and policies. I probably know as much about President Cleveland as any science writer working today!
And that was good for me, because it really helped me connect dots between the decisions of more than 100 years ago and the decisions of today.
At what point did you start communicating with WGBH about The Poison Squad?
When I was working on the Poisoner's Handbook documentary, I mentioned that this was my next project. I think the big issues in it – food safety and its uniquely troubled American history, the role of obsessive crusaders like Wiley – just appealed to them as a story subject. They actually optioned the book before it came out. 
Given the production timeline for The Poisoner's Handbook, were you able to write The Poison Squad with an eye toward putting it onscreen?
As I said, I knew very early that it had promise as a documentary. But writing a narrative book doesn't change for me because it might be on screen.
I wanted it to pull people into the moment. I wanted to make the people – and there were some very distinct and flamboyant characters in the story – come to life. I wanted the power of the narrative to carry the issues forward in the book.
Essentially, you want your book to have cinematic elements from the beginning. That helps it flow when a production company takes it up – or when they don't!
How did the production process for The Poison Squad's episode differ from your first go-round?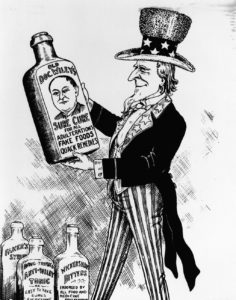 In some ways, it was the same: consulting on early 20th century laboratory practices, talking through different archives, how to find images and information. I'm always impressed by how much research these documentary film studios do; they are really good!
And in both cases, I filmed my part of the documentary in stately old homes – although, seriously, you can't really tell in the film itself. In the case of The Poison Squad, though, they used an old mansion in Watertown, Mass., about a year ago. It turned out that the vintage furnaces were incredibly loud, so they turned them off. It was the coldest interview I ever did; I kept wondering if viewers would be able to see my breath when the film played. But when I saw the documentary, I didn't look chilly at all!
What were some of your favorite parts of the production process(es)? 
Well, of course, the cold house story is the one that I've told most, because I think it's funny.
You'll see when you watch the film that there are some great dining scenes; there's one very elegant dinner that starts the film. I was truly fascinated to realize that they had hired a very famous food stylist for the documentary (she did Julie and Julia, among other feature films) and that she'd made it a personal mission to recreate the look of a dinner of the time. I've always wondered if they ate it afterwards, and if it was any good!
What's next/in progress for you?
Undark, the science magazine that I co-founded with editor Tom Zeller four years ago, is totally worth celebrating. It's won all kinds of major awards, gained a readership in the millions, but mostly, it's a wonderful home for readable, smart science journalism – and some remarkable investigations, like the series we did last year on particulate pollution.
I'm also involved in a couple of projects to create science journalism guides – one is a digital handbook for science editors that we should finish by year's end.
And I'm just starting to think about another book. When I finish one, I really enjoy the feeling of NOT having a book contract looming over me. But if I'm not writing, eventually I just get twitchy. That's a blessing and a curse.
What topics fascinate you but aren't currently viable for you to pursue (for whatever reason)?
I'm genuinely fascinated by serial killers. I was just talking to a friend of mine about a famous one from about 100 years ago who lived in the Midwest.
But I learned from working on Angel Killer – which was a Kindle single about a notorious and truly horrifying serial killer from New York in the 1930s – that it's a very dark space to inhabit.
When you are writing a narrative, there are times when you have to kind of mentally inhabit the main characters in your story. Serial killers are such fascinating terrain in terms of psychology, our understanding of human behavior, but… I don't want to figuratively live with one again, even through book research.
In the years since The Poisoner's Handbook debuted, the popularity of true crime has skyrocketed, with podcasts such as My Favorite Murder and crowdsourced "citizen" investigations conducted with varying degrees of care. Any reflections on that?
Yeah, there's a lot of ethically fraught issues in criminal investigation – today, I think, more related to 21st century tools, from the internet to DNA databases, such as the one that helped solve the Golden State Killer mystery.
Ethics in criminal investigation aren't new; that was certainly one of the focuses of Angel Killer. Our ability to troll through other people's lives on a broad scale, however, is new. It's going to be very interesting to see how people try to set some boundaries on what is private and what is not – and how successful we are in setting those boundaries.
Anything else you'd like to add?
Something I've realized was that my amazing story of early 20th century food safety was, in surprising ways, the story of food safety today.
That shock of recognition is one of the things I like about exploring history: we're so connected to our past, present, and our future in the most fascinating ways.
Deborah Blum The Poisoner's Handbook Documentary American Experience