Let's Grow Stuff: Brown is a color, too
November 8, 2023 Benjamin Futa Leave a Comment
While my own gardening may be winding down for the year, the garden itself now enters the "brown" stage, which is anything but dull and boring. I'm treated to a flurry of life just outside my window: birds find sustenance in seed heads; chipmunks fill their cheeks; and bumblebees make the rounds to a few lingering late-season asters and goldenrod. Nature certainly isn't ready to be done just yet.
My sincere hope is that more gardeners learn to embrace this season for what it is: a culmination and celebration of another growing season. This moment is meant to be savored and enjoyed to the fullest. I think it's also worth noting that this season is less about us as gardeners and more about the rich diversity of life our garden can support this time of year. The birds, mammals, insects and other critters who call our gardens home see this moment as their last chance to make final preparations for hibernation. It's a season of survival as they stock away food, lay eggs and create nests to make it through winter. In that sense, this may be the most important season of all.
We've long been told to "clean up" the garden in fall and "get it ready" for next spring. There is no natural process — nothing — as a precedent for this behavior. We're gardening against the will of nature when we cut back and take things away, usually to our compost or lawn bin, which we then return to the garden next year. I ask you, why not allow it to simply decompose in place and save your back? There's nothing that "cleans out" a prairie or forest floor this time of year, so why do this in our cultivated landscape?
To reference an overused idiom: work smarter, not harder.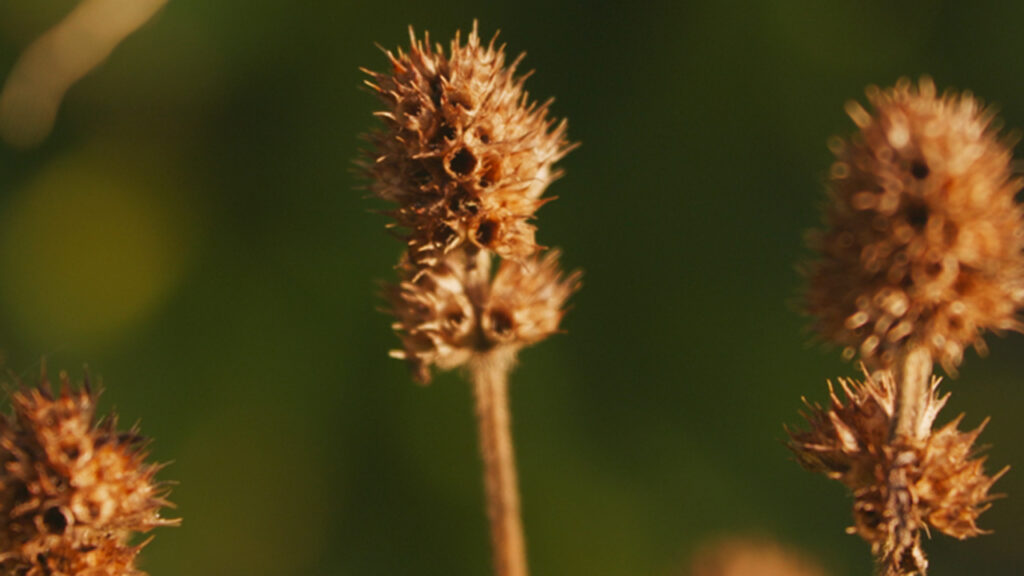 Let's Talk Benefits
Leaving this year's old stems and leaves through winter is more than an aesthetic choice — it comes with a number of tangible and practical benefits:
Builds soil and sequesters carbon.
Provides vital habitat for overwintering wildlife.
Protects the crown and buds of overwintering perennials.
Prevents winter weedy annuals from germinating (reducing our workload in the spring). These fast-growing, short-lived plants begin their life cycle in autumn wherever soil is exposed to light. Keeping plants in place shades the soil and prevents winter annuals from becoming an issue.
Reduces our fall workload and we can actually just sit back and enjoy the garden as it transitions to rest.
We get to enjoy a range of colors in the fall garden that go far beyond "just brown." (Hence, "Brown is a color, too.")
Adds visual interest in winter; when the first snow flies, the garden takes on yet another dimension with texture and depth.
I often credit the likes of Piet Oudolf and Roy Diblik for sharing their love for this time of year with me (all the way back in 2009) during my first college internship with the Lurie Garden in Millennium Park. I became transfixed as the garden matured into autumn, as the seed heads and asters caught the first frost, as the birds and critters arrived in flocks, and as the color palette shifted to put on one final symphony of gold, sepia, terra cotta, sand, beige, silver, chocolate, lemon, butter, burgundy and buff. As emotional and social creatures, we're moved by beautiful things. I promise you, once you've seen your first goldfinch happily bouncing and munching away on an Echinacea seed head, you'll want to plant more of these natural bird feeders.
Notable Exceptions
Unique situations call for a unique approach. The advice to simply "let it be" applies primarily to ornamental perennials and fallen tree leaves. Native plants in particular love to just be ignored in autumn. If you're dealing with plant health issues where pests or disease can overwinter in last year's leaves — especially if you're growing vegetables which should be rotated through different beds year-to-year to avoid this specific issue — you should do some fall clean up.
Another moment to intervene may come in the form of a plant which is too happy in your garden, i.e. something that reseeds prolifically. Remember, healthy competition between plants in the garden is a good thing. Plants are social, just like us, and they want to grow in/through/under/around their neighbors. The more competition you have (i.e. more plants and less exposed soil) the less likely you'll have an issue with rampant reseeding. But, if you're worried, you can always selectively (and carefully) remove the seed heads of any plants in question before the seeds ripen and turn brown.
In either case, use your best judgment. If you want something to reseed, it's your garden and your choice! If you're concerned for a plant health issue, then do what you need to protect the plant — that's good horticulture. I also think there's a valid argument to be made for choosing a different plant that is more durable and disease resistant that can roll with the punches of whatever a changing climate might deliver (*eh hem* native plants). If you're struggling to grow some peonies, could I interest you in some Baptisia?
What to do come spring?
Let's fast-forward. It's March 1st and the signs of spring are all around us. You didn't cut back or clean up anything last fall, and the winter weather has knocked most plants down to the ground. What beauty we might have found in November is at the end of a cycle and ready to begin again.
As we plan our next move, remember, we're trying to take the lead from nature. Some natural spaces benefit from prescribed fire or mowing to maximize species diversity and recycle nutrients. These options may not be practical if you're gardening on a small city lot. Here's how I've come to approach my own spring cut back: do as little as possible.
We want to keep as much material in place and on site as we can. If you're worried about plants being able to push up and through heavy leaf cover, you can always make a little room around their crown. I'd also wager you'd be surprised to know how many plants push right through that, no problem; many plants don't need us as much as we think they might. Sometimes less really is more.
I tend to focus on making sure everything is within 6" of the ground as I'm cutting back. This puts them within range of soil humidity and microbes, especially as spring and summer march on this year's leaf cover grows more dense. You might be amazed to find that the bulk of material present in spring almost entirely disappears by the following October. Healthy soil knows how to break down and recycle organic material.
You may be thinking, "hold up, this sounds like a lot of work." I garden in a small city lot, about 500 sq ft of growing space. I can get through cutting back the entire garden in about two hours with a pair of pruners and manual hedge trimmers, which work great on things like large grasses that create a lot of biomass. I don't rake or haul anything away, I just spread it out over the soil surface. I use last year's plant material as this year's mulch. I don't haul in bark and sometimes I supplement with chopped up leaves where there's a bigger gap than I'd like.
For things like large grasses, I start cutting at the very top with the hedge shears and then again every 6-8" until the "stumps," if you will, are about 18-24" tall. I leave the remainder of this length in place for a few reasons, namely to provide habitat to solitary bees coming out of hibernation and looking for places to lay their eggs. They love the hollow stems of native grasses like Switchgrass. The height also helps support this year's new growth as it emerges and helps prevent flopping. The 6-8" cut up pieces work well for birds and critters on the hunt for nesting material in early spring and I've often found them in nests around our house shortly after cutback.

Top Five Plants for Fall and Winter
You don't think we'd let you leave without dropping a list of some of our favorite plants for late fall/early winter, do you? We've chosen this list for their range of colors, structures, form and benefit to wildlife year-round.
Panicum virgatum, Switchgrass
'Northwind' is my favorite cultivar for its compact, tight growing habit, amazingly-brilliant golden fall color, and gray-beige winter color and structure. I promise you, it will still be standing after a heavy, wet winter snow.
Amsonia hubrichtii, Willow-leaf Bluestar
Treat this plant like a small shrub, because it will easily need at least a beach-ball size space within a few years. Amsonia produces a mass of dense, powder-blue flowers in mid-late May and holds its own with delicate, gentle masses of fine green leaves through summer. It comes back on stage in autumn as the leaves turn electric yellow. It's durable, resilient, and long-lived. It doesn't like to be moved (it has a massive root system), so be sure where you put it is where you want it to be for a long time.
Monarda bradburiana, Eastern Bee Balm
Whenever I'm asked to create a list of my favorite plants, no matter the season, this plant always makes the cut. First, let's talk height: it's a beautiful, compact Monarda, topping out around 18-24". It blooms with fragrant pale lavender flowers in mid-late May, and supports those funky fun pincushion-like seed heads through summer. In autumn, the leaves turn a brilliant violet-red. It's almost iridescent. Unlike many of its summer-blooming cousins, Eastern Bee Balm doesn't spread aggressively and instead forms a nice and tidy clump. It stays where you put it, and when you're trying to create an intentional design, this is helpful. It's a dream to maintain in this way.
Parthenium integrifolium, Wild Quinine
If I had to give this plant a new common name, I'd call it Prairie Clouds, because that's what it reminds me of. Clusters of flat white flowers begin to flower in mid-June and dance around 3' high. They continue to delight pollinators and gardeners alike until they turn a beautiful mix of deep, rich grays and muted whites. They also boast great winter structure and durability. One note of caution: this one can reseed, and has volunteered several new plants in my own garden. I don't object, because sharing this fast-growing, durable, tap-rooted native plant with friends is always a joy.
Salvia azurea, Azure Blue Sage
Get ready for unexpected whimsy and joy when you grow this durable, native prairie sage. Small bunches of tall, graceful stems make themselves known in late summer as they begin to poke up through other plantings. Around mid September, crystal clear and vibrant blue flowers will begin to emerge and continue blooming well up until the first frost. This plant's super power comes in the form of its slender form (it can be added to almost any garden as it doesn't need much horizontal real estate) and late flowering time. It thrives in lean and well-drained soil. Trust me, the bumble bees will thank you for growing it.
Enjoy plants for every season
When we begin to appreciate the full life cycle of plants in our garden, we begin to notice new beauty around us every day, especially this time of year. We begin to discover new qualities in some of our favorite plants, and discover new plants never before on the radar. Aren't we lucky as gardeners to be able to fall in love over, and over, and over again?
I hope you get to know some of these plants a bit more. I hope you ask your local, independent nursery/garden center to carry them next spring. If they won't, I encourage you to find an online native plant company and either grow some from seed or order plants. Many of them can bloom in their first year, especially the Prairie Clouds (eh hem, I mean, Wild Quinine).
No matter what, I hope you appreciate the plants outside your door just a bit more than you did five minutes ago. I hope you embrace your garden in every season and for everything it does for creatures beyond ourselves. I hope you remain inspired, passionate and fearless. I hope you grow more plants in 2024, and I can't wait to join you there.
Until then, happy gardening, friends.