Klaudeen Hansen Lifetime Legacy Exhibit at The Great Wisconsin Quilt Show
August 14, 2023 Tara Lovdahl Leave a Comment
To celebrate the art and artists of quilting, PBS Wisconsin and Nancy Zieman Productions will host the 19th annual Great Wisconsin Quilt Show Sept. 7-9, 2023 at the Alliant Energy Center in Madison.
One of this year's special exhibits honors the life and legacy of Klaudeen Hansen, a pioneering quilt judge and educator from Sun Prairie, Wisconsin who passed away in April of 2023. Hansen was an integral quilting consultant and quilt judge for The Great Wisconsin Quilt Show from inception until her passing, and was a beloved and influential part of the national quilting community.
The "Klaudeen Hansen Lifetime Legacy Exhibit" will feature quilts she had taught to countless students over the years, most of them her original designs. 
In memory of Hansen, PBS Wisconsin spoke with her daughter, Janell Weinberger; a longtime friend and student, Gina Priegnitz; and friend and Quilt Show partner, Deanna Springer of Nancy Zieman Productions. 
PBS Wisconsin: I read that Klaudeen spent her whole life sewing and quilting. Do you know who taught her how to sew?
Janell Weinberger: Her mother, Arlene, and her aunt, my grandma's sister.
PBS Wisconsin: Did she pass down any sewing or quilting traditions to you and your children, Janell?
Weinberger: Yes, I sew and my daughter, Jessi does, too. And, we quilt quite a bit.
Deanna Springer: Janell's an award-winning quilter.

PBS Wisconsin: Are you a quilt judge like your mother?
Weinberger: I jury, I don't judge. That was her thing. My mom was so nice and kind, she was a great judge and teacher. She was very diplomatic. 
Springer: She knew her stuff. She invented the modern day quilt show. It wasn't long after the Sun Prairie Quilt Show that she got involved with the American Quilter's Society (AQS) Quilt Show in Paducah and helped organize their quilt contest. 
Weinberger: Yeah, that was only about 10 years into the Sun Prairie Quilt Show.
PBS Wisconsin: Tell us about how the Sun Prairie Quilt Show got started.
Weinberger: The Sun Prairie Quilt Show actually started from show and tell from Madison Area Technical College (MATC) classes that Mom taught. She taught at 10 different locations, morning and afternoon, five days a week. Then everybody wanted to see each other's stuff, so she had a quilt "show and tell" at St. Chad's church in Sun Prairie for three or four years before we moved out to the big one. 
Gina Priegnitz: And it was, one day they'd hang it, then it'd be the show, and they'd take it down! 
Springer: There's lots of quilt guilds that still do that. 

PBS Wisconsin: Did Klaudeen have any formal training before teaching for MATC?
Weinberger: She went to the University of Wisconsin-Stevens Point for home economics. I don't think she graduated from there, but she sewed an awful lot, clothes, pillowcases and aprons and stuff like that. And, you know, back then, those were your credentials.
PBS Wisconsin: Can you tell us what she was like as an instructor?
Priegnitz: I've sewn since I was in high school, but I had never quilted. I signed up for her MATC class at the high school, and that was 30 some years ago. I started quilting and just loved it. I took classes from her until she wasn't teaching for MATC anymore. Every year I took her classes.
Springer: You went back to more and more classes, so she must have been a good teacher. 
Priegnitz: She was excellent, just excellent. You'd learn so much from her. Even after she wasn't teaching at MATC anymore, we would get together on Tuesdays at The Cornerstone, and you'd still learn because she'd give you patterns and she'd show you how to do things. You'd come and say, "Okay, now, I can't figure this out," and she'd help you. She was just a down-to-earth person. 
Weinberger: It was never any pretense for her, either. She was as sweet as can be until the day she died. 
Priegnitz: And when you had a question, she never responded with, "Oh you should know this." 
Weinberger: Right, or, "How many times have I shown you this?" Sweet was just the word for her. Sweet and knowledgeable.
Springer: And, modest, too, because some of these accomplishments I didn't even know about until I read the obituary, like when she was asked to create a quilt to be hung at the American Embassy in Oslo, Norway during the Olympics. She had traveled the country and the globe teaching at all the big quilt shows and conferences.

PBS Wisconsin: Do you think she had ambitions with quilting? Or do you think her career just kind of happened coincidentally? 
Weinberger: I think the career kind of happened. And, I think that she found herself. Teaching was her main passion; she loved to bring new quilters into the quilt world with simple projects that would not defeat them in their new hobby.
A lot of projects she made were not complicated quilts by any means, but they're easy work that people can look at and say, "oh, I can do that." That's what she really wanted. 
She was definitely not a quilter that stood over you and made sure all your points met because that's how she was taught to sew, and she didn't like that, although she did the same to me when she taught me to sew [laughs].
PBS Wisconsin: Can you tell us how Klaudeen became a quilt judge and how that helped her run the Sun Prairie Quilt Show?
Weinberger: At that time, you could only become a certified judge through the National Quilting Association (NQA). She became a quilt judge when I was in junior high, and I remember she had to do all this paperwork — pages and pages — and she had to know how many quilts she judged, and remember which show it was, what type of quilts they were and how many hours she spent on it. The NQA, which has now disbanded, were sticklers on it. 
She was one of three judges in the U.S. for quite a while, and the only one in the state of Wisconsin for several years. When my mom first became a judge, there weren't a lot of quilt shows that were judged — certainly not like now — because nobody wanted their quilts judged. But I think maybe judging helped her learn how to organize the Sun Prairie Quilt Show. That, and being a part of the NQA, because they had a quilt show. 
But, quilt shows were so far and few between back then that she had to come up with how to run one on her own, and then learn through experience and teaching and judging. But once you start a quilt show, then you know how to tweak it pretty well. We tweaked that quilt show for 45 years [laughs]. Every year we'd do something different, or something special, and make it better.

PBS Wisconsin: What do you think made Klaudeen especially equipped as a judge?
Weinberger: My mom took her judging very seriously, and she really made a conscious effort to not let personal opinion affect her judging. She wouldn't think, "Oh, I love the colors." She never did that. She would say, "All the colors are well balanced." 
She would never say, "I like this," or "I love that," because that was not what the judge was supposed to do. That was one thing she was really a stickler about. So when she taught other judges to judge quilts, she tried really hard to teach them that little tidbit, but I can't think of a judge who will not throw a personal opinion in there. She was really good about trying not to be biased in any way.
PBS Wisconsin: Did she have any specific mentors or people that she looked up to as a judge or as a quilter?
Weinberger: She really liked judging with Anita Shackelford and Carol Butzke. She taught Allison Rainboth to judge and she's judging this year. But because there's so few judges, she really wanted to make sure the quilt world stayed significant.
Priegnitz: When she started, there weren't that many to look up to! 
Springer: She was a pioneer. And, it was not easy to become a nationally certified judge.
PBS Wisconsin: Do you think there are quilters who aspire to Klaudeen's level of becoming a certified judge?
Weinberger: I don't even know how you get to be a certified judge anymore, because AQS does appraisals, but they don't have a course for judges. I don't know of any other places to keep the certified judging. Who knows? She was just in the right generation at the right time.
PBS Wisconsin: What example did she set for the next generation of quilters? What is the legacy that she is leaving behind?
Springer: She set the golden standard for that entire era.
Weinberger: She was a different type of teacher than all the teachers at The Great Wisconsin Quilt Show. I don't really know why because I've honestly have only taken a class from one other teacher in my entire life because I would rather quilt with my mom. So I never got to take a class from anybody else. But I know she was a different type of teacher.
Priegnitz: She taught classes that anybody could do, and not that it was always a beginner level, but you understood it because of the way she taught it. 
Weinberger: And that's why she's got patterns like "Black Diamonds" that can be laid out 150 different ways. That was a big thing for her. She wanted people to take the class with her, and then they could excel in that pattern on their own, making more and more and more. She encouraged that type of thing. She was disappointed when people followed her patterns to a "T" because she wanted you to pick what you like and do it your way in your colors, and it would just drive her nuts that people could not veer from the pattern at all.
Springer: I think she inspired multiple generations of people to start quilting. She really kept quilting going. It had a resurgence in the 1970s, and then it could have died out. But I think she spearheaded the entire quilting revolution that we know today.
Weinberger: I think that was the main goal of hers, was to make sure that quilting doesn't die.

PBS Wisconsin: What do you think kept people coming back to her classes?
Weinberger: Quilters who love coming to quilt shows and classes often come for the same reasons. Not that we all have the same personality, but it's all about fun and love and getting together and seeing your sisters. And, you know, seeing this person you met last year in class, and that's what Mom's classes really were about. I'm sure there was some instruction, but there was a lot more of the community and the love of everything else involved in those classes.
Last year when we were at the AQS Show in Paducah, we were going to leave at 9 o'clock. We went in to get boxes of her Quilt Art Engagement Calendar books through a back door in a hallway. Three hours later we got out. I'm not kidding. We were in that back hallway for three full hours because she kept running into people.
Springer: She was a legend and people really loved her.
PBS Wisconsin: Can you tell us about her involvement with The Great Wisconsin Quilt Show?
Springer: When we decided to do the Quilt Show in 2002, we knew about PBS Wisconsin's Garden & Landscape Expo, and Nancy Zieman wanted to create her own legacy gift for the station to create revenue. She knew that we could do a quilt show, but she knew we could only do it if Klaudeen was on board. So, Klaudeen was the first call we made to see if she would help us do this, and of course she did.
Weinberger: She was very excited.
Springer: Today we have The Great Wisconsin Quilt Show because Klaudeen helped us build it every year. Klaudeen's husband, Mervin, was also very involved and helped with the event.
Priegnitz: A man of few words, but a sweetheart. 
Springer: He hung a lot of quilts.
Weinberger: He was our overnight guard for the Sun Prairie Quilt Show, too. He didn't sleep protecting the quilts.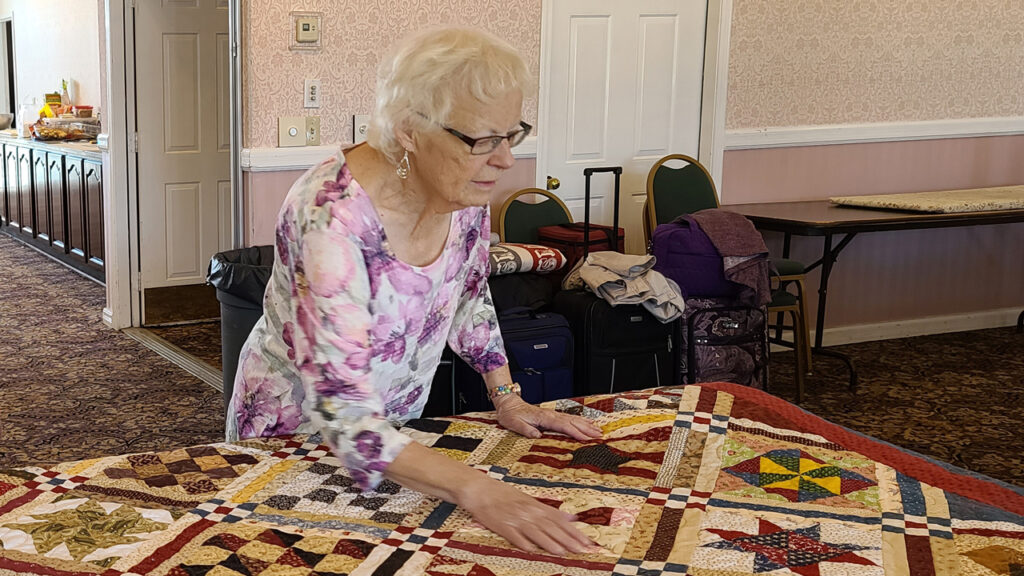 PBS Wisconsin: Do you have a favorite quilt of Klaudeen's?
Weinberger: When she died, the one I had to make sure that I got before anybody else was the "Plaid Star in a Circle." It was because it was hand-quilted, plaid fabric is so nice and I never made that one myself.
The other one was the "Woven Christmas" that she had made a bazillion of, and taught it everywhere, and hers was hand-quilted, too. Those are the two, and I don't know if they're my favorites because I didn't make them, and I don't know why I didn't make them, because I was always in the class.
PBS Wisconsin: Is there anything else you'd like to share that we didn't already cover?
Weinberger: Oh, we could go on for days on how wonderful she was. Even as a mom, on a personal note, she never got mad, she never lost her temper. She never was in a bad mood. She was always just that sweet lady.
Images courtesy of Janell Weinberger. Featured image: Klaudeen surrounded by "Woven Christmas" quilts she made for all of her nieces and nephews. 
quilts Quilters The Great Wisconsin Quilt Show Great Wisconsin Quilt Show quilt exhibits