Uncategorized
Week 4 Batter Recap: The Great Wisconsin Baking Challenge
July 10, 2017 Wisconsin Public Television Leave a Comment
The nine remaining contestants didn't know what to expect by the first-ever "batter" challenge, except that it was ripe for new puns.
The episode started in familiar territory with Yorkshire pudding, but then the lace pancakes and churro challenges really set the crew apart. Let's just say a few of them took "a battering."
Read on to see who our Week 4 featured bakers are in The Great Wisconsin Baking Challenge, but first, let's reflect on what we learned from the latest episode of The Great British Baking Show. Spoiler alert!
ROUND 1: YORKSHIRE PUDDING
This Signature Challenge left everyone in The Tent relieved to begin with a cultural favorite – and the contestants were bound to have lots of experience to tap into. Across the pond in Wisconsin, however, it left many of our local bakers scratching their heads and taking a bold step into unfamiliar territory. (More about that later.) And, some even seemed to rebel and buck tradition. A fitting reaction in honor of the Fourth of July holiday, we suppose.
While the show contestants all put a unique twist on traditional Yorkshire pudding flavors, success really boiled down to oil temperature and batter consistency.
Favorite Mary Berry Disparaging Comment: "It's well baked."
Most Concerning Moment: Val debates the amount of pepper to add, worried that she'll "blow off" Paul and Mary's head.
Favorite Quote: "There's a pud in the hood and it smells good!"
Best Awkward Moment: When many of the bakers got on all fours to watch their Yorkshires rise.
The Disasters: Tom's experiment with chickpea flour left Mary unimpressed: "It's a very heavy flour to get going, however many eggs you put in it." Jane admitting that even her own mother says she is terrible at making Yorkshire pudding. And that fact was confirmed.
The Highlights: Selasi's humongous Yorkshires landed him a solid Paul Hollywood handshake. Andrew's tapas puddings: OMG. And Rav stepping outside British tradition with his Thai Tofu Panang Yorkshires. His recipe prompted this Mary Berry slight: "It's becoming less Yorkshire by the moment." However, he managed to impress them (and us) in the end.
The Takeaway: You need smokin' hot oil for the perfect rise. But, don't burn down the house! And … it's okay to start again. And again.
HOW OUR LOCAL BAKERS DID:
The Yorkshire Pudding challenge seemed to be the most favorite amongst our community of local bakers.
While most bakers went for a dinner-style Yorkshire, Marie in Sun Prairie went for a morning delight. Her "Pudding for Breakfast?!" recipe got easy approval from her three-year-old daughter – who perhaps was mildly disappointed to taste garlic scapes, bacon, mushrooms, peppers and onions – rather than chocolate! However, the toddler even wanted seconds. Well, done mama!
Jean in Madison says she didn't share her Toad-in-the-Hole Bratwurst and Yorkshire Pudding Bake, which used handmade bratwurst from Wisconsin pork purchased at Jim's Meat Market flavored with Ale Asylum beer ("fermented in sanity"). Her advice? "I learned that a fire can erupt in an oven when an unpoked bratwurst bursts in the oven, spewing juices, even when cradled with batter! It quickly burned out, thank goodness." We're happy that you are okay, Jean!
Speaking of toads, Amanda in Madison had an equally traumatic experience. Her "Burnt Toad in a Fiery Hole" creation, well, says it all in the name. "Everything was perfect … until it absolutely was not," she wrote in her baking story. "Don't try this at home! The amount of spitting the oil did when I put the sausages in the pan hare worried I was going to burn the house down!" At least she admitted to being able to laugh in the face of disaster, and applied ample maple syrup from northern Wisconsin to "make it edible."
Kimberly in Madison seems to be inspired by all contestants' attempts to weave curry recipes into different baking endeavors. She was pleasantly satisfied by her "Curry and a Cold One Yorkshire Pudding," which used Door County cherries and was perfectly paired with a local Madison brew.
Jill in Hollandale was pleasantly satisfied to add her "Gordon Ramsay's Yorkshire Pudding" to the table for their Fourth of July celebration. (Take that Britain!) Her local twist included farm fresh eggs, Shullsburg Creamery cheese and New Glarus beer.
Props to Kim in Hudson who incorporated Wisconsin wild rice into her Yorkshires, mixed with local cranberries. Her bake looks delicious!
Other fun flavors? Rebecca in Manitowoc went "Can't Be Beet Yorkshire Pudding." Kristin and Marie in Fitchburg added fresh garden sage to their "Chicken and Mushroom Yorkshire Pudding." Jean-Margret from Blanchardville used basil from her garden for her "Chicken Yorkshire Pudding."
Yorkshires definitely screamed for Wisconsin cheese, and we weren't disappointed to see many local bakers head in that direction. Dick in Madison flavored his Yorkshire with mustard, two kinds of cheese, and dill seeds from a relative's garden. Molly in Green Bay combined local cheese and garden vegetables for her "Bruschettashire Yorkshire Pudding." Sandy in Appleton planned to make a cheese dipping sauce. Kevin in Viroqua incorporated Westby Cooperative Creamery cheese curds and locally made brats and butter in his Wisconsin Yorkshire Puddings! (Exclamation point is his.) He even sourced his oil locally, using Driftless Organics Sunflower Oil (marketed as "the olive oil of the Midwest.") Since he admitted to rocking his bake, seems like we should listen to his advice: "Do not open the oven door for any reason."
And, Bren in Green Bay went old-school on us – literally – by pretending she was baking in the year 1905. She did her baking inside the Belgian Farm House set in Heritage Hill State Park, using a wood stove! Wow, just, wow. She found a "rather vague" recipe called "Batter Pudding, Baked" in The White House Cookbook … published in 1899. Her Yorkshires are named, "The Proof is in the Pudding," and we can't argue with that. Well done, Bren. We wish you would have shared a video, too!
ROUND 2: LACE PANCAKES
We've all made pancakes, but this Technical Challenge aimed to flush out people's artistic skills and reward those with steady hands. Although Paul offered practical advice to practice the pattern before using any batter, it didn't seem that easy at all. And his request to add sugar to the batter for color definitely caught everyone off-guard.
Paul Gets Meta on Us: "A good pancake is a thing of beauty."
Pancake Perfection: Benjamina nailed it with her first-ever attempt at these intricate pancakes.
The Disaster: Oh, that didn't sound good. Paul smacking Rav's pancakes against the plate.
The Highlight: Selasi pan flipping his alien-face lace pancake. It's all in the wrists.
The Takeaway: Jackson Pollock-inspired pancakes are A-Okay.
HOW OUR LOCAL BAKERS DID:
We challenged our local bakers to follow suit and make heart shaped lace pancakes – or tap into their state pride and take a stab at making Wisconsin-shaped ones. This shape proved too challenging – but one baker impressed us with her local design.
But first, let's look at those who opted for heart-shaped pancakes. Ralph and Clairchen in Madison had fun making lace pancakes for the first time, and they added a delicious touch to their "So Many Broken Hearts" recipe by adding Wisconsin black currant syrup purchased at the Willy Street Co-op. Those made by Michaleen in Portage are beautiful and delicate. She topped them with homemade maple syrup from her uncle in Ladysmith.
Ruth in Oshkosh admitted she planned to make Wisconsin-shaped pancakes, but immediately gave up. But, she wanted to incorporate a local design together with a heart. And that led her to creating her "For the Love of Corn Lace Pancakes." She even intertwined two colors of batter into her edible artwork, one made with raspberries from Oakridge Farm and the other vanilla bean. She says perfecting her design took time, which delighted her family, who loves pancakes.
ROUND 3: CHURROS
After many contestants had disasters in the first two rounds, this Show Stopper challenge was an opportunity for redemption. However, the Spanish street food classic had to be transformed into a heart-skipping centerpiece of 36 identical churros.
Piping the dough directly into the hot oil is how churros are traditionally, and quickly, made – but the contestants had to balance uniformity with creativity. Some added interesting flavors to the recipe, while others twisted their star-strudded dough into fun shapes or added colorful decorations. A churro is defined by its texture – brown and crispy on the outside with a soft interior. We can't wait to see what our Wisconsin baker crew frying churros will whip up! More on that soon.
Points for Being Odd: Tom's Fennel Snake in the Grass Churro
What Not to Do: Candice tried fried her churros with wax paper attached to help keep their shape.
Morbid Moment: Fried rabbit head churros. Just no.
The Highlights: Jane's beaming smile when Paul gave his approval of her pistachio-rimmed churros.
The Disasters: Although Selasi really stepped things up with freezing his churro cups first, his extra effort feel short, burnt AND raw. As long as Rav deviated from lime and coconut, Paul and Mary welcomed his wasabi white chocolate dipping sauce. But, they still didn't like it.
The Takeaway: Churros = multitasking
HOW OUR LOCAL BAKERS DID:
Joshua in DePere made us feel Wisconsin proud by making his "Maple-Bacon Churros" during a camping trip! He forgot to pack an oil thermometer (don't we all!) – but tapped Google to devise a clever trick.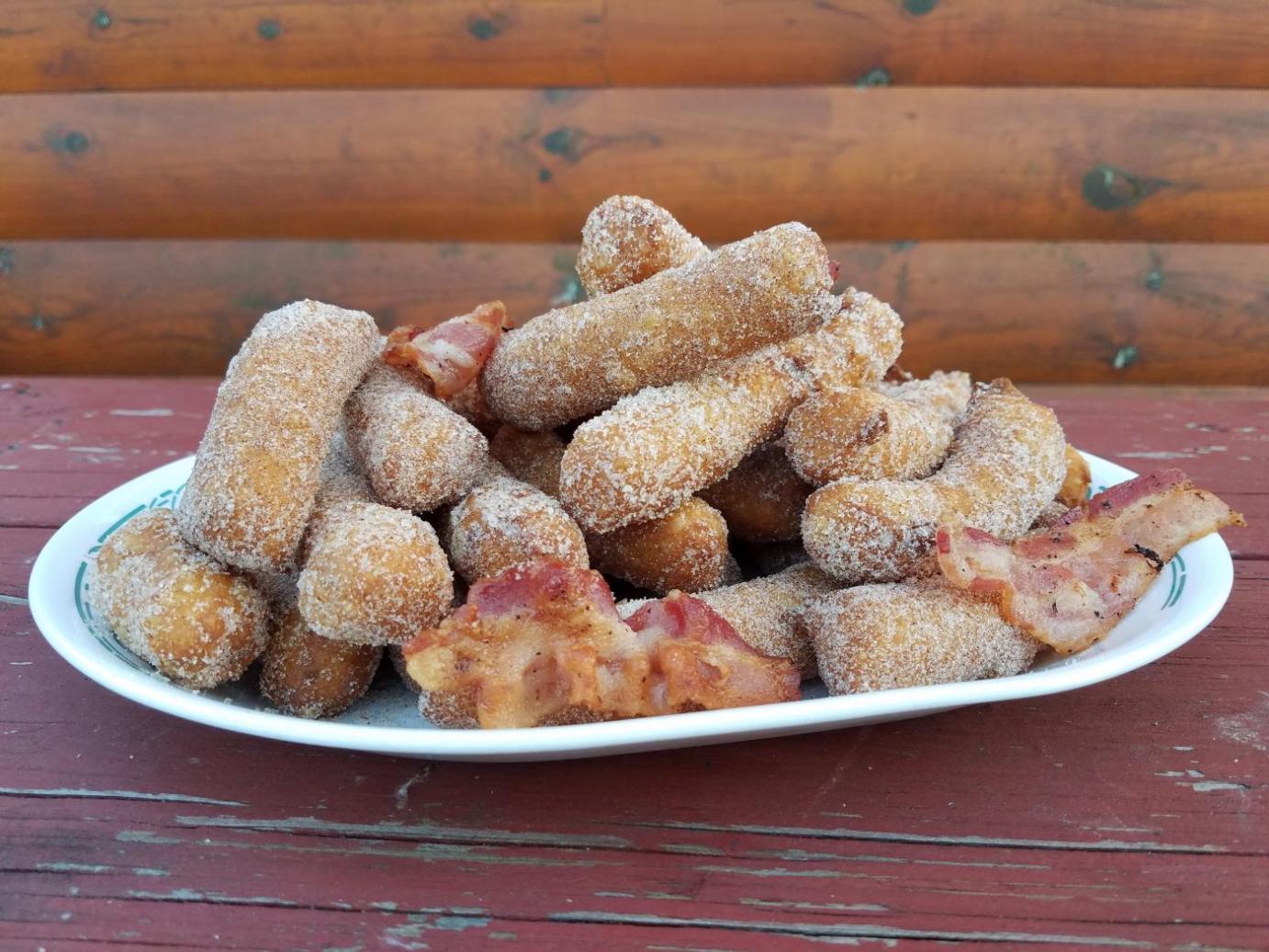 A couple bakers infused their Badger pride into their churro recipes. Elizabeth in Madison prepared red and white churros. Sharon in Columbus fried churros into the popular "W" hand gesture, flavored by her experience dining in Spain. Jeung Hwa in Australia made a colorful white-chocolate icing.
Alaina in Milwaukee went with a straight traditional recipe in her Lakefront Churros with a chocolate stout dipping sauce made from local beer. And Julia in Madison was inspired by the Wisconsin State Fair for her "State Fair Cream-filled Churros with Chocolate Dip." Rebecca in Stevens Point: we want your "Coffee Creme-Filled Churros with Chocolate Espresso Ganache" for breakfast! Yum.
And Dani in Edgerton added an American twist on a Spanish classic by transforming her churros into apple pie inspired by her grandmother's recipe!
THE RESULTS
Star Baker: Benjamina
Kicked Out of the Tent: Kate
MEET OUR SIX FEATURED LOCAL BAKERS FOR WEEK 4
Kevin in Viroqua
Wisconsin Yorkshire Puddings!
We hope Yorkshire pudding made with fresh cheese curds becomes a new Wisconsin classic dish. He even used locally made oil!
Kim in Hudson
Yorkshire Pudding with Rosemary Wild Rice Ground Beef and Cranberry Chutney
We're inspired by her use of locally harvested wild rice, mixed together with Wisconsin cranberries. How original!
Team Kramer in Madison
Almost Lacy Pancakes
Team Kramer admits to swearing in the kitchen and attempting Wisconsin-shaped pancakes. An "A" for effort. These final ones look great.
Michaleen in Portage
Thursday Bisquick Upgrade
These delicately shaped pancakes warmed our heart and we loved that she had homemade maple syrup from an uncle in Ladysmith.
Elizabeth in Madison
Babcock Churros
Such Badger pride! Lovely red and white churros served with a Blue Moon dipping cream based on ice cream served at Babcock Hall.
Alaina in Milwaukee
Lakefront Churros
Aside from these perfectly fried classic churros, the dipping sauce made from Lake Front beer and Fuel Cafe coffee is local and double yummy.

We hope you will join us for our Week 5 Challenge: Pastries! If you need inspiration, you can watch the Pastry episode of The Great British Baking Show online now.