Week 3 Bread Recap: The Great Wisconsin Baking Challenge
July 3, 2017 Jonna Mayberry Leave a Comment
Bread week: The most gluten-filled time of the year! On the "Bread" episode of The Great British Baking Show, contestants were asked to make three types of bread: Chocolate Bread, Dampfnudel and a Savory Plaited Centerpiece. 
In the style of The Great British Baking Show, we asked our Great Wisconsin Baking Challenge bakers to join in on the fun as well by making one of the aforementioned breads. BUT, while our bakers only needed to choose one, they were also asked to add a Wisconsin twist to their creations.  

Before we unveil our six Great Wisconsin Baking Challenge featured bakers for Week 3, let us quickly recap the latest episode of The Great British Baking Show and see how the contestants fared. If you haven't watched it yet, this warning is for you: Spoiler alert!
ROUND 1: CHOCOLATE BREAD
The Signature Challenge asked contestants to sweeten up their bread by adding chocolate in any form. Really, the guidelines were very loose. But chocolate + anything is great, right?
This was a new challenge for The Great British Baking Show, and Mary was quite excited. 
Favorite Pun: "Bready or not, here we come."

The Disaster: Raw dough. Endless raw dough. Benjamina thought she was making a babka, but Paul disagreed. And, come judging time, her bread was "like wallpaper paste." Ouch. Selasi's bread was overcooked on top and undercooked on the bottom. Val, Kate and Jane were all guilty of raw dough as well, and Candice's creation was not only undercooked … but also collapsed.

The Highlight: There were some cute baking moments before judging, like when Kate said she made bread with two types of chocolate because her family is picky and she wants everyone to be happy. And, when it was tasting time, Paul smiled from ear to ear when he tasted Andrew and Rav's breads. How can a Paul smile NOT be a highlight?!

The Takeaway: Smaller, shallower loaves are the key to a fully cooked chocolate masterpiece. If you want to see Paul smile, keep it simple.
HOW OUR LOCAL BAKERS DID
Our bakers recognized that chocolate and cherries are a match made in bread heaven. And, cherries are a perfect Wisconsin twist (we see you, Door County)!
Sue from Oregon made Chocolate, Walnut and Cherry Bread, while Joshua from DePere crafted Cherry, Chocolate Bread.  Sharon from Columbus opted for Pain au Chocolat using Door County cherry pie filling, and Karen from Niagra made Sweet Cherry Focaccia that was sprinkled with maple sugar (and gluten-free to boot).
Kevin from Viroqua hopped on the cherry train, too, and even took it a step further by crafting Paul Hollywood's Chocolate Cherry Loaf. Kevin wasn't alone in joining team Paul: Sarah from Bay View learned that Paul's way is quite messy, but that the results were worth the mess. "Once in the oven, my already large loaf became ENORMOUS and started creeping off the edge of the pan!" said Sarah. "Not the most gorgeous, but very tasty, and the huge loaf was gone in two days." Hence Sarah's bread name: "Paul's Chocolate Cherry Bread on Steroids!"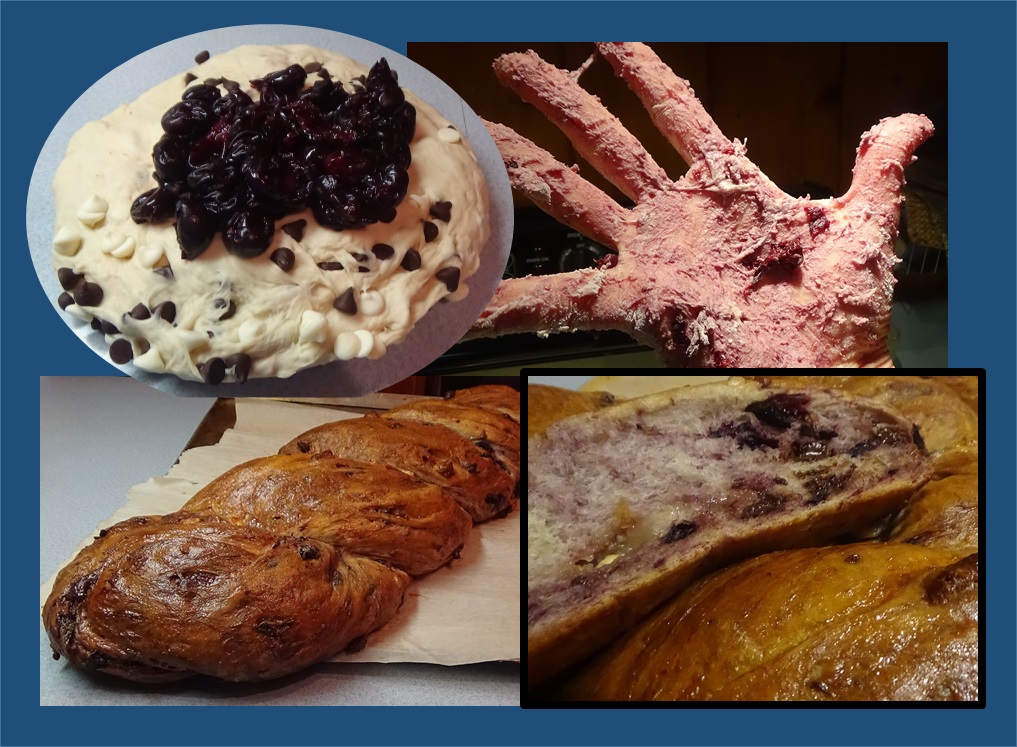 ROUND 2: DAMPFNUDEL
Yes, dampfnudel. The entire cast of Great British Baking Show bakers was like "come again?" Candice was hoping to make toast. Not today, Candice! Today, we're … dampfnudeling. 
"We've never steamed bread before on the Bake Off," Paul said. Well, Paul, there's a first time for everything, I suppose. The bakers were asked to make 12 equal steamed buns, cooked all the way through, with a brown base.  Easier said than done, considering that one lift of a lid could completely ruin the dampfnudel. 
Best Quote: "Rising fear in the tent. Also rising dampf."
The Disaster: Kate's buns were not only raw, but also burnt on the bottom. A perfect storm of disaster. Rav's buns were so raw that Paul turned them back into dough before his very eyes. Poor Rav! 
The Highlight: In the end, Val came out on top in this challenge. Paul "humbly" explained that her success was due to the fact that her creation was closest to Paul's … but not anywhere near as good.
The Takeaways: (1) Bounce is key when it comes to dampf. (2) Don't lift the lid! (3) Bring a hacksaw in case the sauce is too thick. 
HOW OUR LOCAL BAKERS DID:
This challenge was not for the faint of heart. As if it wasn't stressful enough to watch other bakers attempt dampf! But a few Great Wisconsin Baking Challenge participants laughed in the face of dampfnudel, and were even brave enough to add their own unique twists to the recipes.
Vanessa quickly learned the wily ways of dampf, but kept cool under pressure. "… I didn't have the heat up high enough so my dampfnudel kept rising instead of baking. They pushed the lid off the pan so I had to cover them with a stockpot of the same diameter!"
Mary Jane discovered that sauces can be equally challenging while making her apple, pecan dampfnudel with vanilla and caramel sauces. "I used Paul's vanilla sauce recipe, but I made a caramel sauce. I had trouble with the caramel sauce. The first time, I ended up with maple candy. The second time, I burned the sauce. I was successful the third time."
Sandy from Appleton used a recipe from her German cookbook to make raspberry dampfnudel. "I have been learning many German recipes from our various Bavarian exchange students," Sandy said. The recipe typically called for apples, but Sandy used raspberries to take advantage of what's ripe in Wisconsin.
Kristel from Madison, an admitted "rogue baker," made a delicious-looking dampfnudel ("Drunknudel"!) with Underground Butcher sausage and herbs from her CSA, topped with a beer/cheese sauce using Karben4 Block Party and Hook's cheddar cheese.
And Nancy from Green Bay used Paul Hollywood's recipe to make dampfnudel with plum and vanilla sauces, using Wisconsin milk to make the vanilla sauce, of course!
ROUND 3: SAVORY PLAITED CENTERPIECE
Finally this week, it's time for plaits! Paul said that the star winner of Bread week has always gone on to The Final, so the stakes were high.
Favorite Puns: "Alright my artsy Vincent VanDoughs." "Let's put this challenge to bread." "A sight for Thor eyes." 
The Disaster: Val's Noah's Ark Centerpiece was ambitious, to say the least. After baking, things kind of, well … smooshed together. This back-and-forth between the judges captured the moment: Mary Berry: "It's not a mess, it's informal." Paul: "Is that a chicken?" Mary: "It's a giraffe, Paul." The idea was creative, but it wasn't executed as planned.
The Highlight: In the end, Kate who got the biggest compliment of the day when Mary Berry remarked: "I want to come on your next picnic."
The Takeaway: When the judges say they want plaits on all layers, they're not kidding. And it's not easy to get your plaits to survive proofing AND baking.
HOW OUR LOCAL BAKERS DID:
We're in Wisconsin, so our bakers know to pass the cheese, please! In the words of Molly from Green Bay, "I added a lot, and I mean a lot of Wisconsin cheese. The cheese almost burst the bread open."
Jill from Hollandale used Shullsburg Creamery swiss cheese to make her Reuben-in-a-Pocket Sandwich. Elizabeth from Madison stuffed her Curd Monsieur Loaf with cheese curds. Alaina from Milwaukee paired morel mushrooms with Wisconsin cheese for her "Challah Back" bread. Sarah from Bay View combined cheese with garlic scapes and pesto. And Jeung Hwa (currently living in Canberra, Australia) used lots of Havarti to craft Mac 'n' Cheese Pizza Bread. This is just the tip of the iceberg (cheeseberg?) when it comes to cheese creativity this week!
Like The Great British Baking Show's Kate, who used beer to flavor her plaits this week, our bakers also know the benefits of some brew-infused baked goods … or at the very least, baked goods paired with beer. Char from Madison crafted the "Wisconsin 3: Brats, beer and sauerkraut," and Team Kramer made  Leinie's Beer & Cheese Braided Bread.
When it comes to plaited loaves, fillings make all the difference. Until this episode, Mary Berry had never had seaweed in bread before, and we had never heard of using wild rice in a plaited bread. But shoutout to Jennifer and Joel in Sun Prairie, who found a way to add Wisconsin wild rice, Dane County Farmer's Market green garlic and caramelized leeks to their otherwise classic 6-strand plaited loaf.
THE RESULTS!
Star Baker: Tom
Kicked Out of the Tent: Michael
MEET OUR SIX FEATURED LOCAL BAKERS FOR WEEK 3
Dani in Edgerton 
Poppin' Red
Dani's white chocolate raspberry bread took "local" to a new level thanks to fresh Wisconsin raspberries straight from her garden.

Ruth in Oshkosh
Challah Circle Braid
Ruth's bread-making journey showed that Wisconsin twists aren't always easy, but the research is worth the effort.

Ralph in Madison
Pfälzer Dampfnudeln
Ralph used a recipe that reminded him of childhood lunches and mixed things up with fresh rhubarb from UW Agriculture students.
Marie in Sun Prairie
Bread Hot Chili Peppers
Marie spiced things up with a punny loaf inspired by one of her favorite bands, Summerfest and the freshest Wisconsin ingredients.

Amanda in Madison
Prosciutto & Pesto Plait
Amanda took pointers from Paul Hollywood and practiced neighborly manners by using Iowa prosciutto.

Bren in Green Bay
Plaited Egg Bread
Bren not only used a traditional recipe, but also took it a step further by baking in a historically accurate kitchen at Heritage Hill museum.

We hope you will join us for our Week 4 Challenge: Batter! If you need inspiration, you can watch the Batter episode of The Great British Baking Show online now.
Food baking The Great British Baking Show The Great Wisconsin Baking Challenge