25 Favorite Wisconsin Programs of 2016
December 28, 2016 Wisconsin Public Television Leave a Comment
As the year comes to a close, we were curious to see which programs with local ties connected with Wisconsin Public Television viewers the most over the past 12 months.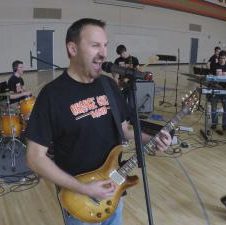 We peeked at website data and took note of all the comments you made by email and phone to compile a list of locally produced programming that warmed your heart, inspired you to action, educated you, and made you feel closer to your Wisconsin family.
As always, thanks for tuning in – today, and all year long.
Did we miss your favorite show in this list? Let us know in the comments section below.

We hope this list gives you warm reminders of the past year – and offers some unexpected new finds as well!
Wisconsin Winter From the Air
Fly over some of Wisconsin's most beloved landmarks and travel inside some of the active pastimes that bring us out into the cold to explore. Loft above running rivers and frozen fields, soar over lighthouses and cityscapes, ski down snow-covered hills and across wandering trails, snowmobile along icy lakes and more.
Around the Farm Table: Nuptials on the Farm
Inga Witscher walks down the aisle – actually, the hayloft stairs – and says "I do" in her barn between milkings. She picks up a sustainably grown bouquet in East Troy, then learns about growing hickory nuts in Wisconsin. Finally, she bakes a hickory nut wedding cake with cream cheese frosting.
Here and Now: Katherine Cramer on The Politics of Resentment
Frederica Freyberg sits down with Katherine Cramer, professor of political science and director of the University of Wisconsin-Madison's Morgridge Center for Public Service, to discuss Cramer's new book, The Politics of Resentment. While Cramer focuses on Wisconsin's political environment, connecting Scott Walker's political rise to a rural resentment against the "liberal elite," she notes how the sentiment of resentment was "a very powerful mobilizing force" in the US presidential election. "When I look at the returns from Wisconsin, I see these dynamics in our state, but it also seems as though a similar politics of resentment has played out across the whole country," Cramer explained in a follow-up interview on November 9 with WisContext. "And by that I mean both the urban-versus-rural divide and also the kind of sentiments that seem to be driving it."
Wisconsin Hometown Stories: Door County
Historians, local citizens and experts tell stories of cherries, art and geology that capture the history of Door County – one of Wisconsin's most charming places.
Wisconsin Life: Orange Crush
Walk into the gym at Burlington High School during a basketball game, and you might think you've joined a rock concert in progress. Rock out with Orange Crush – not your traditional high school pep band.
Sewing With Nancy: Cuddle Buddies Hats and Scarves
Nancy Zieman and her guest, Donna Fenske, share techniques to create hats and scarves with adorable animal features such as faces, ears, paws, feathers and more.
Wisconsin Foodie: Driftless Organics | Rooted Spoon
The crew travels to one of their favorite spots in Wisconsin: the Driftless region. With rolling hills and fertile soils, the Driftless is home to one of the best food scenes in the Midwest. At Driftless Organics, viewers meet the young farmers responsible for one of the most influential organic farms in the state. In the second segment, Dani Lind, owner of the Rooted Spoon pop-up, cooks a special dinner inspired by the flavors of Portugal – using ingredients from Wisconsin's own organic farms.
Treasured Quilts of Wisconsin
Quilting is more than just fabric and thread; it's a journey filled with thoughtfulness and emotion. Sewing with Nancy host Nancy Zieman introduces viewers to quilters and quilts from around Wisconsin, including work by Diane Gaudynski, Betty Ekern Suiter, Bruce Seeds, Natalie Sewell, and many more.
Around the Corner With John McGivern: Baraboo
John takes us into the heart of circus history, where the Ringling brothers got their start and a community continues to celebrate clowning around. Also in Baraboo, visit Sysco, buy a gadget you don't yet have, win at blackjack and taste a delicious caramel apple crumble pie.
Too Many Candles: Milwaukee Gun Violence
Gun-related violence in Milwaukee spiked in 2015. This documentary examines the response by law enforcement and elected officials to the rise in violent crime, and explores programs providing hope for a city working to empower communities to reverse systemic forces of poverty, incarceration and crime.
This documentary was honored with an Emmy Award for Outstanding Achievement for Documentary Programs (Topical) from the Chicago/Midwest Chapter of the National Academy of Television Arts & Sciences – the highest honor available to a regionally aired program.
Wisconsin Life: Magic: The Gathering
Sam Black has been making a living playing Magic: The Gathering for a decade. The collectible trading card game, practiced by millions, sends him to a different corner of the globe 40 weekends a year to compete in tournaments. Recognized as one of the top players in the world, Sam talks about the importance of handling loss, the value of generosity and other lessons he learned on his way to success.
University Place: Ten Things You Should Know About Aging
Alexis Eastman, an assistant professor of geriatrics at the University of Wisconsin Department of Medicine, details the physiological and psychological changes that occur as we age. Eastman explains why the body changes – and provides suggestions for slowing the aging process.
Sewing With Nancy: Simple to Chic T-Shirt Remakes
Join Nancy Zieman and guest Eileen Roche to learn how to update necklines with fashionable embroidery and other easy, yet creative, accents. Learn how to hoop a ready-made top in your embroidery machine, then watch as the programmed stitching not only adds beautiful embellishments, but changes the neckline shape.
The World We Make (featuring His Holiness the Dalai Lama)
How might the world look roughly 15 years from now if we choose well-being today? While economic prosperity has generally increased, why haven't happiness and well-being? Along with His Holiness the Dalai Lama, the University of Wisconsin-Madison's Center for Healthy Minds gathers world leaders in science, health care and media to alter humanity's course by sharing how we can cultivate well-being.
Around the Farm Table: Lavender Ladies
Inga Witscher takes a unique mini-vacation. After visiting a robotic dairy farm, she meets up with her cousin CeCe on Washington Island. Amidst fields of lavender, they cook the catch of the day and make a panna cotta dessert.
Here and Now: Kloppenburg Wants Wisconsin Courts to Give Everyone a 'Fair Shake'
JoAnne Kloppenburg, the presiding judge of the Wisconsin Court of Appeals, District IV, discusses the influence of special interests that do not have to report their donors, which has given the perception that justice is up for sale in Wisconsin. At the time of the interview, Kloppenburg was a candidate for the Wisconsin Supreme Court, which she lost to interim justice Rebecca Bradley.
Wisconsin Foodie: Stoney Acres Pizza Farm
Kyle Cherek visits Stoney Acres Farm, which has become something entirely fun and different: a pizza farm. To complement their community-supported agriculture (CSA) program, every Friday night in season these family farmers open their land to the public. From the crust to the veggies, everything comes from the farm.
Wisconsin Life: Purple Martin People
Ike and Jan Kumrow have lived in their rural home near Random Lake for close to 60 years. For almost that long, Ike and Jan have built purple martin homes, turning their five acres into the perfect bird habitat. The couple has succeeded in attracting more than 100 purple martins to their land – year after year.
Around the Corner With John McGivern: Lake Mills
It's referred to as "legendary" Lake Mills. But why? John visits this quiet community, discovering facts and exploring mysterious legends – such as the "pyramids" in the lake. Other stops include  Tyranena Brewing Company, Water House Foods, Doyle's Dogs, Ephraim Pottery, and old churches without active congregations that have been recycled and reused – including Cynthia Weston's "chouse."
University Place: Cattle Dehorning
Learn about the options farmers have available for ridding calves of their horns – a process known as dehorning or disbudding. We hear from expert Zen Miller, the Dairy Livestock Agent for UW-Extension in Outagamie County, and Bethany Marcks, a student at UW-River Falls.
Sewing With Nancy: Hoop It Up: A Guide to Successful Embroidery
Use your embroidery sewing machine to create unique gift bundles for a baby, kids, or friends. Wondering if you're up to the task? Let Nancy Zieman and guest Marie Zinno show you how to hoop for success on a variety of standard gift items such as baby bibs, tote bags, and hooded towels.
Wild Tomato | Island Orchard Cider
Kyle and Jessica venture up to Door County to visit with two food family favorites in the local community. At Wild Tomato, we see wood-fired pizza made by hand. At Island Orchard Cider, we learn about the magic of growing cider apples, which were originally inspired by Normandy-style ciders. It's all about being true to the apples and honoring the yeast.
Around the Farm Table: Dung Beetles, Spuds and Sorghum
Inga discovers the importance of dung beetles on her farm. She visits a potato farm and learns about growing sorghum for making whiskey. For an afternoon party, Inga and chef Nathan Berg make some unique Wisconsin craft cocktails and lefse hors d'oeuvres.
Around the Corner With John McGivern: Hayward
Jump into the mouth of a giant Muskie at the National Freshwater Fishing Museum and Hall of Fame! John takes us up into northern Wisconsin to explore Hayward. He talks with wood workers, gets a tour of Beehive Botanicals and visits Lost Land Lake Lodge, famous for their all-you-can-eat fish fry where "everyone gathers." And for the first time in 65 episodes, he pokes into a local laundromat because he loves doing laundry (honestly!)… and meets a yellow-crowned green Amazon parrot named Duster, who loves to laugh.
University Place: Nitrate in Wisconsin's Groundwater
Learn about one of Wisconsin's most-pressing groundwater quality issues in this edition of Wednesday Nite at the Lab on University Place. Kevin Masarik, Groundwater Education Specialist for UW-Stevens Point and UW-Extension, gives us a mini-lesson on nitrate in groundwater and explains the effects of nitrate on the environment and drinking water supply. Read more at WisContext to learn how Wisconsinites can help protect our groundwater.