At Mead Public Library, PBS KIDS helps build caregiver connections
January 9, 2023 Tawny Morrison Leave a Comment
Youth services librarian Alison Loewen takes every opportunity to pack PBS KIDS resources into her programming at Mead Public Library in Sheboygan. Guided and inspired by her participation in the 2022 PBS KIDS Library Educator & Community Learning Cohort with PBS Wisconsin Education, Alison has found unique ways to integrate media, caregiver engagement and learning readiness into her practice.
After the conclusion of the cohort, which aims to connect and train librarians in PBS KIDS digital media resources, PBS Wisconsin Education spoke with Alison to find out more about her experience and how she's been able to incorporate PBS KIDS content into her services.
PBS Wisconsin Education: Why did you get involved in the PBS KIDS library cohort?
Loewen: One of the most fulfilling parts of my job is connecting with librarians from all across the state and with educators from all contexts, and reflecting together on how we're serving our communities, being a part of a community and learning from other librarians. It helps improve my own practice and the way I'm thinking about my own programming and the PBS cohort was of special interest to me because of its focus on media mentorship, which is a facet of my job that I'm always looking to improve and feel more confident in.
PBS Wisconsin Education: What was your first idea for integrating PBS KIDS content into your programming?
Loewen: I began first by integrating clips into my storytime programming. I chose mostly live-action clips from Daniel Tiger's Neighborhood and focused on clips that were showing other children playing or solving problems or learning new things, like how to make apple cider or how to ice skate. I really want children to see other children learning, making mistakes and persevering in things that are relevant to their lives.
Those choices were rooted in the philosophy of windows and mirrors and kids seeing themselves in the programming that we're presenting, and also in being intentional to weave social-emotional learning into each storytime program. At the same time I was doing that, I also started linking PBS resources into our Mead Public Library staff blog, so I'd pair new picture books with related videos, songs and worksheets.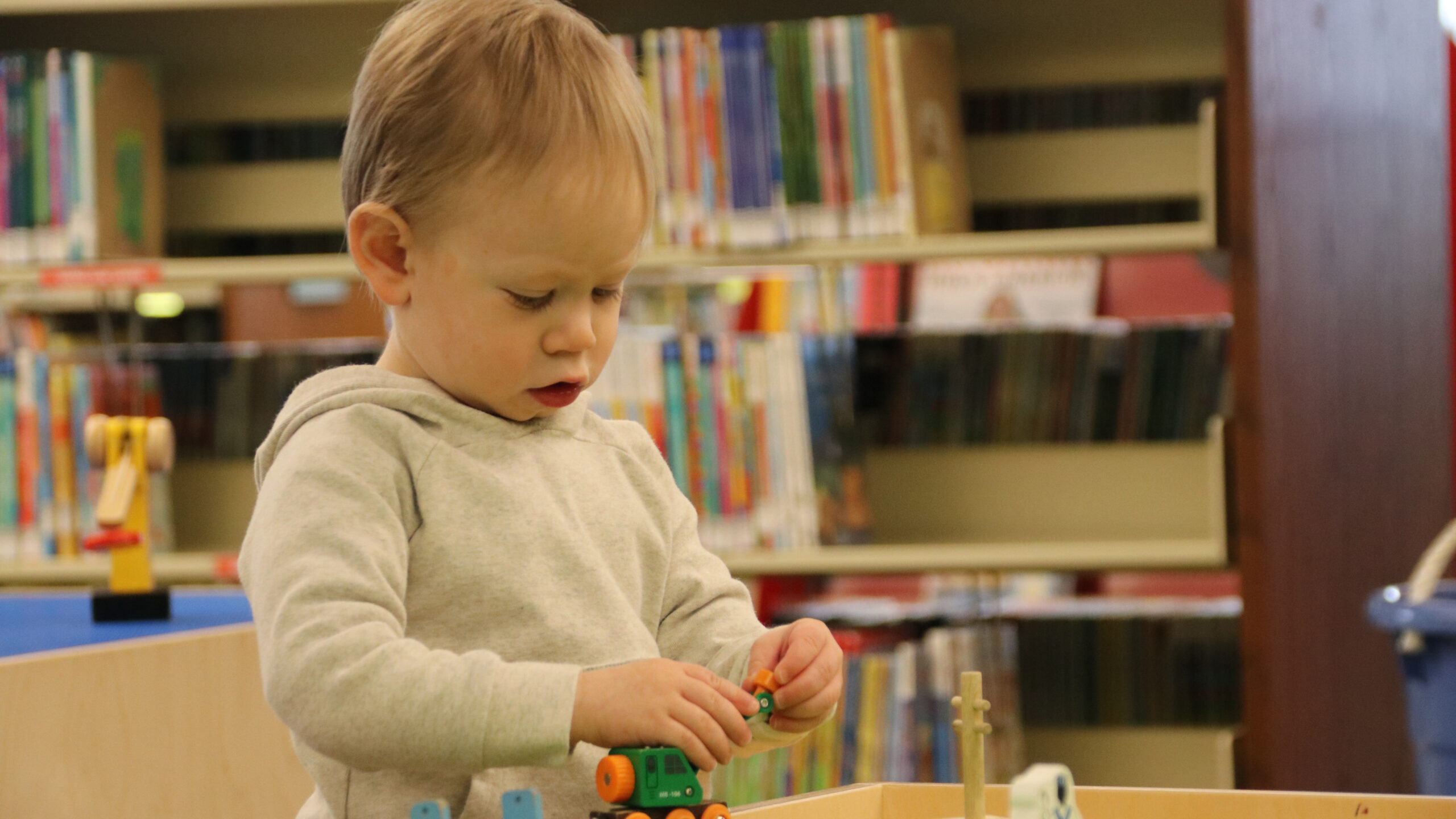 PBS Wisconsin Education: How was it received by families? 
Loewen: It was kind of magical, in that when I showed a clip, it encouraged kids and caregivers to talk to one another. We're always striving to have conversation in story time and talk about what we're reading or what we're learning about.
These clips just had this innate ability to do that without any kind of prompting at all. They'd ask and answer questions and it really became a moment in storytime where that bond between the caregiver and the child grew. That was quite magical to observe. 
And what's great about these clips is that they're not just cultivating the relationships, but they're fostering those good feelings that you get around learning. One of the favorite things that I've heard Fred Rogers speak about is learning how to read. This is not a direct quote, but he did express that the best way for a child to learn how to read is to read to them, but with an arm around your child. And he said that when we become adults, we're going to associate that love of reading or that love of learning with the love that our adults gave to us when reading together. And I think if we choose the right media, media can have this power, too. And that's kind of what I experienced.
PBS Wisconsin Education: Do you have a favorite PBS KIDS resource?
Loewen: PBS LearningMedia. I'm just perpetually logged into it. I look for videos and worksheets, or program plans that might inspire something in the future. I think a lot of what I integrated this year at the library came from PBS LearningMedia.
I also source a lot from the PBS KIDS Games website. They have an activity section on each of the games, so I find a lot of material there, and I'm just a fan of PBS KIDS Rocks, so I try to include songs in the blog because they're fun for kids and adults to rock out to.
PBS Wisconsin Education: We heard you recently created a PBS KIDS space in your library. Tell us more about that!
Loewen: My goal in the program was to weave PBS resources into everything that I was doing, including the public space. And we had an opportunity at the same time to reimagine a small area of the children's library with the support of some generous donors, including our friends and foundation. And it made sense to use PBS resources to weave it all together.
They're really the perfect addition because they're so bright and so welcoming. But more than that, they're perfect because each of the PBS resources is designed to support some domain of school readiness.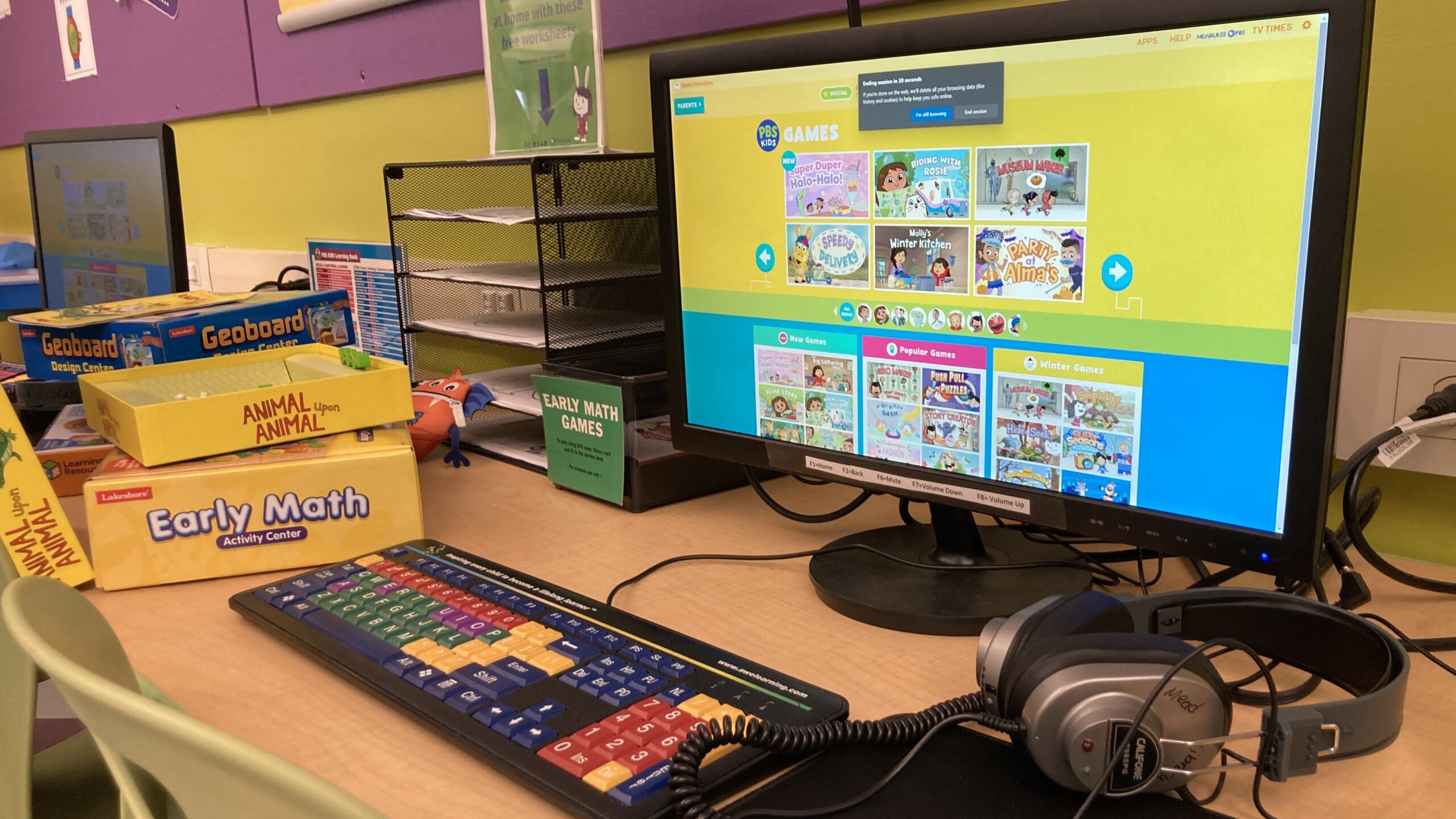 We had some kids game computers and they were on the fritz, and we needed to replace them. Instead of going elsewhere to replace these game stations, we made two PBS games kiosks, and then above those we professionally printed some of the classroom posters that focused on STEM learning. I see kids on the games all of the time. We included a split audio jack on the computers so you can have two people listen and interact to the media at once. So we're also supporting that family engagement through media by offering that as an opportunity. 
We also acquired a light table. I had translucent shapes out at the time and the caregivers were referring to the posters as they sorted the shapes on the light table. So I know that they are seeing them and using them.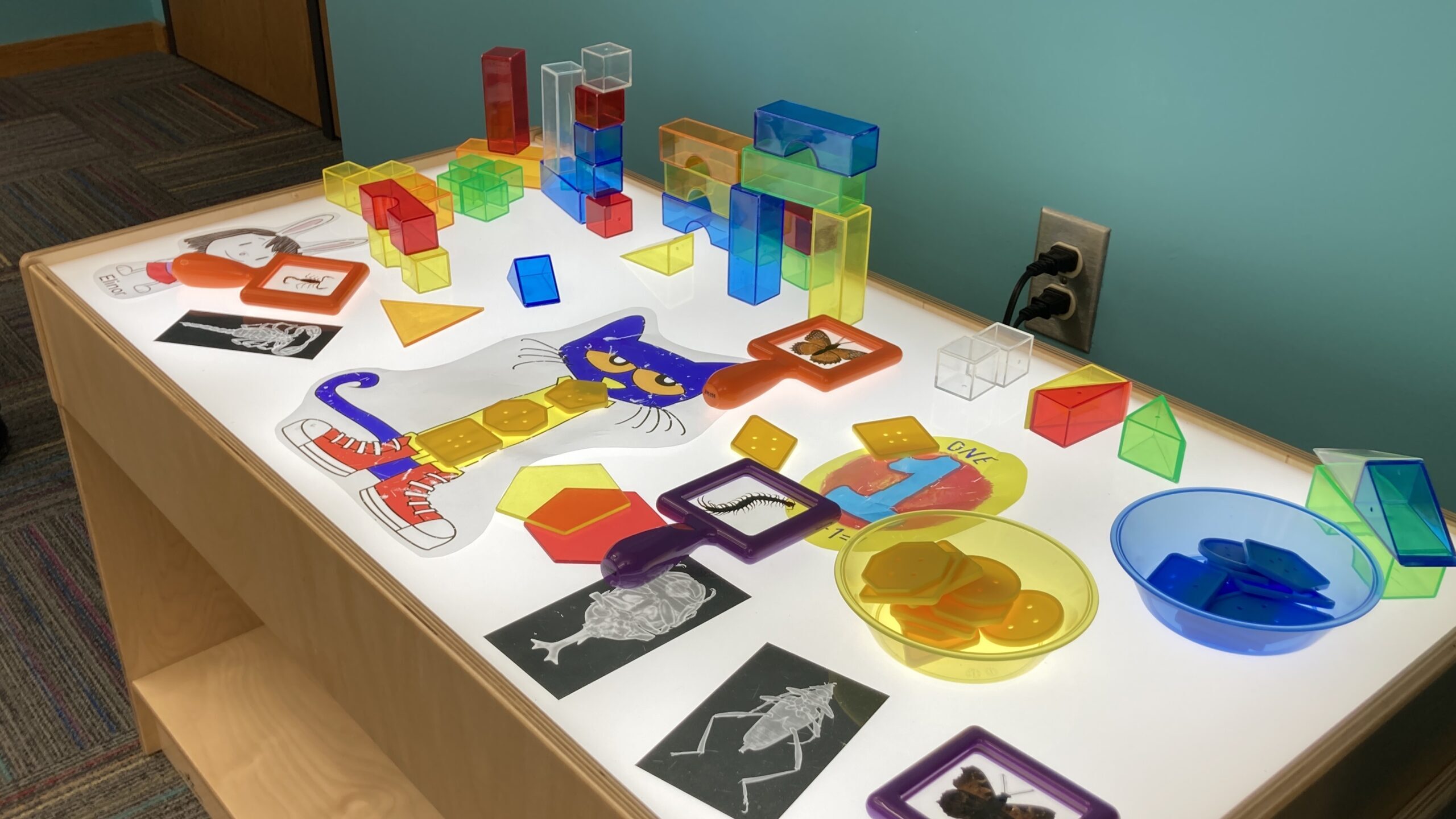 PBS Wisconsin Education: What are your hopes for future PBS KIDS library programming?
Loewen: I want to focus on programming that does cultivate the relationship between the caregiver and adults, or even librarians, as important people in children's lives. Children who do well have at least one caring adult in their lives – you know, any caring adult. So librarians are kind of included in that.
The Learn and Grow Together programming series, I think that's one of special interest to me because it does have that ethos of bringing families together, and engaging also with experts in the field. So I would like to take a closer look at these programs and see how they may fit into my library. Kind of the best thing about these resources is that it's not all or nothing, right? You can take bits and pieces of them and integrate them in a way that works for you and your community.
Visit pbswisconsin.org/education to explore more free early learning resources.