At Home with Inga: Chicken with 40 Cloves of Garlic
January 30, 2015 Wisconsin Public Television Leave a Comment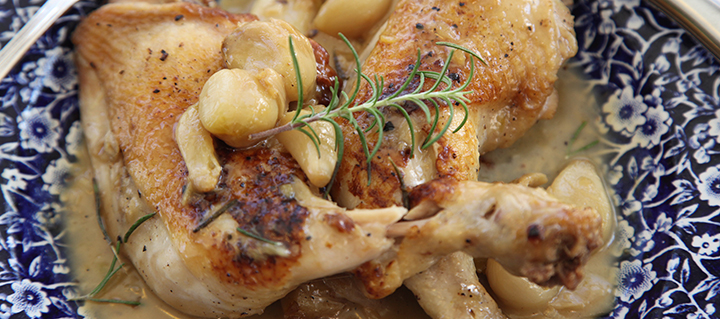 I think it's safe to say that we all love the food featured on Around the Farm Table. If you're looking for more recipes and cooking tips, check out our new series of blog posts, where Inga shares some of her favorite meals – the type of recipe that's local, seasonal and that might make it to her table during a busy week. Enjoy, and feel free to share your own opinions and adjustments to any of the recipes. At any rate – here's Inga:
In preparation for my visit to the south of France (sorry, "my trip to France" seems to work its way into every conversation lately), I've decided to venture away from my usual cooking routine with a dish that comes from Provence: Chicken with Forty Cloves of Garlic.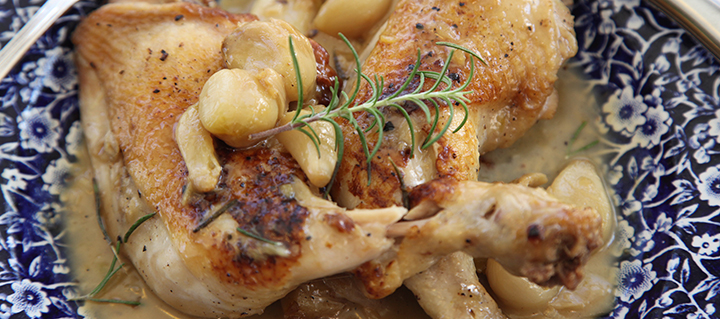 Chicken with Forty Cloves of Garlic is a lovely winter meal; It works for either lunch or dinner (speaking of France – amazing food, handsome men AND wine with lunch? Count me in!). I would consider moving to France if my cows could handle the eight-hour flight over, but then I would probably miss our endearing sub-arctic Wisconsin winters.
But back to garlic chicken! The secret to good food is using good ingredients. For this recipe, look for happily raised chickens from your back yard or local farmer. Whichever chicken you choose, just don't skimp on the garlic! I'm glad to see more farms selling precut chickens, because I've yet to master the art of carving my own bird.
Chicken with 40 Cloves of Garlic
Serves 4
Ingredients:
– 1 Whole Chicken (cut into 8 pieces)
– 3 Bulbs of Garlic (roughly 40 cloves, go ahead and count them if you really want to)
– 2-3 Tbsp. Sunflower Oil (for the pan and the chicken)
– 1 C. of dry Vermouth (also lovely in a martini!)
– 2-3 Sprigs Rosemary
– 1/2 C. Cream
– 4 Tbsp. Butter (or ½ stick – I know, I know, but that's what makes it so good!)
– Salt and Pepper to Taste
Instructions:
1. Preheat oven to 400 degrees.
2. Peel all of the garlic cloves (for a really neat trick on quickly peeling cloves, check out the video below!)
3. Rub the chicken pieces all over with a bit of sunflower oil. Salt and pepper the chicken pieces.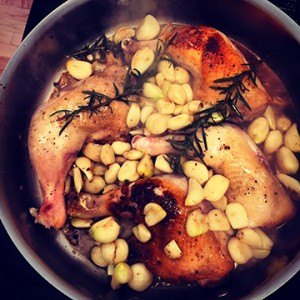 4. Add some sunflower oil to an oven-safe frying pan set over medium-high heat
5. Brown all the chicken pieces in batches, adjusting the heat of the pan so that the chicken doesn't burn (you know your stove better than I do).
6. Once the chicken is brown, set it aside and throw the garlic and rosemary into the pan. Stir the cloves and sprigs around the pan for a few minutes until fragrant, then set them aside.
7. Add Vermouth to the pan and scrape up all the brown bits. Once you have all the brown bits scraped up, add chicken, garlic and rosemary back to the pan. Cover tightly with a lid or foil and bake for 45 to 60 minutes or until its done.
8. Once the chicken is done, remove it from the pan and tent it with foil.
9. Add cream and butter to the pan, cooking it over medium heat until the butter is melted.
10. Check to see if it needs an extra bit of salt or pepper, then pour the sauce over the chicken, garnish with a bit of leftover rosemary, and enjoy!