May 13, 2019 | Length: 56m 47s
Not Enough Apologies: Trauma Stories
Explore how adverse childhood experiences can result in changes to the brain, leading to cascading behavioral and mental health problems. Discover how service providers across Wisconsin are working to be responsive to trauma in efforts to change the trajectory for affected children.
Case in Point
A 16-year-old boy in trouble with the law appears in juvenile court.
Survival Mode
Trauma can create a fight, flight or freeze response.
Removed From Home
Child protective services authorities remove children from dangerous living conditions.
Switching the Lens
Experts describe trauma informed care as a perspective shift.
Prospect of Hope
An emerging understanding of trauma and its emotional, psychological and physical impacts.
Recovery Stories
Hear the stories of resilience and healing experienced by survivors of trauma.
"It's not just who that parent and who that child are. It goes back to how you were parented. So, what we find so often is there's … There's ghosts in the nursery. That's what infant mental health is all about. There's ghosts in the nurseries."
– Katy Trottier, Infant Mental Health Specialist
ANNOTATED TRANSCRIPT
WPT has annotated key portions of the full transcript. Click on the yellow highlights to open and close annotations. Learn more about legal, medical and cultural terms including Menominee vocabulary.
"I'm still today as an adult working through things that happened to me when I was 10."
– Reyna Saldaña, Trauma Survivor
"As I started listening to these children, and reading their stories, and letting them talk to me, I started realizing, like, there's been nobody in their lives. And every adult that's been in their life has caused them more and more pain."
– Judge Everett Mitchell
WISCONTEXT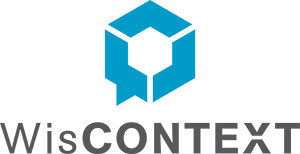 Series: Trauma-Informed Care in Wisconsin — Many Wisconsinites have experienced traumas in childhood, but their effects are not universal, nor are their burdens evenly distributed among the state's different communities. Depending on the individual, trauma can have a lifelong impact, affecting behavior, relationships and physical, emotional and mental health. The burden of childhood trauma and the toll it takes on individual lives and public health is attracting more attention by health professionals, educators and caregivers. As a result, public and private organizations around the state are incorporating trauma-informed approaches into their daily work with children and adults. These approaches are part of efforts to transform Wisconsin's human services and justice systems in the hope of providing better outcomes for traumatized individuals and communities.
WisContext is an online multimedia news and information service produced through a partnership between Wisconsin Public Television and Wisconsin Public Radio. It presents reporting, research and community-based expertise to provide information and insight about urgent and emergent issues that affect Wisconsin.
Series: Trauma-Informed Care in Wisconsin
As researchers continue to uncover the physiological effects of trauma, behavioral health professionals, school districts and government agencies across Wisconsin are adjusting how they care for children and adults who have had traumatizing experiences. These new approaches are part of a paradigm shift in the practice of behavioral health that has come to be known as trauma-informed care.
Series: Trauma-Informed Care in Wisconsin
Children who suffer abuse or neglect or who live in dysfunctional households often carry the emotional, mental and physical burden of these experiences into adulthood. Behavioral health professionals sometimes call these ordeals "adverse childhood experiences," or ACEs, which have been linked to risk factors for several of the leading causes of death in adults. But experts say it's important to understand the difference between ACEs and trauma.
Series: Trauma-Informed Care in Wisconsin
Wisconsin is sending hundreds of children with complex care needs to out-of-state facilities that are sometimes hundreds of miles away. It hasn't always been this way, and a group of health officials are working to figure out ways to keep more traumatized children in Wisconsin. That means identifying the root causes, which include a shortage of in-state care options.
WPT BLOG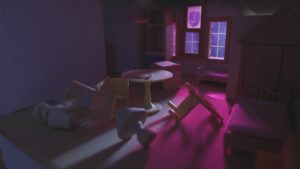 Q&A: Not Enough Apologies: Trauma Stories — After addressing issues of gun violence in the 2016 documentary Too Many Candles, Wisconsin Public Television's Frederica Freyberg wanted to tackle another issue that seemed too big to address in the same program.
REEL TO REAL SCREENING RESOURCES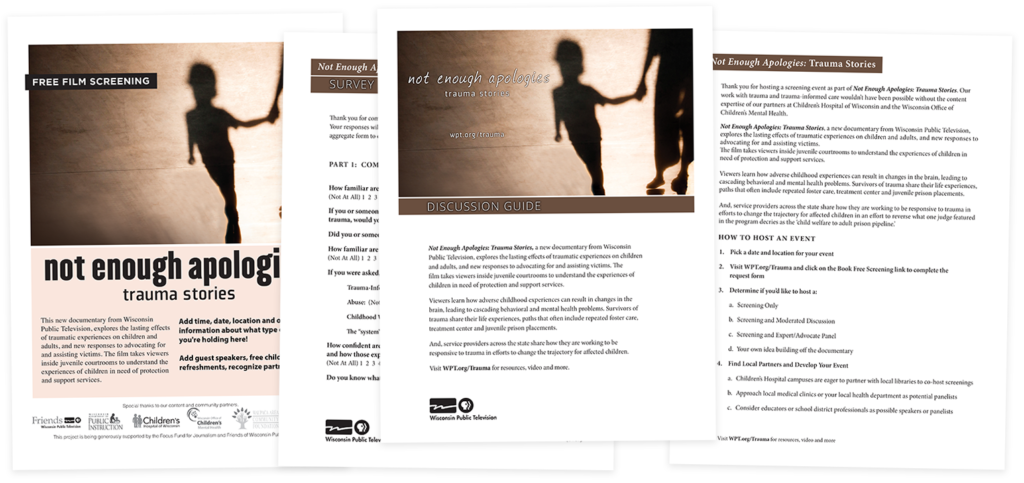 Reel to Real Screening Request — Use this online form to host a free film, or a film series, with your local library, favorite nonprofit, or school with this free, high quality selection of local and national programs. We will send you a DVD of the film, a PDF flyer for use in promoting the event, and we can assist you in finding a discussion leader.
---
Event Planner (PDF) — This tool was created as a helpful primer to using this documentary as a community or group activity and conversation starter. It contains tips for hosting a dialogue around such a sensitive and complex topic, including suggestions on finding local experts and local community groups to help build a useful resource for your community.
---
Promotional Event Flyer (PDF) — Your organization can use this handy pre-designed PDF template with customizable areas you can fill in with the details of YOUR own event to help with promotion. The final product can be emailed, printed, posted online and used in social channels.
---
Discussion Guide (PDF) — Watch the doc, then use this helpful guide to help frame a discussion about the complex subject of trauma with your group or community. This guide is designed to help facilitate conversations that ask participants to reflect on their own experiences, and to delve further into the many layers of this topic.
---
Impact Survey (PDF) — We are heavily invested in our communities. When we do critical work like this we want to know if it made a positive difference, so we ask all of our community partners and friends who host screening events/discussions around Not Enough Apologies to use this survey tool with their participants, then collect and share the responses with us.
---
Media Press Kit — A selection of graphics for groups putting on screening events.
WISCONSIN STATE RESOURCES
Trauma-Informed Care Workgroup —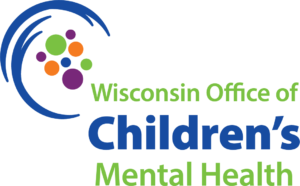 Wisconsin Children's Mental Health Collective Impact is an innovative and structured approach to systems change. This page includes the action team's continuum of trauma-informed care framework. The workgroup brings together a wide variety of stakeholders who use data to identify root causes of a problem and then design strategies to bring increased well-being to Wisconsin's children and families.
Wisconsin Department of Health Services: Trauma-Informed Care Resources — A collection of trauma-informed care resources for consumers and service providers, provided by the Wisconsin Department of Health Services.
BOYS AND GIRLS CLUB OF THE FOX VALLEY

The Boys and Girls Club of the Fox Valley integrates trauma-informed care into their service model. In February of 2016, they co-authored, along with United Way Fox Cities and twelve other agencies the Trauma-Informed Roadmap. This includes a vision of the Fox Cities in which they articulate: "Everyone in our community is treated with compassion and respect, which allows them to thrive regardless of circumstances."
CATALPA HEALTH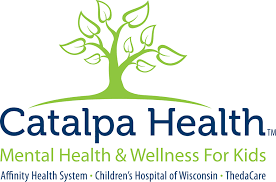 A 2011 study on quality of life in Wisconsin's Fox Cities — called the 2011 Local Indicators For Excellence (LIFE) study — indicated children and teens in the region needed better access to mental health care. In response, the three major health systems in the community — Affinity Health System, Children's Hospital of Wisconsin and ThedaCare — partnered to form Catalpa Health. Since its founding, Catalpa has added new providers and services, all in an effort to meet the growing demand for access to mental health care in the community.
Learn about Catalpa Health's full range of services.
CHILDREN'S HOSPITAL OF WISCONSIN
Kids and Trauma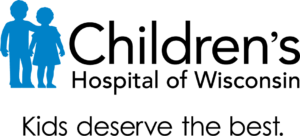 — Children's Hospital of Wisconsin works to address and help heal trauma, avoid re-traumatization and foster resilience. Explore evidence-based information and resources for parents and caregivers, health care providers, educators and potential foster parents.
Children's Hospital of Wisconsin is committed to their vision for a healthy Wisconsin. Through partnerships and community support programs with schools and neighborhoods throughout Wisconsin, Children's Hospital of Wisconsin works to promote healthy families and strong communities.
THE MENOMINEE INDIAN TRIBE OF WISCONSIN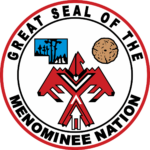 "What happened to you?" In 2015 the Menominee Nation was awarded the Robert Wood Johnson Foundation's Culture of Health Prize for its groundbreaking work using a trauma-informed care model to provide social and behavioral health services to the community, including in the Menominee Indian School District. Menominee Nation doctors and teachers begin with a central question, "What's happened to you?" as opposed to "What's wrong with you?" Learn more about this work and their award here.
Kepāēmēhtonenaw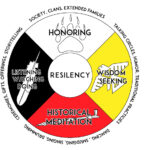 is the Menominee Tribe's singular, innovative and culturally-responsive adaptation of the Adverse Childhood Experiences (ACES) framework for trauma-informed care. It weaves cultural practices and values of the Menominee into every aspect of the framework and stresses that traditional Menominee values of interconnectedness precede and inform the ACES approach that is now a mainstay of trauma-informed care.
PEACE4TARPON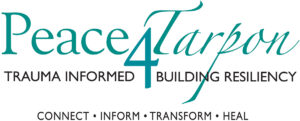 Peace4Tarpon is a community-wide trauma-informed care initiative in Tarpon Springs, Florida that serves as a national model for scaling up the geography and commitment of service initiatives. The organization works with the City of Tarpon Springs and has been instrumental in the city's designation as an official Trauma-Informed and Resilient Community.
Read some contextual background on Peace4Tarpon through their memo, "Systems Are Not 'People Shaped'."
Explore a collection of trauma-informed care resources from the Tarpon Springs Public Library and Peace4Tarpon.
Special thanks to our content and community partners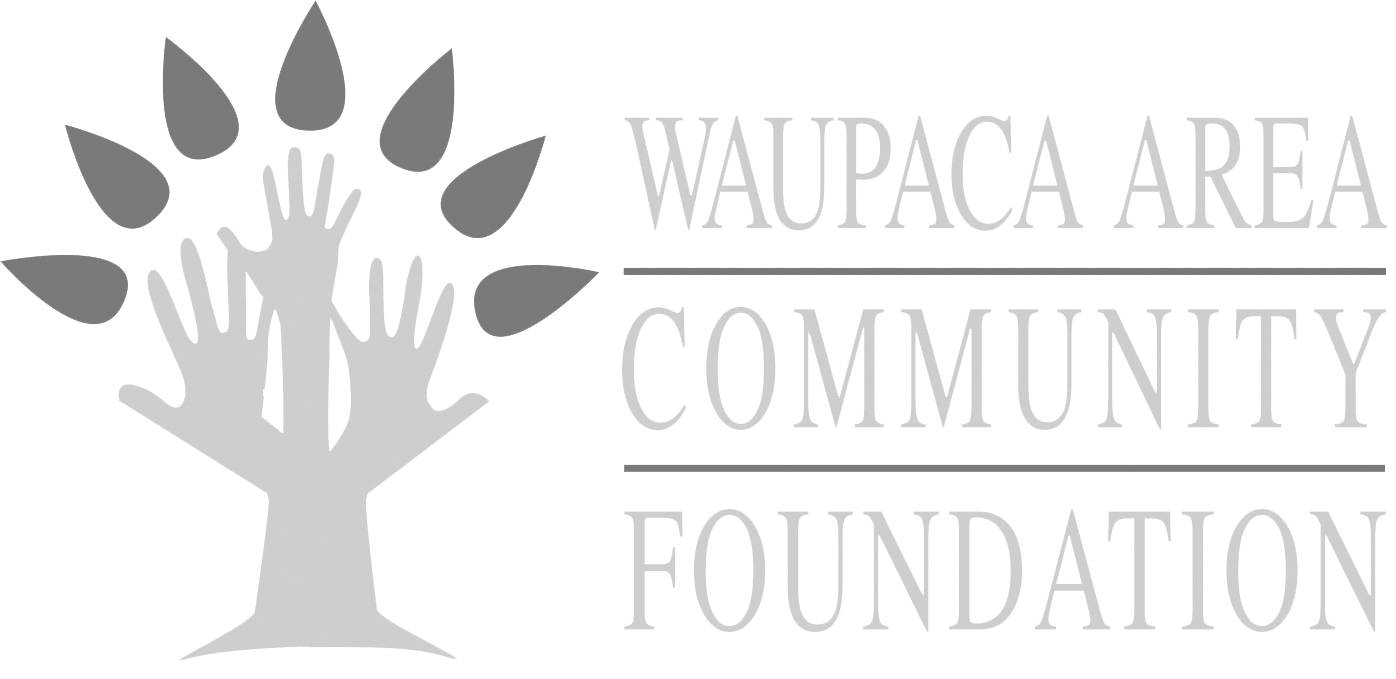 This project is being generously supported by the Focus Fund for Journalism and Friends of Wisconsin Public Television.
"People say, well you won't have enough time. Well yeah, but that's all we have."
– Wendell Waukau, Menominee Indian School District