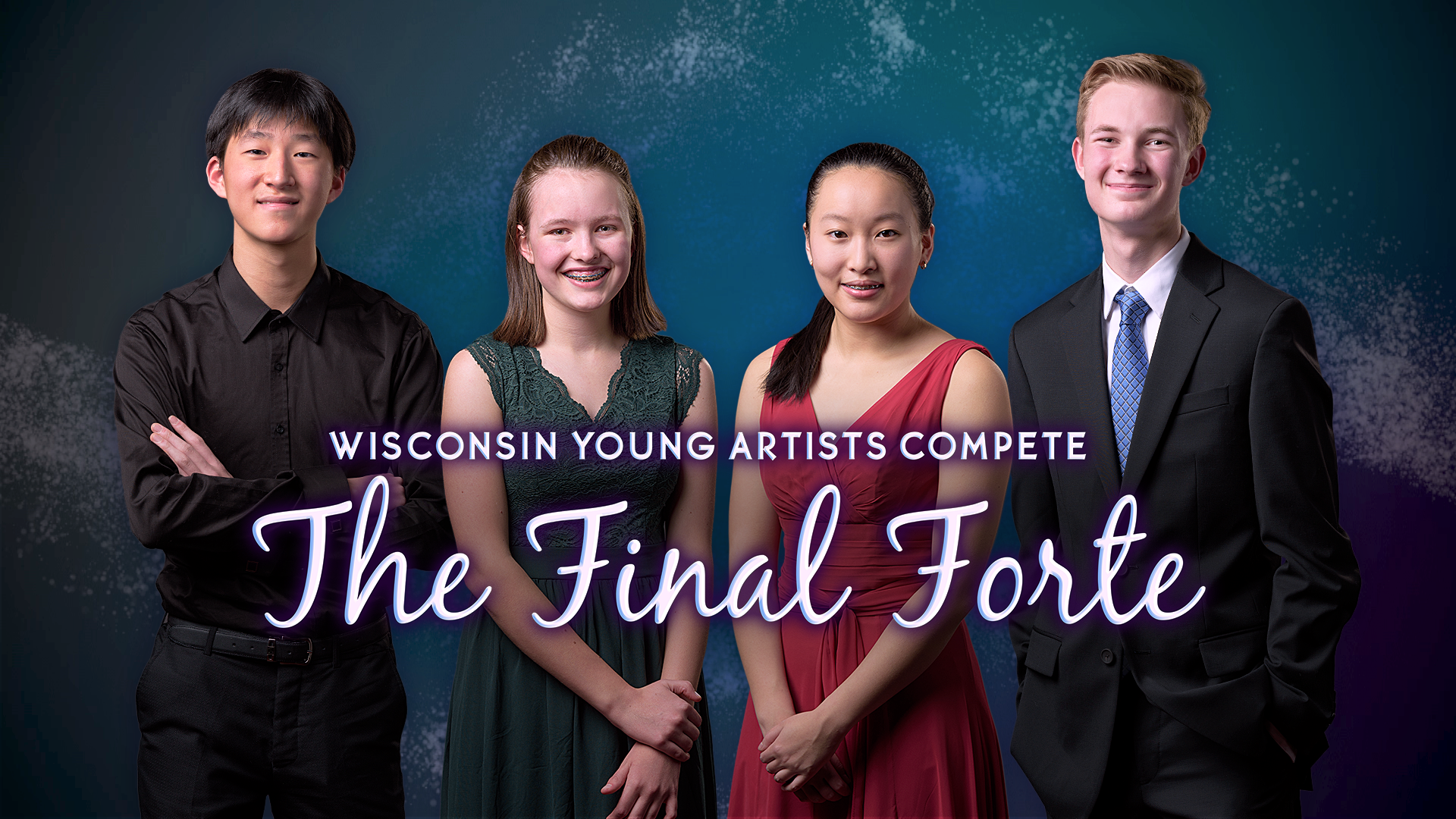 On Wednesday, April 13, 2022, experience the beauty of musical expression, the drama of competition and the joyous culmination of intense preparation and focus as four gifted young artists vie for top honors in the final round of the 2022 Bolz Young Artist Competition. Broadcast live and available via livestream here at 7 p.m. from Overture Hall at the Overture Center for the Arts in Madison, the concert features the sensational Madison Symphony Orchestra led by Associate Conductor Kyle Knox.
Learn more about The Final Forte here.
Access information about the broadcast and other details here.
Jane Story, a finalist in the 2022 Bolz Young Artist Competition, is a 15-year-old freshman from Stevens Point. She began violin lessons at the age of four and currently studies with Anna Cromwell, Assistant Professor of Violin and Viola at UW-Stevens Point.  Jane has performed with the Madison and Milwaukee Symphony Orchestras, earning titles in both organizations' youth concerto competitions, and will be a featured soloist at this year's Birch Creek Summer Music Academy.
Clark Snavely, a finalist in the 2022 Bolz Young Artist Competition, is a homeschooled sophomore from New Berlin. He took up the violin at the age of five and currently studies with Pamela Simmons, Associate Concertmaster of the Festival City Symphony. Clark took first place in both the 2020 Colibri International Arts Competition and the 2019 Madison Symphony Orchestra Youth Concerto Competition and served as Concertmaster last summer at Interlochen Arts Camp.
Ellen Zhou, a finalist in the 2022 Bolz Young Artist Competition, is a junior at Middleton High School. She began violin lessons at age five, and currently studies with Almita Vamos, violin instructor at the Music Institute of Chicago and Roosevelt University.  Ellen received first prize in the 2021 Milwaukee Symphony Orchestra's Stars of Tomorrow Competition and the 2019 Interlochen Intermediate Concerto Competition and is a scholarship fellow at the Academy of Music Institute of Chicago.
Zak Chen, a finalist in the 2022 Bolz Young Artist Competition, is a junior at New Berlin Eisenhower High School. He has been playing violin since the age of four, and currently studies with Bernard Zinck, Associate Professor of Violin at UW-Milwaukee.  Zak won the 2020 Milwaukee Youth Symphony Orchestra Senior Concerto Competition, served as Concertmaster at the 2018 Interlochen Arts Camp and in 2017 was awarded a scholarship to the Saarburg International Music Festival in Germany.
Funding for Wisconsin Young Artists Compete: The Final Forte is provided by Diane Ballweg, W. Jerome Frautschi, Fred and Mary Mohs, Irving and Dorothy Levy Family Foundation, Inc., James Dahlberg and Elsebet Lund, Julie and Larry Midtbo, Elizabeth Olson, Kato Perlman, Cyrena and Lee Pondrom, Sentry Insurance Foundation, Trust Point, Dr. A. Beyer-Mears, Darcy Kind and Marc Vitale, the Focus Fund for the Arts, and Friends of PBS Wisconsin.