Q&A – New PBS Wisconsin Education Wisconsin Biographies: Milly Zantow: Recycling Revolutionary
March 3, 2020 Ian Lewitz Leave a Comment
PBS Wisconsin Education has released a new Wisconsin Biographies story titled Milly Zantow: Recycling Revolutionary. The Wisconsin Biographies series is a collection of free educational, online media resources that share the stories of notable Wisconsinites and enrich grade school social studies and literacy curriculum.
Created as part of the Wisconsin Hometown Stories: Sauk Prairie project, this new Wisconsin Biographies story explores the life of Milly Zantow, a courageous changemaker in the world of recycling.
When Zantow learned about a problem facing her Sauk County community – a landfill closing much earlier than it should – she took action. Seeing for herself that there was too much plastic waste, she thought it should be recycled. At that time, no one was recycling plastics, but Zantow worked with others to make it happen. She developed the idea for the numbering system to identify plastics for recycling, making recycling easier to do all over the world. She also helped write Wisconsin's recycling law.
We sat down with PBS Wisconsin Education Producer Mia Forslund to learn more about how the project came together. The story resources are now available for free online access at pbswisconsineducation.org.
Read on to learn more!
PBS Wisconsin: Tell me about the Wisconsin Biographies series and how you came to work on it?
Mia Forslund: Wisconsin Biographies is a collection of media resources that brings the stories of notable Wisconsinites of the past to life for learners today. It's geared toward students in grades 3 – 8, and brings together stories that enrich English Language Arts and Social Studies  curriculum, and connect to other subject areas as well. I came to be involved in this project, because I'm a producer with the Education team here at PBS Wisconsin. I was excited to be part of this project because I grew up in Wisconsin and love learning more about the stories that make up the history of my home state.
Is this the first Wisconsin Biographies story you've worked on?
Yes, this is the first story that I have worked on. I'm thrilled that we can share Milly's story with educators and students.
Had you heard of Milly Zantow?
I did not know about her. I grew up in Wisconsin, and grew up recycling, but I did not know much about the history or the people involved, which made learning about Milly's story so fascinating to me.
How did you come to choose her to be the focus of this biography?
Our work on this Wisconsin Biographies story is part of the Wisconsin Hometown Stories: Sauk Prairie project. In connecting with the documentary's producers and surveying educators in the Sauk Prairie community, we learned about people of note, in the area, and Milly Zantow's name came to our attention. Then, in talking more with educators, they pointed us to her story as one that they thought should be included in this collection and one that educators and students should know more about.
Can you tell me a little about the production process?
After talking and collaborating with Sauk Prairie educators, we did a lot of research and then started working on developing the script for the animated video and other resources. There are many people who have a hand in creating the animated video and the same for the other resources that we've developed, including Milly's family, people who knew Milly and her story, and of course the educators and students who helped review and try out some of the resources before they were completed.
What is your goal for the students that use this resource? What do you hope that they get from it?
I think that Milly's story gives every plastic item you pick up new meaning. Seeing the little number imprinted in the bottom of an item and knowing that a Wisconsin woman had a hand in that, and in changing plastics recycling, is very inspiring. I hope that students who learn about Milly's story will understand that one person can make a difference in their community, that they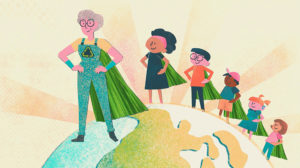 can make a difference, and maybe what they do will have an impact beyond their community. I hope that they will feel inspired to take action and make change in the world.
How do you feel now that you're finished working on the project?
I feel like the project is actually just starting because this is the really exciting part where we get to share some of what we've been learning and the great people we've been connecting with. We get to share Milly's story so more people can learn about her. I'm really excited for what's to come and so appreciative of all the people who shared their time, expertise, stories and memories with us to be able to understand more about Milly's life.
What's next for Wisconsin Biographies?
We are working on a story about the founder of Earth Day Gaylord Nelson and are thrilled to be able to share that story in the weeks leading up to the 50th anniversary of Earth Day. We're very excited about the connections we're making and the opportunity to share his story with a new generation of changemakers.