PBS Wisconsin Honors Asian Pacific Americans
April 27, 2020 Connor Glasbrenner Leave a Comment
In May the United States observes Asian Pacific American Heritage Month to honor the essential contributions of people of Asian and Pacific heritage to our history and present. Throughout the month, PBS Wisconsin will feature broadcast and streaming programs highlighting these contributions across the fields of art, culture, policy, politics, business and education.
Two national broadcast premieres airing on PBS Wisconsin in May include: Asian Americans, a five-part documentary series that examines the significant role of Asian Americans in shaping American history and identity, and American Experience: Mr. Tornado, featuring the Japanese American and meteorologist who created the Fujita scale to measure tornadoes.
Asian Americans
Begins 7 p.m. Monday, May 11
Led by a team of Asian American filmmakers, this 5-part documentary explores the impact of Asian Americans — the fastest-growing racial/ethnic group in the United States — from the first wave of Asian immigrants in the 1850s, to identity politics during the social and cultural turmoil of the twentieth century, to modern refugee crises in a globally connected world.
Watch more clips from Asian Americans here.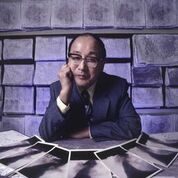 American Experience: Mr. Tornado
8 p.m. Tuesday, May 19
Meet pioneering meteorologist Ted Fujita, who transformed our understanding of tornadoes. His technological advancements saved lives and helped Americans prepare for and respond to dangerous weather phenomena.
MADE IN WISCONSIN

PBS Wisconsin produces a range of local programming telling the stories of Asian and Pacific American Wisconsinites to further deeper understanding and foster connection. Explore this programming made in Wisconsin, all of it streaming on pbswisconsin.org.
Wisconsin Biographies: Joe Bee Xiong – War to Peace
This animated short — part of PBS Wisconsin Education's Wisconsin Biographies collection — explores the life of Joe Bee Xiong, the first Hmong American to be elected to public office in Wisconsin.

University Place: A Conversation w/George Takei
Actor George Takei sits down with University Place to discusses his childhood in a Japanese internment camp during World War II, his early acting jobs and landing the role as Sulu in "Star Trek."
Wisconsin Foodie: Sap-Sap
Sap-Sap, meaning "Delicious Delicious" in the Lao language, is both a pop-up dinner series and brand of food products created by Alex Hanesakda. Chef Luke Zahm travels to Racine to meet Alex and his family as they prepare for their annual Lao BBQ dinner.
Wisconsin Life: Hmong Culture
The Hmong Language and Culture Enrichment program in Madison resembles a six-week summer school. Kids are immersed in Hmong language and culture, and given tutoring for core subjects like math.
Wisconsin Life: Japanese Fine Artist
Learn more about Japanese artist Manabu Ikeda as he creates a mind-boggling world within his landscape art.
Wisconsin Life: Indian Classical Dancer
Middleton teenager Shruti Parthasarthy is accomplished in Bharatanatyam, a form of traditional Indian dance. She started an initiative titled "Calm with Kalaa," where she teaches Bharatanatyam techniques to both children and adults in the Madison area to help them relieve stress.
Wisconsin Life: Dance Professor
Dance professor and choreographer Peggy Choy was born in Hawaii and its ethnically-diverse culture. Her grandparents were forced to flee Korea after being involved in the freedom movement against Japanese occupation. That spirit and desire for self-determination is reflected by Choy's passion for dance.

ARTS & MUSIC

American Masters Unladylike2020: Anna May Wong
Learn more about Anna May Wong, the first Asian American female movie star. Wong had a long and varied career spanning silent and sound film, stage, radio, and television, while resisting racism and typecasting in Hollywood, including the industry practice of having white actors in yellow face play the roles of Asian characters.
American Masters — Unladylike2020 is a multimedia series consisting of a one-hour special for broadcast and 26 digital short films featuring courageous, little-known and diverse female trailblazers from the turn of the 20th century.
MORE ARTS & MUSIC
American Masters: Tyrus Wong
Until his death at the age of 106, Tyrus Wong was America's oldest living Chinese American artist and one of the last remaining artists from the golden age of Disney animation. The quiet beauty of his Eastern-influenced paintings had a pioneering impact on American art and popular culture. In this clip, learn how Tyrus came to the United States with his father, but as part of a grueling immigration process was detained for a month before being allowed into the country. Watch the full American Masters: Tyrus with a PBS Wisconsin Passport membership.
Artbound: Masters of Modern Design
Explore the influence of Japanese American artists and designers in postwar America.
The David Rubenstein Show: Yo-Yo Ma
Dig deeper into Yo-Yo Ma's successful career with David Rubenstein's interview.
State of the Arts: Maestro Xian Zhang
Meet the first woman to to lead the New Jersey Symphony Orchestra as Music Director
Behind the Lens: Eugene Kim Captures Important Moment in Asian-American Music
For his short film 'Cherry,' filmmaker Eugene Kim pulled from his own memories of growing up in 90s Daly City, California, when Filipino DJs were pioneering a new style, B-Boys competed at car shows and everyone knew they were part of a historic moment in music history.
Film School Shorts: Fanny Pack
A young Indian American woman leaves home to pursue her dream of becoming a photographer in New York, only to discover that she has a stowaway – her conservative father.

The Art Assignment: Art & Empathy
Empathy is a term we hear a lot, but what does it mean and how does it work? Looking back through art history, we find many moments when art has allowed us to share in the feelings of others, from Maya Lin's Vietnam Veterans Memorial, to representations of the Buddhist deity Jizō Bosatsu.

IMMIGRANT STORIES

America Reframed: Random Acts of Legacy
This story features a creative and enterprising Chinese American family in middle America during the Great Depression and offers a counter-narrative to stereotypes of Chinese Americans. The piece is told through 16mm home movies.
MORE IMMIGRANT STORIES
American Experience: The Chinese Exclusion Act
Learn about the 1882 law that made it illegal for Chinese workers to come to America, and for Chinese nationals living and working in the United States to become U.S. citizens.
Viewfinder: Little Manila – Filipinos in California's Heartland
Little Manila was the area in Stockton notoriously called Skid Row, but it was also the closest thing Filipinos had to a hometown. This documentary tells the immigrant story as Filipinos experienced it.
DIGITAL FIRST
What I Hear When You Say: Model Minority
Explore the use of the term "Model Minority," often used to describe Asian American communities.
Origin of Everything: Why Do We Say "Asian American" Not "Oriental"?
The word Oriental is hundred of years old, so why do Americans no longer use the word "Oriental"? And how did the word "Asian American" take its place?
The Art Assignment: The Case for Ai Weiwei
Ai Weiwei has been called an iconoclast, a radical, a voice for the voiceless, and was once named the most powerful artist in the world. Who is Ai Weiwei? And why is he considered one of the most renowned artists of our time?

PBS NEWSHOUR

Actor Utkarsh Ambudkar on avoiding ethnic stereotypes
Despite these high-profile performances on tv, film and stage, actor and singer Utkarsh Ambudkar, who is South Asian, hasn't found it easy to avoid casting cliches. He shares his brief but spectacular take on making up his career as he goes.
How this artist turned bad karma into raw honesty
Artist and poet G Yamazawa grew up Asian-American and Buddhist in the southern Bible Belt, where he often felt as though he didn't belong. But insecurity transformed into a love for the stage and performance. G Yamazawa gives his Brief but Spectacular take on art and creating a safe space for young people to cultivate their own voices.
Music enables singer-songwriter to reveal "the beast within"
Growing up as an Asian-American woman, Thao Nguyen didn't have many opportunities to express her feral side. As singer-songwriter for the group Thao & The Get Down Stay Down, she offers her Brief But Spectacular take on self-expression and "the beast within."
Trust Exercise' author Susan Choi on storytelling, #MeToo
Susan Choi's novel "Trust Exercise" takes place in a high school for the performing arts in an unnamed southern city. But the subjects examined, including consent, power and memory, are universally relevant. "Trust Exercise" won the 2019 National Book Award for fiction, and Jeffrey Brown spoke with Choi at November's Miami Book Fair about why she decided to set the story in a high school.
Poet Rupi Kaur reaches new audiences in a new way
Rupi Kaur, one of Instagram's favorite poets, writes about love, heartbreak and womanhood.
Poet Franny Choi on the value of imagining alternate reality
What's the value of asking questions to which we don't know the answer? Poet Franny Choi's "Introduction to Quantum Theory" does just that, and she calls it "one of the scariest things" she's ever written. Choi offers her brief but spectacular take on imagining alternate realities.

FOOD AND DRINK

Wisconsin Life Food Traditions: Hmong Feast
Lucy Lor's kitchen invites connection. Her Hmong family settled in La Crosse in 1992 and food offered crucial continuity in a time of change. In Hmong food, Lucy finds a powerful tool for reconciliation with her family and culture after beginning to live her true gender identity.
Lucky Chow: Asian Food, American Dreams
Discover why Asian cuisine is increasingly the engine driving the growth of the American food industry
No Passport Required: Las Vegas
Host Marcus Samuelsson visits Las Vegas to learn more about the city's long-standing Chinese community and their food traditions. In this clip Chef Alan Ji prepares lobster ma pa tofu for Marcus at Las Vegas restaurant Mott 32. Watch the full show with a PBS Wisconsin Passport membership.
Somewhere South: The Dumpling Dilemma
Not all dumplings are the same. But whether filled with minced meat, chopped veggies or nothing at all, dumplings stretch our ingredients and our imagination.
Tastemakers: Den Sake Brewery
Yoshihiro Sako uses time-honored Japanese techniques to brew small-batch sake.
Watch all of the above content online at pbswisconsin.org, on the PBS app of your phone or tablet, Roku, Apple TV, other digital TV devices and many Smart TVs.