Make baba ghanoush with Inga Witscher to ring in the new year
December 16, 2022 Samantha Nash Leave a Comment
With its deep purple skin and oblong shape, eggplant can be a culinary mystery if you've never cooked with it before. Though enigmatic, this versatile vegetable can be a fantastic vector for flavors both subtle and bold. If you're looking for an eggplant-based gastronomic adventure, you'll want to try this baba ghanoush recipe from Around the Farm Table host Inga Witscher.
"It's a little bit like hummus, but we're going to use roasted eggplant instead of chickpeas," Witscher said. "It's a really fun way to use up any extra eggplants you might have."
Baba ghanoush has a bright lemon flavor and a creamy, decadent texture. Roasting the eggplant gives the dip a smoky taste, and the tahini adds subtle umami notes. This Mediterranean dip pairs well with warm, fluffy pita bread or crisp veggies, and can be studded with briny olives for an extra salty tang.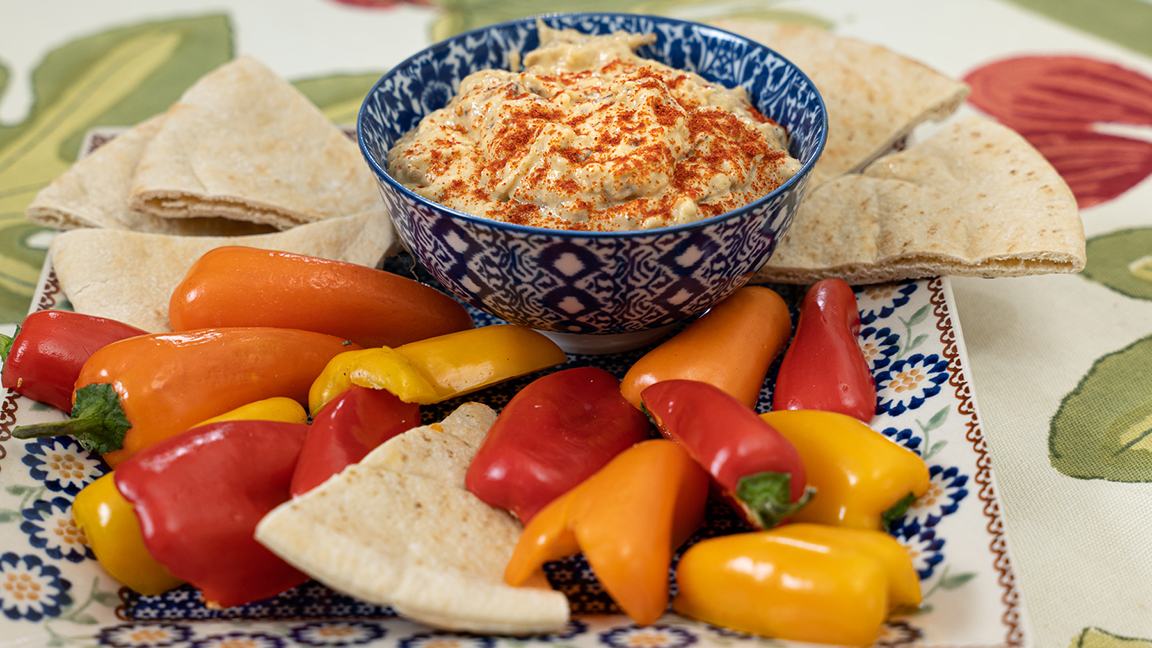 Break out your fanciest olive oil to finish off the dish, and you'll have a terrific, light option to share at parties. For anyone looking for a break from heavy winter foods, baba ghanoush can provide a welcome reminder of warm summer days during the longest nights of the year.
Baba Ghanoush
1 large eggplant
1/4 cup tahini
1/4 cup olive oil plus 2 tablespoons, divided
3 cloves garlic, minced
Salt and pepper
Smoked paprika and parsley for garnish
Prep the eggplant
Preheat oven to 450 degrees Fahrenheit
Slice a large eggplant in half, lengthwise
Sprinkle Kosher salt on the flesh of the eggplant
Let salt sit on the eggplant for 15 minutes (this will help bring out moisture and any bitter flavor)
Roast the eggplant
Wipe off excess salt and moisture and brush approx. 2 tspns olive oil on the eggplant flesh
Roast cut-side down for 35 to 40 minutes (until the eggplant has collapsed and until the interior is very tender)
Cool and mash
Remove eggplant from oven and let sit until it is cool enough to touch
Once the eggplant is cool enough to work with, scrape the flesh into a colander placed over a bowl
Using the back of a large spoon, press the eggplant to release extra moisture
Mix
In a clean bowl, mix eggplant, garlic, tahini, lemon juice, olive oil, salt and pepper until smooth (this can also be done in a food processor for a smoother texture)
Garnish with smoked paprika and parsley
Serve with fresh vegetables and warmed pita
Note: This can be stored in the refrigerator for up to 2 days. Bring to room temperature before serving.
Inga Witscher Made in Wisconsin Food recipes Around the Farm Table