Family Resources and Support for Home Learning From PBS Wisconsin
March 17, 2020 Sigrid Peterson Leave a Comment
Wisconsin's PBS Stations to Begin At-Home Learning Broadcasts Monday, March 30
As schools in Wisconsin have closed to mitigate the spread of COVID-19, PBS Wisconsin and Milwaukee PBS announce an ambitious plan, in partnership with the Wisconsin Department of Public Instruction, to support at-home learning for students and families by broadcasting a new weekday television schedule of programming with digital resources that connect to Wisconsin's state academic standards.
Beginning Monday, March 30, PBS Wisconsin will dedicate the 5 a.m.-5 p.m. daytime weekday schedule on The Wisconsin Channel, or PBS Wisconsin-2, and Milwaukee PBS will dedicate the 7 a.m.-5 p.m. daytime weekday schedule on WMVT 36.1 to educational programming that includes specific blocks of time for pre-K through 12th grade levels and covers subjects, including English language arts, social studies, science and math.
The special broadcast schedule will also be available to stream online here at pbswisconsin.org/familyresources along with corresponding free digital content for at-home learning and support for teachers navigating this new learning landscape.
Milwaukee PBS has free digital resources for at-home learning at milwaukeepbs.org/onlineresources/.
See the broadcast schedule for PBS Wisconsin's The Wisconsin Channel, or PBS Wisconsin-2, below. Milwaukee PBS' schedule will have similar content that will be finalized soon. Visit milwaukeepbs.org for full details.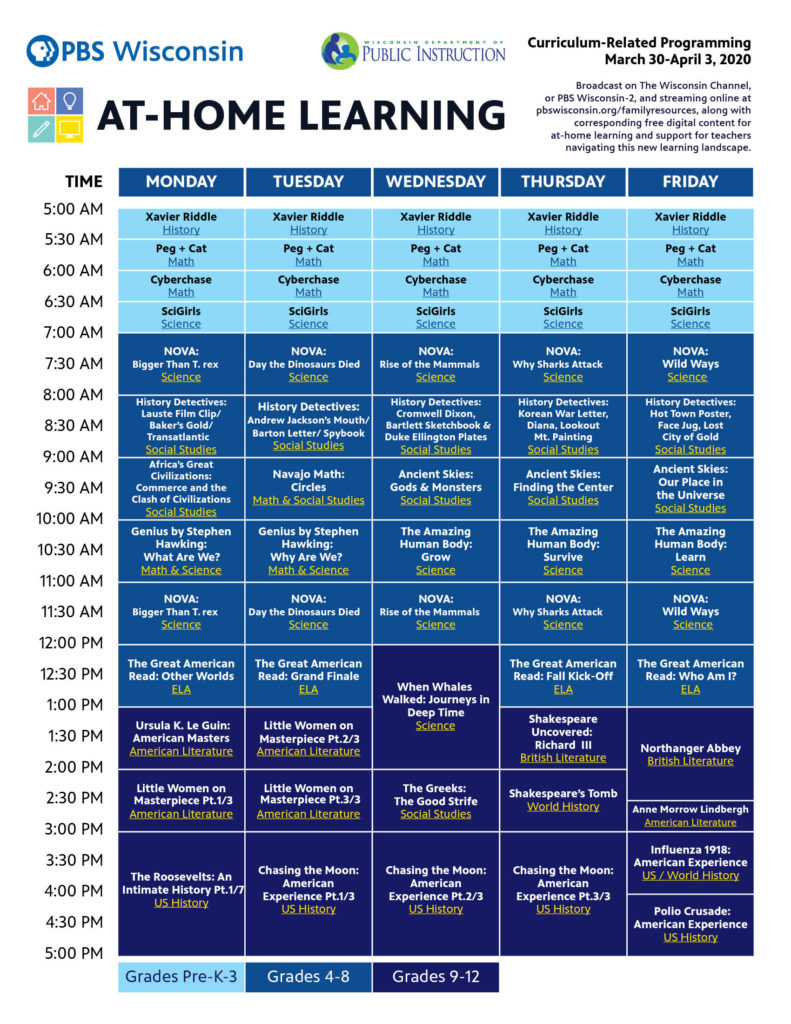 ---
Educational Resources for Parents, Caregivers, Teachers and Educators
Wisconsin educators, parents, caregivers and kids are at the forefront of our minds as the COVID-19 pandemic demands dramatic alterations to daily life. PBS Wisconsin recognizes that families are juggling a multitude of needs, including access to meaningful home learning experiences. Our traditional classrooms and educational settings are temporarily upended, which invites us to reimagine what a learning community can look like.
Our PBS Wisconsin Education team and our entire organization are here to support your work.
Below you will find content that parents, caregivers, PreK-12 teachers and students can start using now to adapt to home learning. Some resources can be received through traditional TV and some through the internet. They are free, curriculum-based and classroom-tested. 
We will routinely update this list as our resources evolve. Please let us know about your specific needs for facilitating home learning by reaching out to us at [email protected].
Are you a parent or caregiver for children under 8? Subscribe to the new PBS Kids daily e-newsletter to receive tips, materials and activities to keep your kids engaged and learning while at home. You can also sign up to receive free tips and learning games sent straight to your phone with Bright By Text, a free, localized tool for parents and caregivers of children under 8.
Are you a teacher or educator? Subscribe to our education e-newsletter, follow us on the PBS Wisconsin Education Twitter account, and visit our PBS Wisconsin Facebook page for more relevant information to home learning.
Know a parent, caregiver, teacher or educator who could use any of these resources? Please share this page with them.
We are inspired by the creative approach that families and schools are taking to help children continue learning, feel safe, and remain connected in the midst of changes in our daily routines.
PBS Wisconsin has been a part of educators' and parents' daily learning routine for generations, and we will continue to provide — and expand — that service even more when circumstances are far from routine.

PBS LearningMedia Basics
Grades PreK-2
Grades 3-5
Grades 6-12
Making Sense of the Coronavirus Through Media and Storytelling | Student Reporting Labs: A journalism curriculum covering the basics of local community journalism, storytelling, scripting and video editing.
Above the Noise: Videos and activities to facilitate drawing informed conclusions, while inspiring media literacy and civic engagement.
Crash Course: Fast-paced, imaginative videos on science, social studies, history and literature.
University Place: Educational lectures covering a range of subjects including science, history, business, arts and culture, and more. Broadcast from 2-5 p.m. daily on the Wisconsin Channel. Plus, an archive of more than 1,000 lectures available to watch on-demand on the PBS app of your phone, tablet, Digital TV device like Roku, Chrome TV and Apple TV and many Smart TVs.
NOVA: Stories from the frontlines of science and engineering broadcast every Wednesday from 8-9 p.m. on PBS Wisconsin. Also available on the PBS Video App on your phone, tablet, digital TV device like Roku, Chrome TV, Apple TV and many Smart TVs.