Andy Moore
PBS Wisconsin Senior News Producer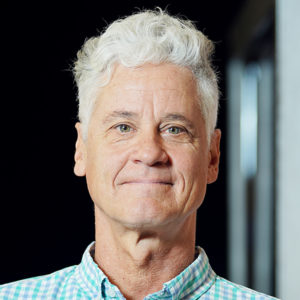 Download Image
600 X 600
274.17 KB
---
Andy Moore is a senior news producer at PBS Wisconsin and currently produces the weekly political news program Here and Now. He also produces political specials including, public forums and candidate debates that have received numerous awards. Moore is the creator and producer of WPT's 30-Minute Music Hour, a music performance and interview program.
Moore grew up in Louisville, Ky., and came to UW-Madison on a full swimming scholarship. He began his broadcast journalism career at Wisconsin Public Radio and joined WPT in 1987. In 1989 together with former PBS Wisconsin Executive Producer of News Dave Iverson, Moore created the live WeekEnd news series. During its 12-year run,WeekEnd received numerous journalism awards.
Moore also is an accomplished print journalist. His monthly column in the Madison newsweekly Isthmus, "Close to Home," has won Milwaukee Press Club's "Best Lifestyle Column" category three times. His other freelance clients include Madison Magazine and the Seattle-based music journalism publication No Depression.
Moore lives in Madison with his wife Peggy.